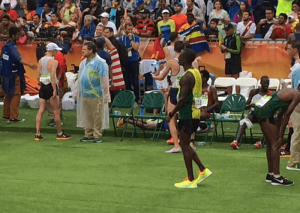 On a raining Sunday morning in Rio de Janeiro, Augusta University alumnus and volunteer assistant coach Pardon Ndhlovu ran a 2:17:48 to finish 41st at the 2016 men's Olympic marathon.
Kenyan Eliud Kipchoge won the gold with a time of 2:08:44. Ethiopian Feyisa Lilesa won the silver with a 2:09:54 and American Galen Rupp took home the bronze by crossing the line with a a 2:10:05.
Follow on social media: @ArthurTakahashi, @brennanmeagher,#RunWithPardon and #JagsInRio.
Check back with Jagwire for updates.