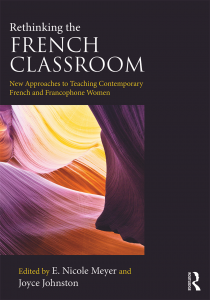 Augusta University's Dr. E. Nicole Meyer, a professor of French and women's and gender studies in Pamplin College of Arts, Humanities, and Social Sciences, has been published in a co-edited book titled Rethinking the French Classroom: New Approaches to Teaching Contemporary French and Francophone Women.
The volume includes Meyer's chapter "Fractured Families: Program Growth through Innovative Teaching of French and Francophone Women's Autobiography," which is just one chapter investigating how teaching practices can address the changing status of literature in French classrooms.
Under contract with academic publisher Routledge, the co-edited project includes essays addressing how to bring French studies and women's and gender studies into the 21st century through intersections of autobiography, gender issues and technology; ways to introduce beginning and intermediate students to the rich diversity of women writing in French; strategies for teaching postcolonial writing and literary theory; and interdisciplinary approaches to expand student audiences in the United States, Canada or abroad.
Congratulations, Dr. Meyer!