Maybe it was fate. Maybe it was love at first sight. When Christopher and Elizabeth Cawley first met in 2017, their paths were already entwined.
On May 12, they will both graduate from Augusta University's College of Nursing with Bachelor of Science in Nursing degrees, and later this month, they will celebrate their five-year wedding anniversary.
About Elizabeth
Elizabeth, originally from North Georgia, began her college career at Berry College as a standout cheerleader and student. A serious accident during cheer turned into medical leave from school, causing her to lose her scholarship and have to move in a short amount of time. Her sister, Brooke Schermerhorn, was a second-year medical student at the Medical College of Georgia at Augusta University, so Elizabeth packed her bags and moved to Augusta.
In high school, Elizabeth had been admitted into AU's Honors Program. On her first day in Augusta, she walked into the admissions office, transcripts in hand, in hopes of becoming a Jaguar that day, as classes for the semester had already begun.
Elizabeth was a pre-nursing major at Berry and planned to do the same at AU. After settling in Augusta, she began a patient care technician job at Children's Hospital of Georgia in the Pediatric Intensive Care Unit (PICU) while she worked toward completing her pre-nursing core.
Schermerhorn had been dating Jonathan Kimbrell, and the two married April 1, 2017. Kimbrell just so happened to be one of Chris's best friends. At their wedding, Elizabeth, who is not normally so forward, walked right up to Chris, handed him a rose and said, "You will dance with me tonight!"
The two began a whirlwind romance and were married the next year.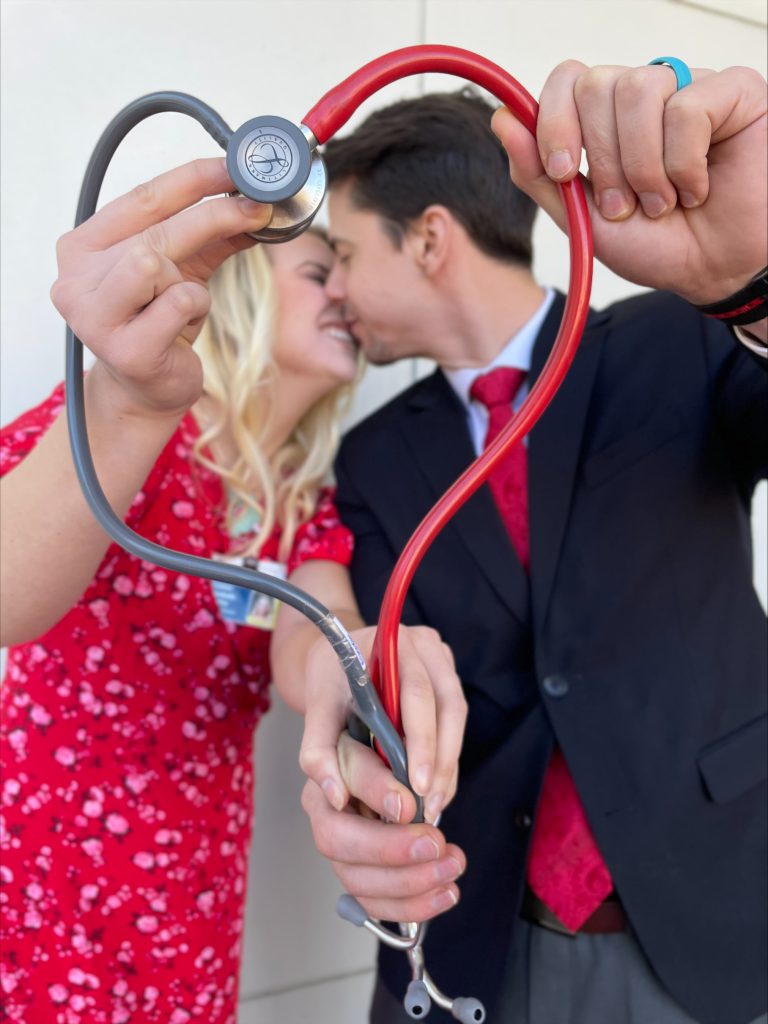 About Christopher
Chris, born and raised in Augusta, began his AU career in 2015 as a pre-nursing major but as an "unmotivated" student, he said. He soon took a break, attended Augusta Tech to become a certified paramedic and started working for Gold Cross, eventually joining the staff at AU Health in the emergency room.
Right before COVID, Chris was feeling a little burned out in the health professions field. He then became a certified commercial real estate agent and worked with Blanchard and Calhoun for a year.
"I'm very grateful for the opportunity, and B&C was wonderful to work for, but my heart wasn't in it," Chris said. "I knew I had to go back to nursing."
The Cawleys acknowledge that going through the nursing program together was not the original plan, but they knew it was a possibility. As it happened, they both completed their core classes and were accepted in the same cohort.
Their path to graduation has been anything but straight, though they both agree, this is normal.
Chris said, "We have classmates who are 21 and 22 and finishing college in four years, but we have classmates in their mid- to late 20s, 30s, even 40s that are graduating alongside us. That's part of the appeal of the nursing program here; you don't have to be a certain age or at a certain point in your life to become a nurse."
They both agreed that going through the program together helped them develop a professional relationship separate from their personal relationship.
Elizabeth added, "It strengthened us."
In the program
In the Community Health class, the Cawleys are part of a group led by Colleen Walters, DNP, in coordination with members of Robert Gordon University in Scotland and UGA's College of Pharmacy to study Hancock County — one of the most medically underserved communities in the state. The groups met last month to go over case studies and discuss plans to help bridge the gap of care.
"It's interesting to investigate how two completely different health care systems approach the same problem. Telehealth will help with access to care," Chris said. "Everyone talks about first semester of the nursing program being the toughest, but second semester is brutal! Luckily, we have had so many great professors."
"On our first exam in Diane Robillard's, DNP, class in second semester, she wrote the passcode for the exam on the board — 'future nurse 2023' — and we all were instantly lifted up. She's a bright light and very encouraging," Elizabeth said.
Both agree that their life experiences made them better students in the program and will make them better nurses after graduation. Having each other's support through classes, practicum and clinicals was beneficial to the Cawleys.
"You have someone who understands exactly what you are going through in such an intimate way," said Chris.
After graduation, the Cawleys, along with some classmates, are taking a break and going on a cruise. They both plan to take the National Council Licensure Examination about a month after graduation. Both already have jobs lined up, as well, in the Children's Hospital of Georgia's PICU.
While a natural fit for Elizabeth, since she was already on staff as a patient care technician, Chris learned to love the PICU after having his practicum there.
He described how learning about Tracey Puig-Baker, PhD, and her similar non-traditional route into nursing encouraged him. "She told me, 'I think you should try out the ICU.'"
"It's been fun as he transitions to pediatrics," Elizabeth said. "He now understands everything that I had been saying about it as a PCT. He gets it now."
Chris will begin his career at Children's as soon as he passes the NCLEX, while Elizabeth has decided to take a break and will begin in August. The Cawleys live in Augusta with their two dogs, Greta and Sadie.
Elizabeth and Chris agree that the nursing staff and nursing management in the PICU at Children's were one of their top motivations for seeking a job there.
"They are incredible!" exclaimed Chris.