For the first time, a cohort will walk across the stage at commencement and receive a Master of Science in Medical Physiology from the Medical College of Georgia at Augusta University.
Kalid Hamki, Kaitlyn Baldwin, Jourdan Banks, Alexis Jones and Zyare Orr are now prepared for the next step in their professional journey.
The small class size was one draw for the students as they look ahead to working in the laboratory after graduation or even preparing for medical school.
"Since it was a smaller class size, it was good communication with the professors. We also basically mirrored the coursework of the first-year medical school to prepare us for that coursework," said Baldwin. "So we did the anatomy lab with the cadavers, and then we also did things with cardiac ultrasound and stuff like that, just the clinical applications of everything."
"What attracted me most to the program was the opportunity to further develop my knowledge before jumping into medical school," added Banks. "Through this program, I have learned about many different aspects of medicine that I was not familiar with before."
The cohort has different professors for each module throughout, but it's an accelerated program in that students are able to get all of their coursework done in two semesters.
The students found out quickly it was an intense workload.
"I came in a little bit naïve on the difficulty, and it definitely proved to be difficult," said Jones. "At the end it's beneficial because you can say, 'I did all this.' Now I can definitely see I've grown in a lot of different skills, not just knowledge based, and looking back now it was worth it."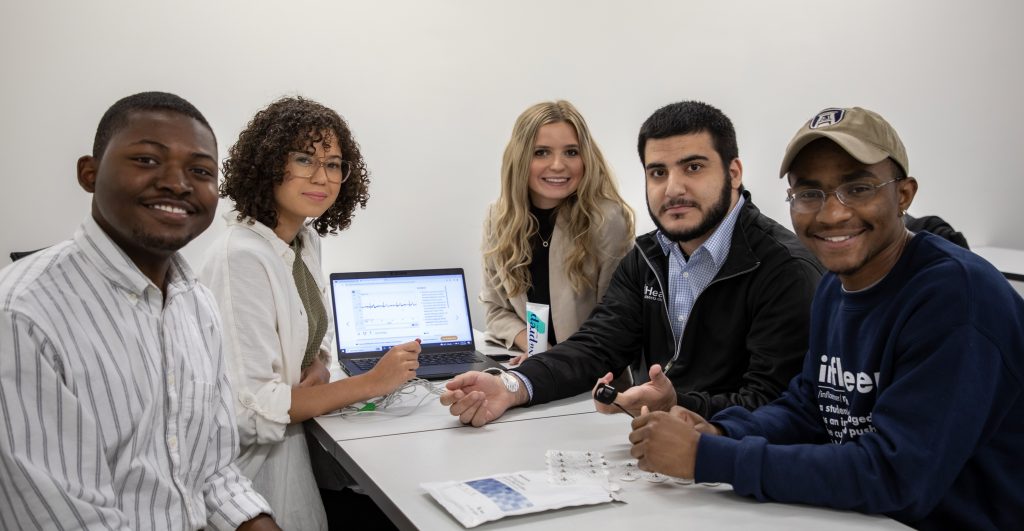 "In this program, all the material correlates into kinetics because it's all physiology related," said Orr. "When we talked with some of the first-year medical students, that was what they struggled with, just the amount of material they had to memorize. Us doing that now and getting a head start will be beneficial to us."
Orr added, even with the increased workload and different teaching styles from the various physiology faculty, they were approachable and receptive to helping the students.
"The way our program is set up, the second half of our program, we do our research component. Six months seems like a lot of time, but it's not for our project. We are learning techniques, and getting into the lab really shows how much patience they can have for us. They're just very supportive and understanding of what we're going through," Orr said.
Each student has their own path they'll be following after graduation. Baldwin and Jones are staying at AU to work in a research lab as they prepare for the MCAT. Banks is taking a gap year to further his clinical experience before applying to medical school while Orr is jumping right in and plans on attending medical school.
Despite the intensity of the coursework, the one-year graduate program was inviting to the students.
"The reason I chose this program was because it was one of the only one-year master's programs in Georgia that relates to the medical field, and it's also the only program that's linked to a public medical school in Georgia," Baldwin said.