For the past two years, Alex Rountree had a secret.
Classmates sitting next to him had no idea. Professors thought he was just a typical student.
His fraternity brothers at basketball games didn't recognize him.
Rountree lived a secret life — the life of Augustus, the beloved mascot of Augusta University.
"The No. 1 rule of being a mascot is you can't tell people," said Rountree, who is graduating with a bachelor's degree in criminal justice from Pamplin College of Arts, Humanities, and Social Sciences. "Also, you can't make noise, which is hard. There will be things that happen, and you just want to bust out laughing, but you can't. You are not supposed to talk or make a sound.
"And the final rule about being the mascot is you have to be joyful. You have to show excitement, so when you go to events, try to know a little bit about the event and know what you have to do. That way, you can show up and be the best mascot possible."
More than two years ago, Rountree was tabling an event for his fraternity, Pi Kappa Phi, during summer orientation in the Jaguar Student Activities Center, and he was approached by Bryan Waller, the intramural sports coordinator for the Campus Recreation Center at Augusta University.
"Bryan walked up to me, looked at me and he goes, 'Hey, you know what you'd be good at?'" Rountree said, chuckling. "I had no idea who he was. And I said, 'What's that?' And he goes, 'Being a mascot.' I just laughed and said, 'Yeah, yeah.' But he was like, 'No, I'm serious.'"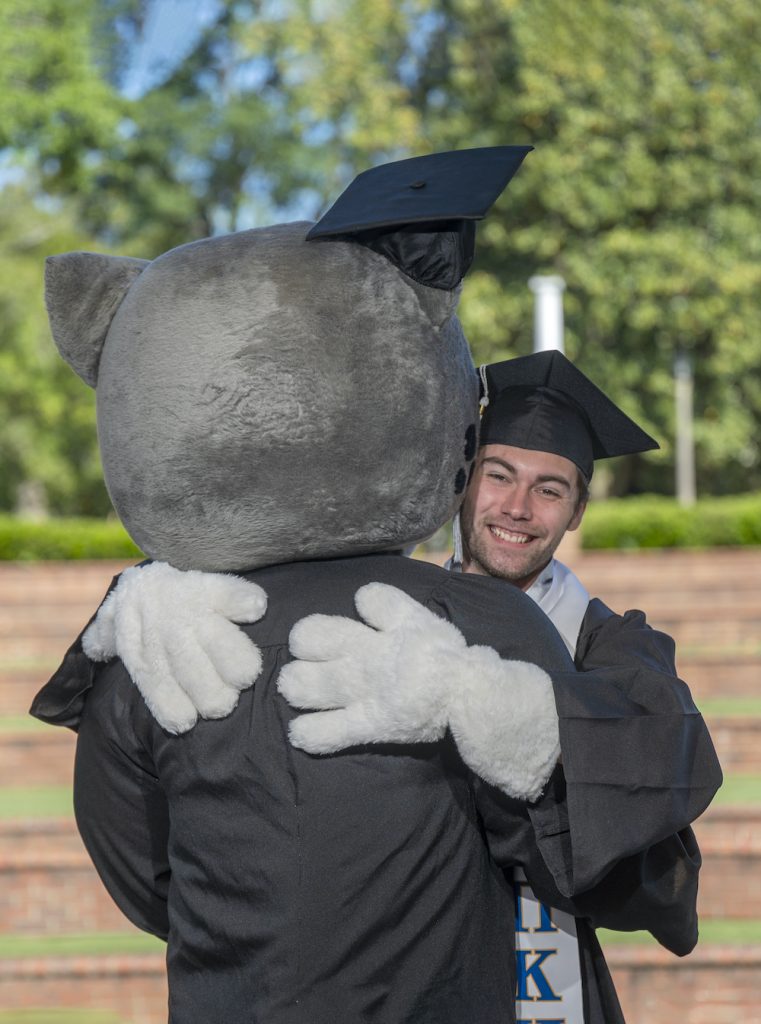 During that day at orientation, Waller remembers watching Rountree interact with the students and his enthusiasm at the Greek Life table.
"I thought, 'He fits the stature of Augustus and his personality meshed well with Augustus, so let's see if he is interested,'" Waller said, explaining the two talked it over that summer, and Rountree agreed to give it a try. "I was more anxious. I think he was more nervous. But once he got into the role and realized what all he could do to develop that character, Alex was a natural.
"It was awesome to see because the character of Augustus had never really been developed over the years," Waller added. "Alex really developed the character of Augustus. So, it was cool to see Augustus go from just a mascot to an actual character."
Rountree, who has already accepted a full-time position with Pi Kappa Phi Fraternity's national headquarters in Charlotte, North Carolina, said he has thoroughly enjoyed being Augustus for Augusta University.
"Each time I put on the suit, I actually am Augustus," said Rountree, who is a native of Madison, Georgia. "Since nobody knows it is actually me, I get to sit there and be an emblem of Augusta University and give people laughter and joy and smiles. I think that is probably the best part about being a mascot."
But there are some challenges in being Augustus, Rountree said, laughing.
"You only see through a 4-by-4 square in the outfit," Rountree said, smiling. "People think you can see out of the eyes, but it is actually the nose and the mouth. So, getting adjusted to not being able to see all around me and not having any peripheral vision was a challenge, especially when there are little kids who get so excited and wrap all around you. Sometimes you can't see them and so you're like, 'What's going on?' So, it can get a little scary when 20 little kids all charge at you at once, but I love the hugs from kids."
The plush paws and feet of Augustus can also wreak some havoc on occasion, Rountree said.
"The feet are so big and wide; you have to be careful walking down steps," said Rountree, who was also a student-athlete on the men's track and field team at Augusta University. "It's difficult. And when we do events like at the Augusta GreenJackets where you do something athletic, it's hard to grip things with those paws because it only has four fingers. So you have two fingers in one of the finger slides, which can make throwing a ball a bit of a challenge."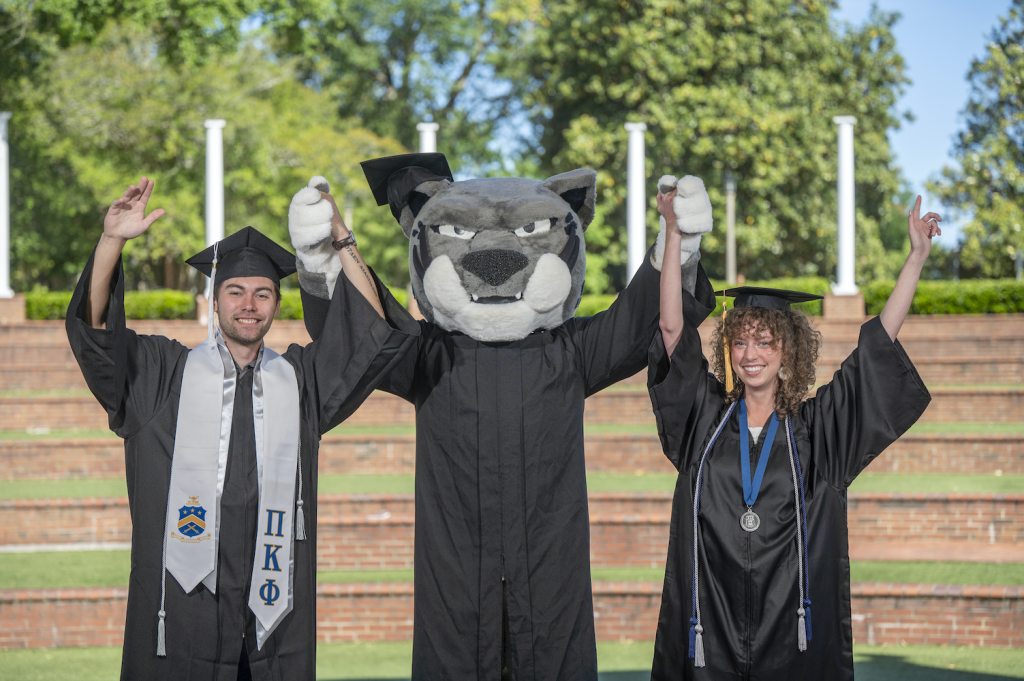 Fortunately, Hayley Bouch, a graduate of the College of Nursing at Augusta University, has served as the handler for Augustus for the past two years. She makes sure Augustus can safely maneuver through a crowd during an event.
"As an extroverted person, I've absolutely loved being able to accompany Augustus and go to all the different events. It is a very social job here on campus," said Bouch, who is originally from Cherry Hill, New Jersey. "I have been in so many different situations where I look around, and I am like, 'How in the world did I end up in this position at this event?' And it is all because of Augustus. So, it has been super fun for me, and I am going to miss it. It has allowed me to get more involved here at Augusta University than I ever thought I would be able to. Being the handler of Augustus makes me appreciate the school and what the school stands for and its values so much more."
Over the past two years, Waller said Augustus has been involved in almost 300 events across the community and the state. Rountree shares the Augustus role with one other student on campus, he said.
Now that Rountree is graduating, Waller said he is looking for a new Augustus to try and fill Rountree's shoes.
"I am really thrilled for Alex and for Hayley. They are both graduating, and I'm really excited about where they're going and their future careers, but I'm going to miss them," Waller said, getting a little misty-eyed. "I always tell them, we say here, 'You are always a Jag for life,' but it's true. There is a little, small fraternity for Augustus, and they are always going to be part of that and Augusta University. There will always be a place here for Alex and Hayley, no matter what, whether that's 20 years down the road from now or next week. We've developed a true friendship."
As for any student hoping to become a future Augustus, Rountree has some advice.
"When you put on the suit, don't be embarrassed to do anything. You're not the one stepping out into the bright light and dancing in front of 300 people. You're Augustus, so go dance," Rountree said. "You can be goofy. You can make people smile and laugh. Have fun with it."
Roundtree flashed a quick smile and added, "Just get used to seeing out a 4-by-4 square."