For Daizha Outlaw, the last two weeks have been a whirlwind. She has a new fiancé, a new job in another state and soon, a college degree.
Outlaw will receive her Bachelor of Science in the Nuclear Medicine Technology program from Augusta University's College of Allied Health Sciences during Spring Commencement. After graduation, she will be moving to Nashville, Tennessee, to join her fiancé Jomari Jackson, a 2021 business administration and management graduate of Augusta University, who is currently attending Meharry Medical College School of Dentistry.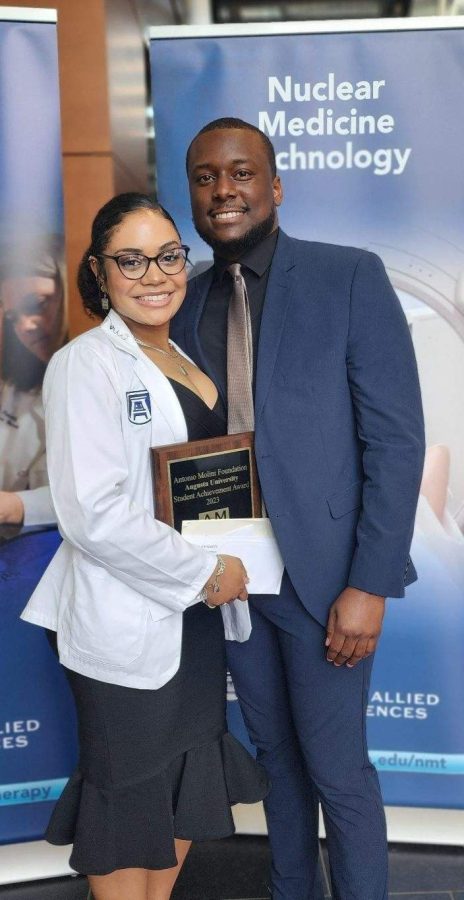 The proposal, just a week and a half ago, was unexpected, Outlaw said.
"I was absolutely surprised," she recalled. "I had my pinning ceremony that day, and afterward our families went out to dinner, and that's when it happened. I'm super excited!"
The couple met at Mary Persons High School in Forsyth, Georgia, in 2017.
"We met at track and field practice. He bumped into me as we were completing a workout, and we have been soulmates ever since," she said. "Our first date was our prom, and he proposed to me at the same restaurant where we had that first date. He had the same dessert brought out that we ordered on the night of prom!"
With everything going on, wedding plans will be coming soon. Outlaw's primary focus is on her new job as a nuclear medicine technologist at Vanderbilt University Medical Center in Nashville, a job she accepted just last week.
"I had the honor of being selected for one of the PRN student technologist positions at Piedmont Augusta (during the last year). Through this opportunity, I was able to gain vital work experience as a technologist to go along with experience at my clinical practicum," Outlaw said. "I would say that having that PRN experience, while also going through the program, did give me a substantial edge when applying to jobs because they appreciated the fact that I already had a year's worth of job experience before graduating.
"Having this position before graduating gives me so much security in the next steps of my journey, and I'm looking forward to gaining the skills and experiences that I know will add more value to my career and open up endless possibilities in my future."
Growing up in a small town just outside Macon, Georgia, Outlaw always knew she wanted to work in the health care field. She just had to figure out where she fit in the best. Her mom is a registered nurse. While she admired her mom's work, she knew she would not be following in her footsteps.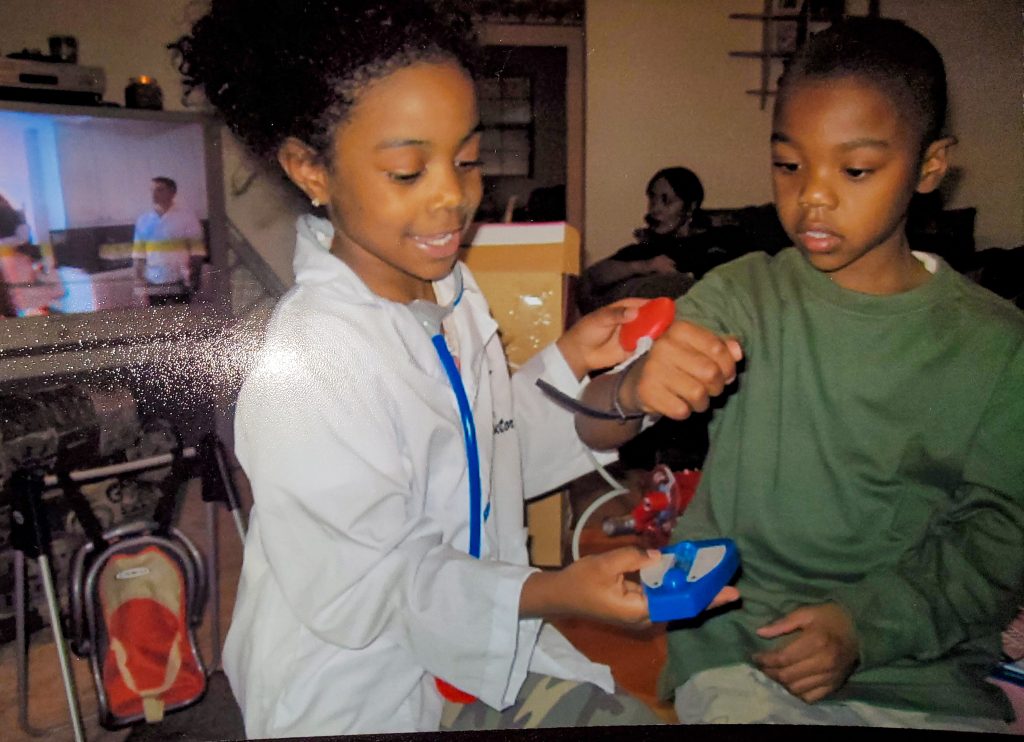 While in high school, Outlaw received her CNA license as a part of the school's health care pathway and was the president of its HOSA chapter, organizing and coordinating many blood drives.
She said she knew Augusta University was a part of a large, bustling medical hub, and she was sure she'd get lots of exposure and experience, no matter what area she chose.
Prior to moving in her freshman year, Outlaw attended a seminar at Augusta University to help first-year students select their majors. She sat in on the session where Lester Pretlow, PhD, dean of the College of Allied Health Sciences, was presenting all the programs available in his college.
Outlaw was intrigued once he began discussing the nuclear medicine technology program. She knew the field was the perfect fit for her and decided on her major that day.
"As a freshman, I didn't know anything about the field of nuclear medicine, but my desire to be selfless and provide acts of service and kindness migrated me toward this wonderful profession," she said. "The fusion of technology and imaging, patient care, natural sciences and medicine is what I find most intriguing and fascinating."
Time management and discipline are two of the biggest life skills Outlaw said she learned throughout her college career. By juggling extracurricular responsibilities, classwork and her clinical schedule, although overwhelming at times, she learned vital skills she will be able to implement throughout her career to provide the best possible treatment for patients.
"My academic career here at Augusta University has been nothing short of challenging, but what I've been able to achieve and gain from my experience will forever be the groundwork of my adult life, and my life as a career woman and health care professional," Outlaw said. "The support and preparation that I received from this program has been the blueprint of me adopting the proficiency I need.
"Nuclear medicine warrants us as professionals to be accountable and adaptable, and with the help of amazing faculty, I have had ample opportunities to put those attributes to the test. The training and knowledge that I have gained from this program have given me an edge now that I am preparing to enter the workforce."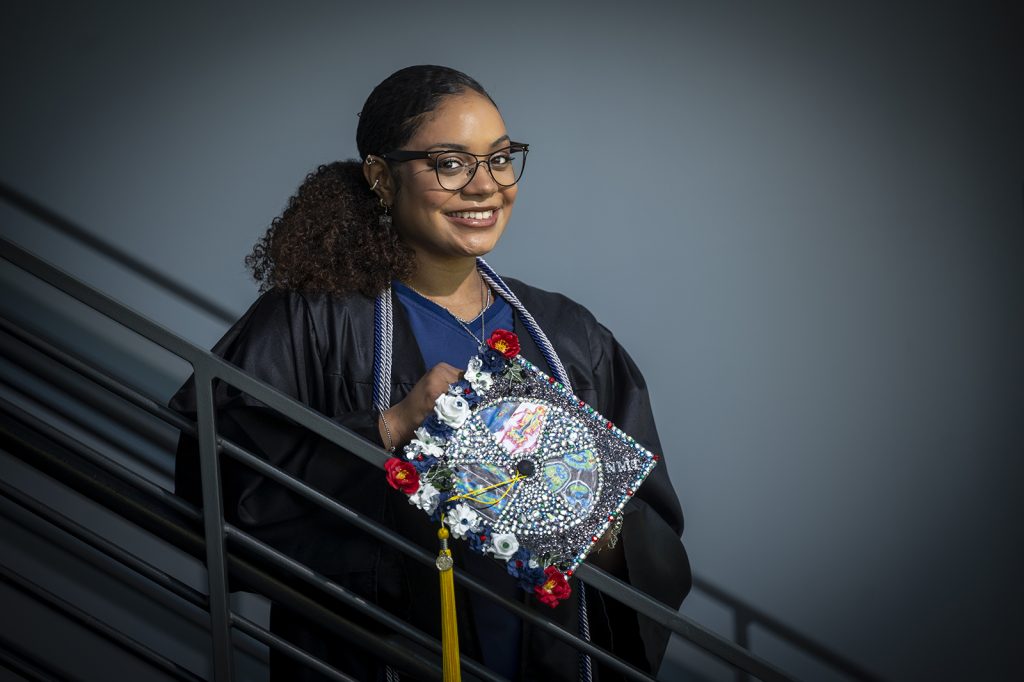 Some of those extracurricular activities included the Lumin Society, an organization featuring a diverse group of student leaders who organize and assist with numerous student, alumni and presidential events, while helping instill Jaguar pride and tradition around campus and the community, as well as the College of Allied Health Sciences Student Recruitment and Advisory Committee.
"My role on this committee is what I am most proud of as a college student; it has given me the opportunity to speak, encourage and mentor young students who are in a very pivotal stage of their young academic careers," Outlaw said. "It is an honor to be able to bestow words of wisdom and knowledge upon them, as they decide what career path they would want to embark on.
"It has been heartwarming to receive thank you notes and feedback from students whose eyes have been opened to a world of new possibilities, along with the discovery of their passion for the health care field. Knowing that I once was that young dreaming student, the confirmation that my efforts have made the slightest difference gives me an abundance of joy for my purpose as a leader."
Outlaw encourages those considering a career in nuclear medicine technology to go for it, discover their passion and shadow a department to get the experience and understanding of what nuclear medicine technologists do.
But her advice extends to all students pursuing any careers or dream they might have.
"Don't be afraid to do what it takes to actualize your goals. There is nothing you can't accomplish if you put your mind to it," she said. "Don't be too hard on yourself. Take time to learn yourself and your interests. Take this journey one assignment, one class, one year at a time. Everyone's path unfolds differently, so do what works best for you, and don't give up, even when things get tough."
Outlaw's goal is to obtain additional certifications, such as PET and CT, and work her way up the ladder to leadership and administration.
"I am truly overjoyed leading up to graduation, and both nervous and excited as I enter this new chapter after graduation," Outlaw said. "Overall, I am extremely grateful for my collegiate journey here at Augusta University. I have learned so much about myself, and I am so thankful for the wonderful people that have supported and motivated me along this journey. The memories made here at Augusta University will stay with me a lifetime, and I will forever cherish these past years."