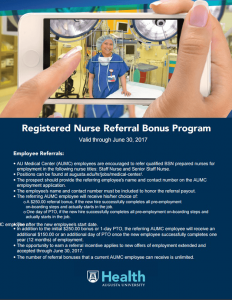 Augusta University Medical Center is hiring nurses, and the incentive program could be beneficial to those who recommend.
Medical center employees are encouraged to refer qualified BSN-prepared nurses to fill the following positions: Staff Nurse and Senior Staff Nurse.
The positions can be found at the medical center career site.
The prospective employee should provide the referring employee's name and contact number on the employment application. The employee's name and contact number must be included to honor the referral payout.
The referring employee will have the choice of either a $250 referral bonus, if the new hire successfully completes all pre-employment on-boarding steps and actually starts the job, or one day of PTO under the same conditions.
The referral cash bonus or PTO day will be distributed to the employee after the new employee's start date.
In addition to the initial bonus or PTO day, the referring employee will receive either an additional $150 or another PTO once the new employee successfully completes one year of employment.
The incentive offer applies to new offers of employment extended and accepted through June 30, 2017.
Perhaps the most exciting information: The number of referral bonuses that a current medical center employee can receive is unlimited, so it pays to spread the word.