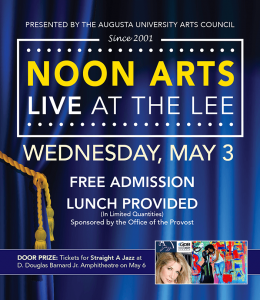 Who says art and science can't coexist? Organized by the Augusta University Arts Council, this school year's final Noon Arts program is scheduled for Wednesday, May 3 in the Lee Auditorium. The show kicks off at noon and will feature artistic performances from university students, staff and faculty members.
Admission is free for anyone interested in attending and the Office of the Provost will be providing free lunch for the first 100 attendees. There will also be a drawing to win free Straight A Jazz tickets.
From singing traditional songs to reciting poetry, the performers who participate in the show display a wide range of artistic expertise. Whether you prefer instrumental music or performance art, don't forget to mark your calendar on May 3 for Noon Arts: Live at the Lee.