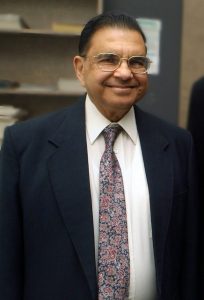 The newest endowed chair at the state's public medical school honors Dr. Virendra Mahesh, a trailblazer in the study of the biochemistry of steroids and reproductive biology, who founded the PhD program in the Department of Endocrinology at the Medical College of Georgia at Augusta University.
The Virendra B. Mahesh, Ph.D., D.Phil. Distinguished Chair in Neuroscience was approved at the April meeting of the Board of Regents of the University System of Georgia. The chair will support a faculty member who conducts state-of-the-art basic science research in the MCG Department of Neuroscience and Regenerative Medicine. Current neuroscience research at MCG is closest to Mahesh's research interests.
"I came to the Medical College of Georgia as a 27-year-old immigrant and MCG provided me the environment to establish myself and follow my scientific goals of establishing a state-of-the-art research and graduate training program," Mahesh says. "For that, I owe the institution a debt of gratitude."
"Dr. Mahesh inspired countless young scientists during his tenure at MCG," adds Dr. David Hess, interim dean of MCG. "This chair will help us recruit and/or retain another brilliant scientist that will undoubtedly inspire the next generation."
The pioneer in endocrinology came to MCG in 1959 as an assistant research professor. Six years later he established the medical school's PhD program in endocrinology, which was funded by a National Institutes of Health training grant for 34 years. Mahesh's research was funded by the NIH for 40 years, resulting in more than 470 scientific publications. His focus was establishing new methods for the diagnosis and treatment of reproductive disorders in women and discovering new knowledge of the complex interaction between ovarian hormones and centers of the brain and their control of ovulation.
Nationally recognized for his scientific work, Mahesh served on grant review panels for the NIH for over 30 years, on the editorial boards of three scientific journals and as editor-in-chief of Biology of Reproduction. He received the American Fertility Society's Rubin Award in 1963, the Billings Silver Medal from the American Medical Association in 1966 and the Carl G. Hartman Award from the Society for the Study of Reproduction in 1996.
Known as an exemplary teacher who influenced countless young scientists, he mentored 11 masters of science and 25 PhD students as well as 59 postdoctoral fellows, who have established themselves in leading centers of scientific research in the United States and around the world. He also served on the advisory committees for 24 other PhD students.
"Perhaps his greatest contribution was his ability and willingness to share his knowledge with students," says Augusta University President Dr. Brooks Keel, who studied under Mahesh and received his PhD in reproductive endocrinology from the university in 1982. "Dr. Mahesh vaulted the department to national prominence through his mentorship of students and trainees. I am honored to be one of them."
At Augusta University, Mahesh was the recipient of Outstanding Faculty Awards from MCG and The Graduate School; a Distinguished Teaching Award from The Graduate School; and a Lifetime Achievement Award from MCG and the university's Research Institute.
Mahesh, who is Regents Professor and chairman emeritus, served as chairman of the Department of Endocrinology from 1972-86 and of the Department of Physiology and Endocrinology from 1986-99.
Endowed chairs and professorships at the state's public medical school are designed to attract and retain outstanding faculty who have distinguished themselves through their teaching, research and scholarly writing. Appointment to an endowed position is intended to be MCG's most prestigious recognition of continuing scholarly achievement and distinction.