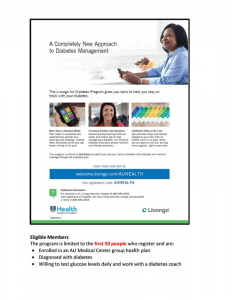 We are excited to announce the Livongo for Diabetes Program, a new program for medical center employees that makes living with diabetes easier and is offered at absolutely no cost to the first 50 plan members who register.
Below is a 2-minute video where members enrolled in the program talk about the impact it has had on them.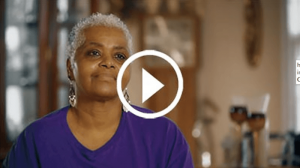 By Enrolling in the Program You Will Receive:
Latest Technology to Simplify Living with Diabetes: The Livongo connected meter uses cellular technology to automatically upload readings, making log books and sync cables a thing of the past.
Real-time Support from Coaches to Help You Make Better Decisions: Personalized support provided from the Livongo mobile app, secure website, or Certified Diabetes Educators.
Unlimited Strips at No Cost: Test strips and lancets are shipped to your front door with the click of a button and no hidden costs or co-pays.
Eligible Members
The program is limited to the first 50 plan members who register and are:
enrolled in an AU Medical Center group health plan
diagnosed with diabetes
willing to test glucose levels daily and work with a diabetes coach at Livongo
To Learn More or Join, Visit:
https://welcome.livongo.com/AUHealth#/ and use registration code:  AUHealth
We are thrilled to offer this new program to make diabetes management easier and hope you and your covered family members take advantage of the program.  If you have any questions about the program, please visit:  https://welcome.livongo.com/AUHealth#/
Thanks for your support,
Lisa M. Mitchum, SPHR, MBA
AVP, Health System Human Resources Services