Augusta University's new Master of Science in Epidemiology degree program began last fall with four students enrolled.
As this year's June application deadline approaches, eight prospective students have already submitted their applications to begin the program this fall.
Momentum is growing for the new master's in epidemiology because interest in the field is at an all-time high, and that has Dr. Steven Coughlin, interim head of the Division of Epidemiology in the Department of Population Health Sciences at the Medical College of Georgia, understandably excited.
"I get contacted by prospective students all the time," said Coughlin. "There's a lot of interest in the program, and I anticipate that it'll continue to grow. We're excited about the future prospects for this program."
A former senior epidemiologist at the Division of Cancer Prevention and Control at the Centers for Disease Control and Prevention in Atlanta, Coughlin has plenty of experience to offer — both as an epidemiologist and as a professor — to help the new program grow and to help students enter the field.
Along with his experience as an epidemiologist and professor, Coughlin served as director of the Master of Public Health program at Augusta University, has written multiple publications and is an active researcher in the field. His book, Ethics and Epidemiology, Third Edition, is seen as the gold standard for understanding the ethics around research in the field of epidemiology.
What is epidemiology, and why does it matter?
Dr. K.M. Monirul Islam, an associate professor of epidemiology in the Department of Population Health Sciences, has described epidemiologists as "disease detectives."
"It is much like an FBI agent who goes to a crime scene and tries to find out all the pieces to the puzzle, such as who did the crime and how they did it," Islam said. "In epidemiology, we do that with a disease. We find out who is sick, who is at risk, when it happened, how it happened and how it is transmitted."
Epidemiology is the branch of medicine that deals with the incidence, distribution and possible control of diseases and other factors relating to health. Within the field, epidemiologists are the research experts who are instrumental in designing observational studies and clinical trials, and in turn analyze the resulting data and report the results.
According to the program's overview in the 2021 handbook, "The MS program provides a rigorous exposure to the wide range of ideas, methodologies and techniques needed to perform as an epidemiologist. The main objective of the MS program is to prepare epidemiologists to be effective collaborators with other epidemiologists and with investigators in other disciplines such as biomedical science, public health, and biostatistics. Specifically, upon completion of the degree they will have the skillset to collaborate on the design of research studies, on proper collection and analysis of the data, and on interpretation and dissemination of the results."
A faster way to earn a higher degree
In a day and age where the traditional college model is being altered to make advanced degrees more accessible while still upholding their value and standards, the Master of Science in Epidemiology program embraces the current landscape of higher education and offers two paths to the degree.
Not only is the MS in Epidemiology a 36-credit hour course that can be completed in roughly two years (or at the student's own pace), there is also a way for undergraduates to finish the program in just one year after completing their undergraduate studies. Undergraduates studying health, society and policy can complete that bachelor's degree and the MS in Epidemiology in just five years as part of the 4-plus-1 program.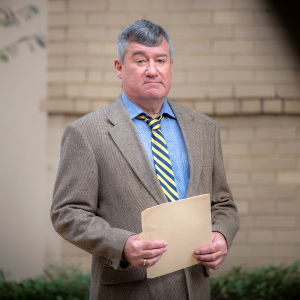 "We try to offer flexibility," Coughlin said. "For example, half of the students currently enrolled are part-time students and the others are taking the coursework full time. Because it's online, we can accommodate mid-career professionals who are trying to get an advanced degree and enhance their career in that way, while also helping recent graduates obtain the skills needed to make their ways into the field."
Courses for the degree include biostatistics, data analysis, epidemiology, ethics, infectious diseases, chronic diseases and public health, all culminating with a capstone project.
"The MS in Epidemiology is a rigorous program that provides a solid foundation in epidemiology, epidemiologic methods and biostatistics," Coughlin said. "The faculty who offer the courses for the program include biostatistics faculty, epidemiologists and faculty from other public health disciplines."
Since the Medical College of Georgia is the only public medical school within the state of Georgia, graduates with a Master of Science in Epidemiology would be well-positioned to satisfy the state's epidemiological research needs, Coughlin said.
"Also, because Augusta University is a state school, the program is more affordable," Coughlin said. "Therefore, this master's degree program will be ideal for undergraduates who are majoring in nursing, biology, mathematics or another related field, and also people who already have a professional degree, such as a degree in nursing, medicine or dentistry.
"In addition, people who are employed full-time will be able to take advantage of the fact that the courses are 100% online. We're hoping to attract students from across the country, as well as international students."
Unique, team-based teaching
On top of offering two different ways to earn the degree, the program also takes advantage of a unique, team-based teaching model where professors work together and offer guest lectures.
Professors with backgrounds in epidemiology, biostatistics and public health collaborate frequently, which might be easier in a 100% online course. And they all have different backgrounds that help them instruct.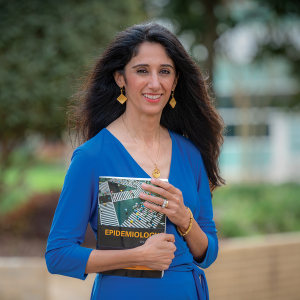 Dr.
Ban Majeed
, assistant professor of epidemiology in the Department of Population Health Sciences, is one of the faculty members who is excited about this different approach to teaching and how it has grown in the first year.
"You can't do everything on your own, and we all have different skills and interests, but there is some crossover," Majeed said.
"There is a common language and we can build on each other's expertise. The program is small as far as the number of faculty, which is good so you don't feel like, 'I don't know them.' It allows us and our students to get to know each other, but at the same time it also opens the door for us to call on someone from other institutions or a collaborator somewhere else, and there is openness and flexibility."