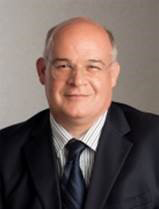 Dr. Andrew P. Morris has been named the Campus Associate Dean for Curriculum at the Augusta University/ University of Georgia Medical Partnership in Athens, Georgia a four-year campus of the Medical College of Georgia.
Morris joins the Partnership Campus after serving as Assistant Dean for Foundations of Medicine at West Michigan University Homer Stryker M.D. School of Medicine for the past four years.
"Dr. Morris will be an extraordinary asset to the Partnership campus," said Campus Dean Michelle A. Nuss, M.D. "He brings a wealth of knowledge in curriculum development, and was instrumental in developing an integrated medical education curriculum at the Stryker School of Medicine. We look forward to his leadership as we continue to develop a curriculum that is innovative and forward-thinking."
Morris is originally from South Wales, United Kingdom.  He obtained a B.S. in Biochemistry and Physiology from the University of Sheffield, Sheffield, United Kingdom in 1983.  He then earned Ph.D., in Philosophy from the University of Liverpool, Liverpool, United Kingdom. This was followed by a Cystic Fibrosis Fellowship at the University of Alabama, Birmingham, Alabama from 1988-1992.
Morris has a total of 24 years in medical school education with 12 years of practice in curriculum design, assessment, evaluation, and administrative management.  He has been involved with designing, building and implementing the school TBL (team based learning) curriculum at Homer Stryker M.D. School of Medicine in Kalamazoo, Michigan since its inception.
In his role as Campus Associate Dean for Curriculum, Morris will be responsible for leading and managing the four-year undergraduate medical education curriculum at the AU/UGA Medical Partnership campus, while ensuring the overall Partnership curriculum meets the mission of the Medical College of Georgia.  In addition, Dr. Morris is appointed as a Professor of Biochemistry and Molecular Biology at the Medical College of Georgia at Augusta University.
About AU/UGA Medical Partnership
Augusta University and the University of Georgia partnered to create a four-year medical campus in Athens to help alleviate a statewide shortage of physicians that threatens the health of Georgians. The AU/ UGA Medical Partnership, which enrolled its first class of 40 students in 2010, combines the significant instructional and research resources of UGA, the state's flagship land-grant research university, with the expertise of AU-MCG, Georgia's only public medical school.