May is National Military Appreciation Month, and in recognition of the U.S. military community, Augusta University's Office of Military and Veteran Services (MVS) is launching two campaigns to recognize veterans and active-duty service members.
Save 22
One campaign, titled "Save 22," aims to raise awareness that every day, approximately 22 veterans in the United States commit suicide. Although the number is decreasing (in 2018, the average was 17.6 veterans), a single veteran suicide is one too many in the eyes of Dr. Stefane Raulerson, director of Military and Veteran Services at Augusta University.

"Creating awareness of veteran suicide is the first step we can take toward preventing it. Being aware of warning signs, asking questions, listening, and showing care and concern are actions we can all take in honoring their service," said Raulerson.
This campaign will be an ongoing initiative on the Augusta University Summerville Campus. MVS plans to put up yard signs on the 22nd day of each month to raise awareness of the veteran suicide crisis.
RED — Remember Everyone Deployed
The office is also starting a campaign to support deployed service members titled "RED — Remember Everyone Deployed."
Remember Everyone Deployed is a North Carolina-based nonprofit dedicated to showing solidarity and support for deployed service members and their families. The organization has an initiative called "RED Fridays," which encourages supporters of deployed soldiers to wear red on Fridays.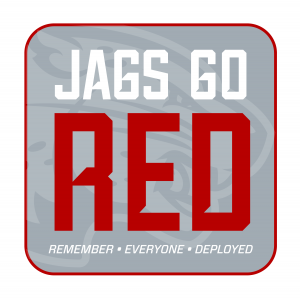 In solidarity with the RED initiative, MVS will encourage members of the AU community to wear red on the first Friday of every month. The first RED Friday will be May 7. MVS also plans to print yard signs and red T-shirts to encourage community members to get involved with the RED initiative.
"The RED campaign provides us with an easy way to show our support for the heroes who protect our freedoms around the world — and their families," said Raulerson.
Learn more about Military and Veteran Services.