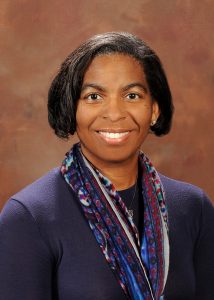 Dr. Vanessa Spearman-McCarthy, an internist/psychiatrist at the Medical College of Georgia at Augusta University, has received the Roger Kathol Pioneering Spirit Award from the Association of Medicine and Psychiatry.
The association is the national organization for physicians with combined training in medicine — either internal medicine, family medicine, pediatrics or neurology — and psychiatry. The award was established in 2016 to honor Kathol, a founding member of AMP, internist and psychiatrist who pioneered the model of integrative medical and psychiatric care in the inpatient setting.
An active member, Spearman-McCarthy has co-chaired and chaired the group's Early Career Development Committee, served on its Planning and Membership committees and was recently elected as one of four AMP councilors. She also has served on the AMP's Fenton Award Selection Committee and as a resident/student mentor for the association.
At MCG and AU Health, she is medical director and the sole attending physician on the Consultation Liaison Psychiatry Service, which focuses on the treatment of patients with comorbid psychiatric and general medical conditions. An avid educator, Spearman-McCarthy teaches MCG students physical diagnosis and problem-based learning. She also supervises internal medicine residents' continuity clinic and serves as a research mentor for MCG's Medical Scholars Summer Research Program.
She is a past recipient of the Leonard Tow Humanism Award, the MCG Faculty Senate Patient Care Award, the MCG Department of Psychiatry's Educator of the Year Award and an Augusta University Exemplary Teaching Award. She is an executive committee member of the National Alumni Association of Spellman College and serves on its Women's Health Initiative Committee.
Spearman-McCarthy earned her medical degree from MCG in 2005 and completed a combined internal medicine and psychiatry residency program at the Medical University of South Carolina in Charleston.