The Medical College of Georgia's Department of Physiology is hosting its annual lectureship in honor of the late Dr. Lois T. Ellison beginning at 9 a.m. Thursday, Dec. 12, in the Health Sciences Building, Room EC-1210.
The lectureship was established in 2011 as a lasting tribute to its namesake. The establishment of the lectureship through the Medical College of Georgia Foundation Inc. allows the department to bring outstanding and established leaders in physiology to the university's campus. Visiting lecturers will have an opportunity to exchange work and ideas with local researchers while inspiring students and young investigators.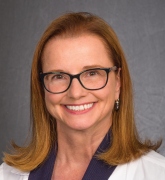 This year's speaker is Dr. Karen Griffin from Loyola University Medical Center. She serves as fellowship director for the nephrology program and as medical director for the LU Health System's comprehensive hypertension program.
"The physiology trainees are responsible for the nominations and election of guest speakers as well as for the organization of the lecture. They select a physiologist who is not only successful in their field of study but who also embodies Dr. Ellison's commitment to service and mentorship," said Kara MacVean, grant development specialist for the department of physiology at MCG.
"Dr. Griffin was selected based upon her excellence as a scientist and her commitment to professional service," she added. "They felt her research has been instrumental to understanding the role of hypertension in the progression of chronic kidney disease, and her professional service to the scientific community has also been exemplary through her activities with the AHA, the ASN, and other activities. It was based on these well-known accomplishments that our postdoctoral fellows selected her as this year's lecturer."
Previous presenters include Dr. Meredith Hay from The University of Arizona and Dr. Kathryn Sandberg from Georgetown University.
Dr. Ellison was an internationally recognized physiologist, the first female postdoctoral fellow in the department, and one of the longest-serving faculty members in Augusta University's history. She devoted more than a half-century of service to the MCG.
Learn more about the Medical College of Georgia.