This week marks the start of the 2023 Georgia General Assembly legislative session in Atlanta, and that means it will be a busy few months for Augusta University's Office of Government Relations.
Government Relations is tasked with ensuring the priorities of Augusta University, Augusta University Health System and the Medical College of Georgia are well represented at all levels of local, state and federal government. Throughout the session, the state government relations team will track all activities and legislation affecting the university and the health system, providing updates along the way via the Capitol Connection newsletter.
Headed up by Associate Vice President of Government Relations Margie Miller, the Government Relations team includes Director of Federal Government Relations Monty Philpot Brock, Director of State Government Relations for Augusta University and AU Health Ashton Blackwood, Assistant Director of State Government Relations Luke Ray and Meghana Raj, a student legislative intern.
"The work of Government Relations is primarily focused on building relationships and through those relationships, sharing our story, mission and needs," Miller said. "Over the next few months, our team will be focused on all elements of the state legislative session, to include tracking bills, following messaging in resolutions, and the changes recommended in the state budget."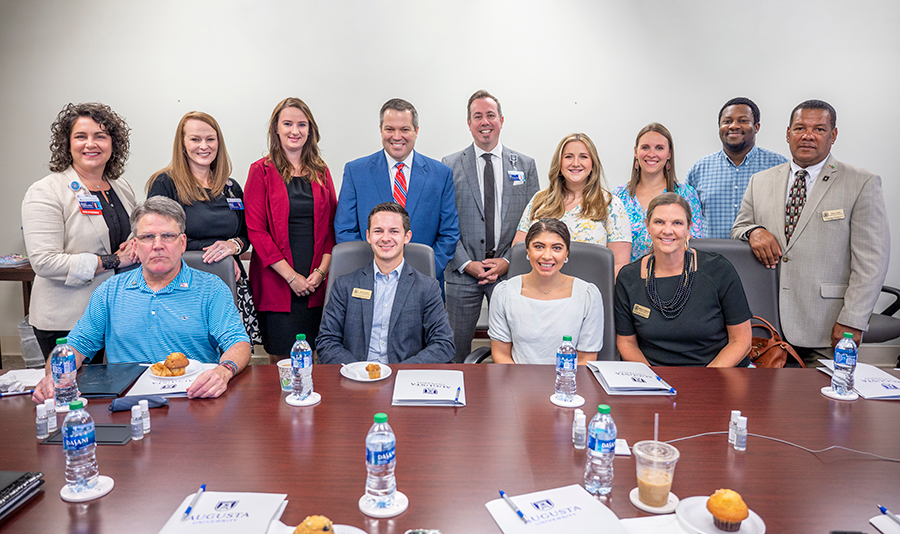 Miller joined Augusta University in 2014 as director of state government relations and has since worked diligently with elected officials and regulatory agencies to support and promote legislation that impacts Augusta University and AU Health System. She worked for 11 years with the Georgia House of Representatives Budget & Research Office as a senior fiscal and policy analyst, specializing in health care policy and budget appropriations.
Since joining AU in 2011, Brock has advanced AU and AU Medical Center's mission and priorities nationally by expanding our engagement with Congress and federal agencies in Washington, D.C. A native of Augusta, Brock spent over a decade working on policy and legislative issues for the U.S. House and Senate.
Blackwood joined Government Relations in 2019 and has worked to advocate for students, faculty, and staff statewide, engaging with stakeholders and legislators. A career-long public servant, she has spent most of her tenure working for the Georgia State Senate as well as the governor's office.
Ray joined the team in 2022, bringing with him state capitol and legislative experience. He previously worked at a local domestic violence prevention nonprofit as well as for the Metro Atlanta Chamber and the Democratic Party of Georgia.
Raj, the newest member of the team, is a junior in Augusta University's Pamplin College of Arts, Humanities, and Social Sciences. She is currently working with Augusta Public Defense.
READ MORE: Georgia Legislature 2022 session recap: How it benefits Augusta University
Heading into the session, there will be 43 new state house members and 10 new state senators.
Newly elected State Rep. Lynn Gladney, representing District 130 in Augusta, will replace retiring Rep. Sheila Clarke-Nelson.
Due to the death of Speaker of the House David Ralston, there will be changes in State House leadership. When the session begins, Speaker-Nominee Jon Burns will formally take the gavel. Also, due to the death of state Rep. Wayne Howard, his brother, Karlton Howard, was elected during the special election Dec. 20.
The state government relations team will be tracking and updating several key issues throughout the session, including the Georgia Healthcare Workforce Commission and the Senate Study Committee on the Creation of a Georgia Cybersecurity Force.
Tanya Sudia, PhD, dean of Augusta University's College of Nursing, was appointed to serve on the health care workforce commission. The group's final report was released in December and included recommendations for loan forgiveness programs to keep students in the state of Georgia. In addition, the commission would like to look at other scholarship opportunities.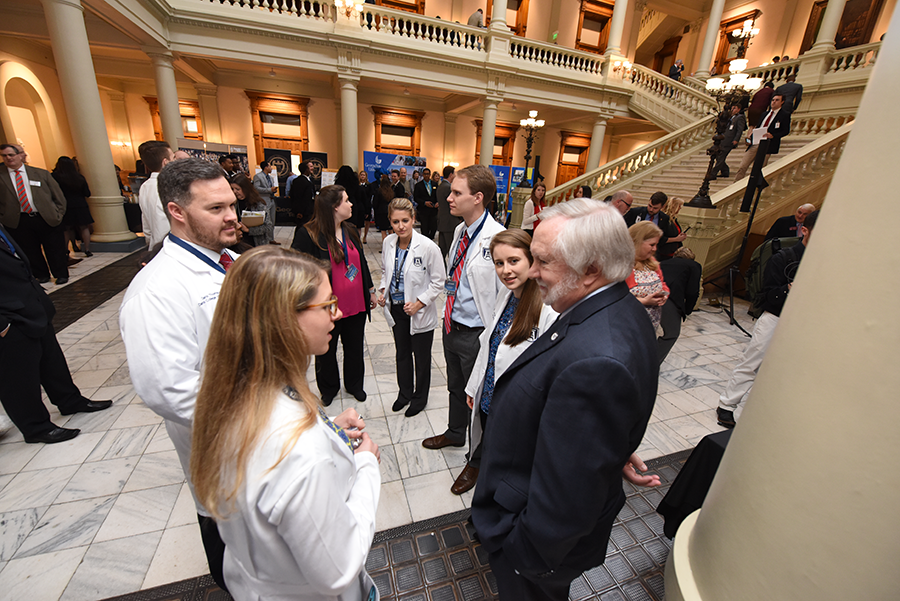 In the current workforce, they would like to re-evaluate scope of practice limitations across the board and work with current nursing programs to alleviate clinical bottlenecks.
"The governor's Healthcare Workforce Commission recommendations provide a foundation for addressing immediate and long-term health care workforce challenges. Our Augusta University health science colleges and schools are well-poised to further expand educational capacity for nursing and other health disciplines," Sudia said.
Augusta University was proud to host Senate Study Committee on the Creation of a Georgia Cybersecurity Force at the Georgia Cyber Center earlier this year.
The committee released its recommendations in December, which included supporting secondary institutions for cybersecurity research as well as supporting more cyber training programs.
Every year, the General Assembly is required to pass the annual state budget, which drives priorities and state policy.
For weekly updates on all legislative news, Government Relations invites you to subscribe to the Capitol Connection newsletter.