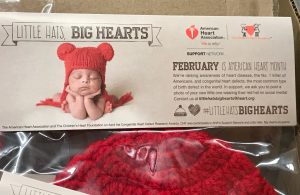 Less than 24 hours after he was born, Owen Kareis was already stealing hearts as a local TV celebrity of sorts.
The little star, born Feb. 5 to Jonathan and April Kareis at Augusta University Medical Center, helped kick off the American Heart Association's Little Hats, Big Hearts™ campaign in Augusta on Monday. He was photographed for social media and featured in an interview along with his mom on Fox 54 news.
Little Hats, Big Hearts provides handmade red hats to newborn babies in 460 hospitals across 40 states to raise awareness of heart disease – the number one killer of Americans – and congenital heart defects, the most common type of birth defect in the country. AU Medical Center is the only local hospital participating in the program, which encourages new parents to take to social media to promote heart health by posting a photo of their baby wearing the red hat with the hashtag #LittleHatsBigHearts.
American Heart Month is an annual celebration in February that began in 1963 to encourage Americans to join the battle against heart disease. A presidential proclamation pays tribute each year to researchers, physicians, public health professionals and volunteers for their tireless efforts in preventing, treating and researching heart disease.
Founded in 1924, the American Heart Association is the nation's oldest and largest voluntary health organization dedicated to building healthier lives, free of heart disease and stroke. To learn more, call 1-800-AHA-USA1 or visit heart.org. For more information on the program, visit heart.org/LittleHatsBigHearts.