With over 900 patient meals needing to be prepared daily, providing excellent food service at Augusta University Medical Center is no easy feat.
Lavone Cook, director of Food and Nutrition Services, has proven she is more than up to the task, and her achievements have not gone unnoticed.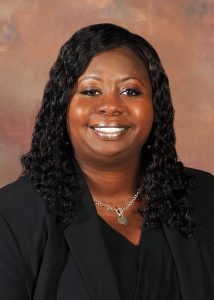 Nominated by a fellow Georgia and national Association of Nutrition & Foodservice Professionals (ANFP) member Larry Jackson, Cook was recently selected as the recipient of the 2019 Distinguished Service Award. She will receive her award at the  ANFP Annual Conference, Expo and Honors Gala in St. Louis.
In her tenure as president, Cook helped to increase membership numbers and public exposure and organized a State Chapter Community Service Event that contributed 250 pounds of food donations.
"I had an opportunity to share awareness about ANFP," Cook said. "It is a wonderful organization that I've been involved with since 2008."
Thanks to her dedication, her nomination demonstrates a wealth of meaningful accomplishments, along with compelling evidence to support her potential for success in leadership roles and her strong commitment to the nutrition and foodservice profession.
"During the time I've known her, she has been sure to make her presence known throughout the organization," said Nicole Boatwright, Patient Experience coordinator. "She has been out front, not only in the way she has led the Food and Nutrition program but publicly exhibited leadership for the organization."
Cook has been a part of the Augusta University family since 2013, and she continues to illustrate what it means to provide leadership and excellence. Congratulations on your recent award!