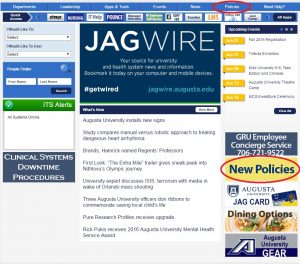 The latest policy updates have been approved and can be found here.
In addition, employees can have constant access to the latest policies through an access point that has been included on the PAWS web page.
These important revised and/or recently approved policies, updated monthly, appear in a yellow-shaded box below the Upcoming Events section on the right side of the PAWS page.
A database of all institutional policies can also be found by clicking the Policies tab in the light blue band on the top of the PAWS page. That will take you to the Policy Management Process page, where clicking the computer icon indicating the Policy Management System will take you to the Policy Tech sign in page, which allows you to view the policies themselves.
Visit these pages directly, and look to the Employees page of Jagwire for announcements about the latest policy updates.