In just five short years, Brooks A. Keel, PhD, has already built a legacy of strength, determination and vision as president of Augusta University.
Whether it was tackling the university's name change shortly after arriving on campus in 2015 or facing the complications of this year's COVID-19 pandemic, Keel has always stood up for what he calls his "No. 1 priority": students and patients.
Since becoming president of the university in July 2015, Keel has shouldered the full responsibility of an enterprise with a $2.2 billion economic impact, one that includes a paid workforce of nearly 12,000 people across the state of Georgia and a budget of $2 billion.
Augusta University boasts more than 5,000 undergraduate students and the institution has a graduate component that includes the state's only dental school, The Dental College of Georgia, and its only public medical school, the Medical College of Georgia.
In addition, it has a health system that includes the Children's Hospital of Georgia, the Georgia Cancer Center and the state's only public academic medical center. It has seven campus locations, 649 clinical teaching sites in Georgia and a research enterprise that earned $110.9 million in sponsored awards in 2019.
On July 20, Keel will proudly celebrate his five-year anniversary as president of Augusta University.
"I came into this job with a great deal of pride and enthusiasm, and five years later I still remain very proud and still have a lot of enthusiasm," Keel said. "I'm excited about what the future holds. I've seen what this university really is, but more importantly, what it can be."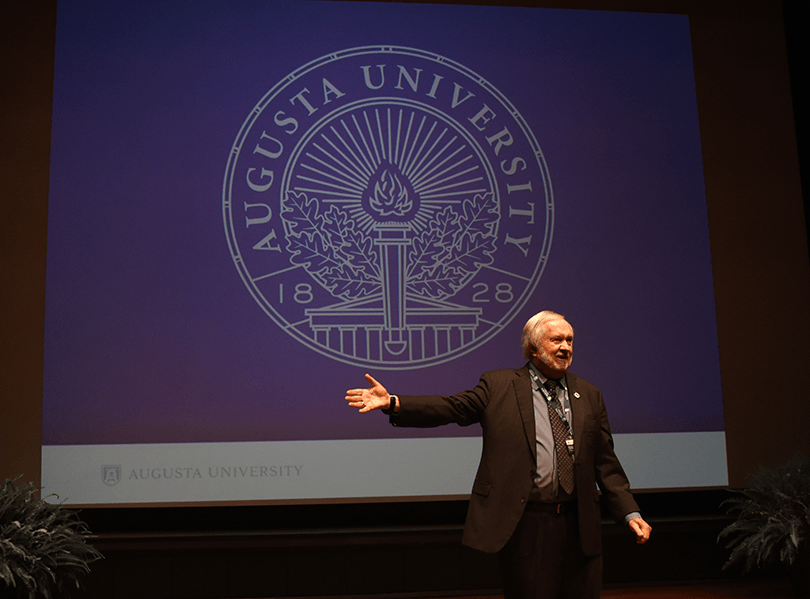 For example, the strength Augusta University Health exhibited in the early days of the coronavirus pandemic had a big role in paving the way for the university's role as a leader in the state's fight against COVID-19, Keel said. The incredible work the university did during the early days of the pandemic set the stage for Georgia Gov. Brian Kemp to ask Augusta University for help taking COVID-19 testing statewide.
In April, Augusta University and Augusta University Health partnered with the Georgia Department of Public Health and the Georgia National Guard to coordinate centralized scheduling for nearly 40 COVID-19 specimen point of collection sites. The Dental College of Georgia provided 3D-printed nasal swabs to support the statewide expansion.
"The reputational aspects of what we gain from all of this will go a long way toward helping people truly understand the important role we play every single day, not just during the pandemic," Keel said.
No matter what the university faced over the past five years, Keel's persistent and optimistic "Go Jags!" has been a rallying cry through it all.
Keel, a proud alumnus of Augusta University's legacy institutions, graduated from Augusta College with a bachelor's degree in biology and chemistry in 1978, and received a doctorate in reproductive endocrinology from the Medical College of Georgia in 1982.
Watching both institutions grow and flourish over the past five years has been incredibly rewarding for Keel.
"It brings a whole new aspect to the pride I feel as president and the pride that I feel as a born and raised Augustan," he said. "We have unified our brand, we have increased excitement around the university and we have further solidified the important role the community plays in us and that we play in the community. All of that is important for any university town, and I think we've come to appreciate that and now people are starting to take advantage of it — economically, educationally and from a health care perspective."
During his time at Augusta University, Keel has presided over a period of unprecedented growth that includes the opening of two new residence halls in 2016; the completion of the 72,000-square-foot expansion of the M. Bert Storey Research Building in 2018; the creation of the two buildings making up the Georgia Cyber Center, which became fully operational in 2019; and the beginning of the 125,000-square-foot, $70 million College of Science and Mathematics Building, which will open on the Health Sciences Campus in the fall of 2021.
Academically, enrollment has seen year over year increases averaging 2.7% every year since 2015, the four-year graduation rate has increased by 21%, and Keel has welcomed the largest entering freshman classes (2018 and 2019) in history, with more than 50% of both of those classes being from outside the Augusta area.
"Undergraduate students across the state and indeed the region are saying, 'If I want to go into medicine, dentistry, allied health, nursing or biomedical research as a career, then the best place to get my undergraduate degree is Augusta University,'" Keel said.
The incredible growth and expansion of Augusta University over the past five years is well worth celebrating, Keel said.
"I'm excited about what the future holds, and I look forward to the next five years," Keel said. "I hope everybody will continue to keep an eye on the university, because it's theirs, and if they allow me, I'll be honored to be here for the next five years."