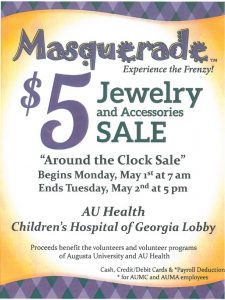 Just in time for Mother's Day, Masquerade, the nation's largest $5 fashion jewelry and accessories fundraising retailer, will be making its Augusta University Health debut on Monday, May 1, in the lobby of the Children's Hospital of Georgia.
Everything will be $5.
The event kicks off at 7 a.m. on May 1 and runs "around the clock" through 5 p.m. Tuesday, May 2.
In addition to being able to shop in the CHOG lobby, a convenient "pop up shop" will be open in Terrace Dining during lunch hours.
Proceeds from this sale will benefit the volunteers and volunteer programs of Augusta University and Augusta University Health.
Cash, credit and debit will be accepted.
Payroll deductions will be available for AU Medical Center and AU Medical Associates employees.