The Augusta University men's basketball team has one last dance to attend — and this one will be for the national championship.
Backed by center Tyshaun Crawford's second double-double in Evansville, Indiana this week, the Jaguars defeated Indiana (PA) 76-61 to advance to Saturday's NCAA Division II national title game against Northwest Missouri State.
The championship game will be televised locally at 3 p.m. on CBS. There will be a watch party beginning at 2:30 p.m. at Christenberry Fieldhouse. Students, faculty, staff and the community are invited to attend and concessions will be available. Free T-shirts will go to the first 250 students with a valid ID. Student shuttles will run from 2:15-7 p.m. on the Blue Route. Find details on the Passio GO app.
The JagStore, located in Washington Hall on the Summerville Campus, is offering an in-store 20% discount all day Friday on Jag swag and will be running a digital 20% discount through next week.
Crawford had 25 points and 14 rebounds, while Ja'Queze Kirby and Tyree Myers added 16 and 13 points, respectively. Crawford set the Elite Eight field goal percentage record in a single game with 100%, making all 12 of his shots.
"It's very fitting that he's sitting in the middle right now, because everything offensively revolved around him," Jaguars head coach Dip Metress said of Crawford. "We played very well, very unselfish. Very proud to coach this team and we get a chance to play on the last day of the year. And we get to wear our tie-dyes … absolutely. Those are our lucky uniforms."
The tie-dye uniforms are becoming famous for their accidental blue hue and the team's winning streak while sporting them.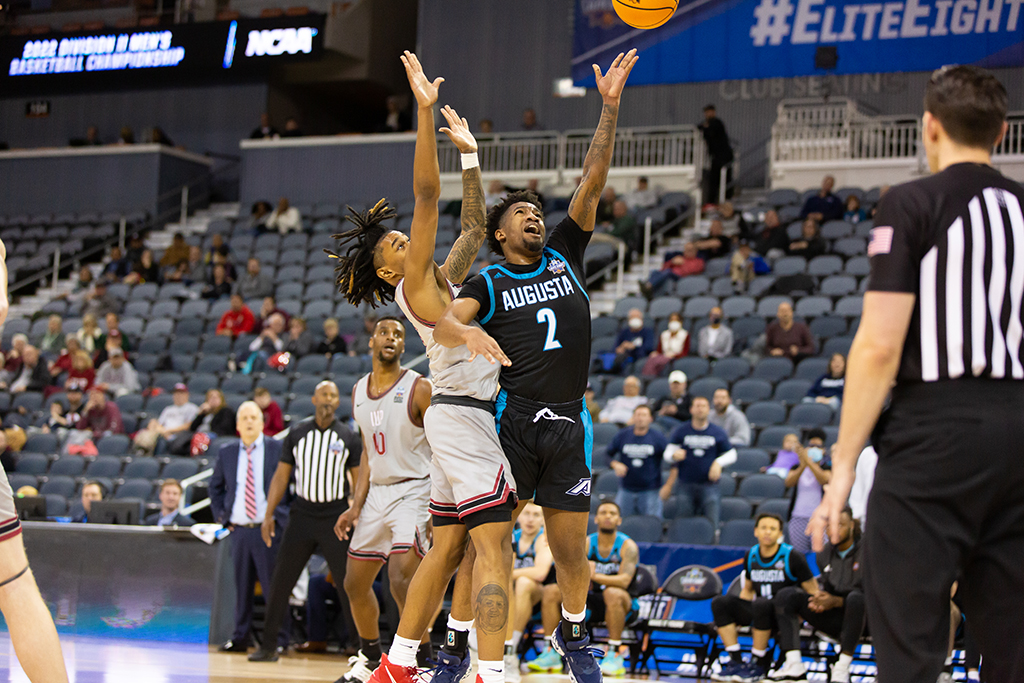 The Jaguars (33-3) will be making their second appearance in the national title game. Their previous appearance was during the 2007-08 season, when they lost to Winona State. They will face a Bearcats team (33-5) that has won three of the past four national championships. Northwest Missouri State beat Black Hills State 70-57 in the early game Thursday.
AU and IUP were tied at 32 at halftime with both teams shooting less than 50% from the field. In the second half, the Jaguars outscored their opponents 44-29 thanks to 61% shooting from the field (17-for-28) and holding the Crimson Hawks to just 29% (9-for-31).
Tomiwa Sulaiman led IUP with 17 points, while Armoni Foster had 12 points and Dave Morris added 10.
"Congratulations to Augusta on a wonderful performance tonight," IUP head coach Joe Lombardi said. "They played at a very high level on both ends of the floor, offensively and defensively. Sometimes you think it's all on you, but they had a lot to do with the outcome of the game. Kudos to them and wishing them well moving forward."
With 6:39 before halftime, Crawford was called for a foul when he was turning to the basket and elbowed Sulaiman in the jaw. Crawford was assessed a flagrant 1, which is an "avoidable/unnecessary contact or hooking, holding a player from behind to prevent a score" and results in the other team shooting two free throws while getting possession of the ball.
Crawford was able to keep his composure thanks to the coaching staff's encouragement.
"I didn't mean to do it, and I apologized to him afterwards," Crawford said. "But the coaches just told to keep believing in myself."
The Jaguars' offense ran through Crawford, Myers and Kirby a game after Miguel Arnold carried the load. On Thursday, Arnold was held to just six field goal attempts and three points after scoring 33 points in the overtime win Tuesday night.
"We lean on whatever they're giving us," Crawford said. "They were trying to take away outside shots, and I just happened to be open on the back side to make the open shot."
Kirby said his ability to shoot opens up a lot of options for Crawford, saying that if he missed "he knew he'd be there to get the rebound."
Both players knew the spotlight will shine bright on Saturday, but both are excited about the chance to play for a championship.
"To be in a championship game, I've never been a part of anything like this in my life, so I'm just enjoying the moment," Crawford said. "But my guys, we're ready to go. We're all excited. We know there's a next game and we just have to keep going."
Kirby echoed those sentiments.
"This is big, like he said, I've never won like this in my life. So it would mean everything to me."