Kennedy Carroll first met Chloe Holder at a peewee golf championship in Columbia, South Carolina when they were about 8 or 9 years old.
"It was our first tournament ever and she's wearing this butterfly T-shirt and these shorts that went past her knees, but she was a stud player," Carroll said. "A few years later we played in a tournament again together and that's how I remembered her."
Their friendship developed from there. Holder said they grew up playing junior golf together. Despite her living in Anderson and Carroll in Mount Pleasant, they played almost every tournament together.
Both said their friendly rivalry helped calm their nerves when it was tournament time and also created a sense of unity between them on and off the golf course.
"Whether we were in the same tournament or now on the same team, it was just comfortable and it created a better environment to play and to play better," Holder said. "I think that's the relief when you get to a tournament. I don't know these people I'm playing against, so I've got to let me be me. Now as teammates, I know Ken and I are going to play our own game because she knows me and I know her. The level of comfort made a difference."
Augusta University women's golf coach Caroline Hegg affectionately refers to Holder and Carroll as "The Knuckleheads," a name they admit they answer to.
Hegg recruited them separately not knowing their history, but now she can't think of one without the other.
"They lighten any environment they're in; they're fun, genuine, caring, hard-working people who both take nothing for granted," Hegg said. "It's easy to get caught up in our own problems and get caught up in things we want and things we expect and lose sight of the things we have to be grateful for, and both of these young women get that, which is rare for someone so young. Being around them makes my job more fun and I think makes our whole team better. I'm grateful to have them."
The college process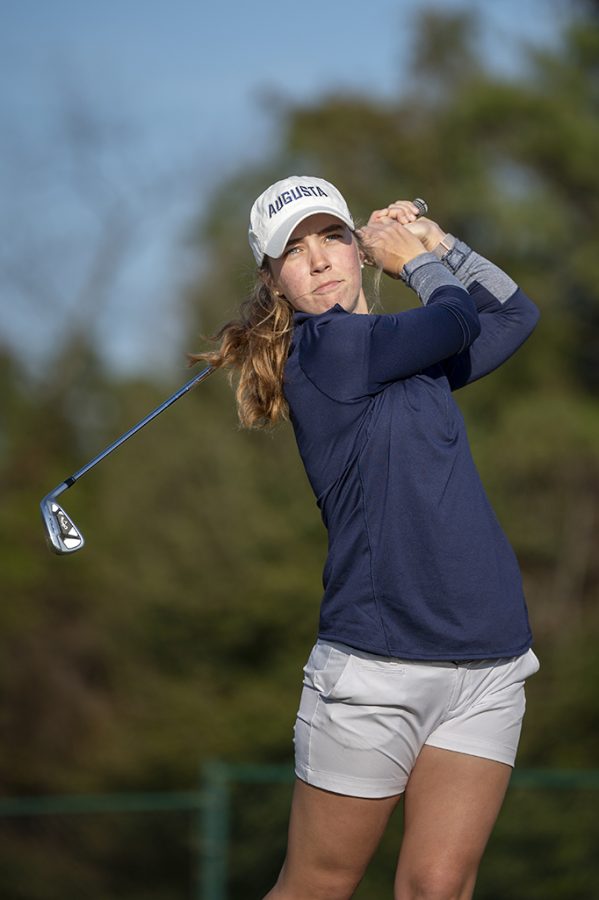 Holder, who is pursuing a bachelor's degree in business with a concentration in marketing in the Hull College of Business, verbally committed to Georgia Southern originally but had a change of heart and decided to explore her options again. She made some connections and was able to get in touch with Hegg, who shared similar goals that helped convince her Augusta University was the place for her.
"This place, the facilities, the area … It's just the biggest golf town you can be in and that definitely drew me in for sure," she said.
Carroll, who is pursuing a bachelor's degree in business administration with a concentration in health care management from Hull College, had a taste of college life at the University of North Carolina at Charlotte, where she competed in one tournament as an individual before the COVID-19 pandemic. Before the shutdown, she came to town with her father and uncle to play at a practice round at Forest Hills Golf Club for the Valspar Augusta Invitational. She remembers being in awe of the facilities and fascinated at seeing other players practicing at their own facility.
"Then a week later, everything was shut down and two years later, I'm at this facility playing in this tournament as an Augusta player."
When changes to Charlotte's coaching staff were announced, Carroll entered the transfer portal. Hegg heard about Carroll through an acquaintance and really liked her game.
"After speaking with her previous coach, who was really high on her, it got to a point where I reached out one day to Chloe and said, 'Hey, do you know Kennedy Carroll?' and she said, 'Yeah, she's one of my best friends,'" Hegg said.
"It's crazy how that happens; I think things happen for a reason. They were recruited completely independently of one another, but have ended up being so good for each other. This whole team is close and bonds together, but to have someone that you feel extra close with, who's more like a sister and someone you have a past with before you got to college, makes life a lot easier and makes the transition a lot easier. I just want the best for both of them."
Learning the game
Once Holder and Carroll's friendship started to blossom, so did that of their fathers, Shane Holder and Stephen Carroll. At tournaments, the four of them were always together — a memory both of the women appreciate.
"They always wanted to travel with us and so it basically became daddy/daughter traveling to tournaments," Chloe Holder said. "But as we got older, if anything like work came up and one of them couldn't travel, they'd say, 'Hey, text Ken and see what hotel they're at.' Basically, Ken and Chloe were always together."
While the women cherish the time they've spent with their fathers, they had very different ways of being raised in the sport. Holder said her dad was a golfer and introduced her to the sport when she was about 3 or 4 years old.
"He got me started and taught me everything he knew, and he was a great teacher, but he taught me until about 12 and then I started getting professional lessons," she said. "He said he felt like, 'I've taught you everything I know and I want you to have a professional look.' He didn't want to be that overbearing parent of trying to do too much."
Carroll saw her dad watching the LPGA on television at about age 7 or 8 and she became interested. From there, she got her first set of U.S. Kids clubs with the built-in grips and "got to working."
Carroll's experience learning golf was different than her best friend's. Her father didn't know as much as Holder's dad did, but Carroll appreciates the work ethic her father instilled in her, both on and off the golf course. Some of her best memories with him came from car rides to and from golf events, where there was no cell service and all they could do was talk.
"The more I played golf, the closer we got. That may be the biggest win of playing was that I got to know my dad. He was very hard on me but without his work ethic and showing me what he's done in his life, I wouldn't be where I am today without it."
Hegg said both women are driven and understand how to practice, which in turn makes her job easier.
"I'm never tracking those two down: it's more of a check-in situation," Hegg said. "We're making sure that sometimes we're being holistic in our approach to practice. Sometimes they'll just hit golf balls till nighttime, and that's fine, sometimes, but we also need to make sure we're addressing our game across the board. They're both special players and are going to have really bright futures here."
A common bond
From finishing each other's sentences to sharing the same thought process to reading each other's minds, the connection Holder and Carroll have is clear to anyone who hangs around them for five minutes.
"It takes a lot to get me mad, but Chloe can look at me and know when something is bothering me," Carroll said.
But there's more to their bond than meets the eye.
Both women's mothers, who coincidentally share the same name, also shared a personal struggle. Growing up, Holder and Carroll had strong relationships with their moms, but said their personal battles were something that, in Carroll's words, were "kind of swept under the rug because you always wanted to make it seem like everything was OK."
But in reality, everything was far from it.
"When things were hard and there were tournaments that we would cross paths, Chloe was always someone I could lean on," said Carroll, whose mom, Tiffani, passed away two years ago.
"I'm absolutely blessed but at the end of the day, everybody's human," Holder said of her mom, Tiffine. "Everybody has their own struggles and my mom had hers. Knowing that Kennedy kind of had that same situation, and that created another level of comfortability for me knowing I'm not the only one."
Each knows the other will be there for them no matter what.
"She was four and a half hours away but Chloe was one of the first people to show up for my mom's funeral," Carroll said. "It was no question."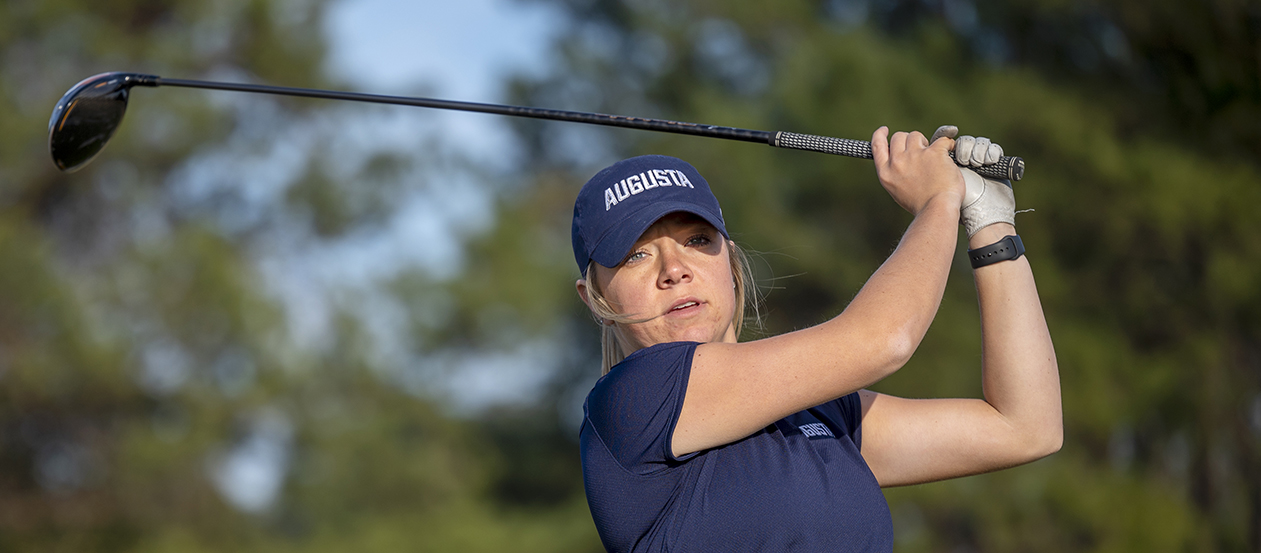 The future is bright
Holder and Carroll both cherish the relationship they have with Hegg, knowing she is someone they can look up to for advice and who will always have their back no matter the circumstance.
"Just having another person to look up to … that's what she's been to us," Holder said. "It's nice having someone like her to be able to ask her questions or pick her brain about anything. She's been great."
"She gives us a hard time for sure but she's made us feel comfortable," Carroll added. "She has our back 1,000%. There is nothing that's going to get in the way of the team aspect — she is fully committed to the team and us. Action and words have made that clear."
Hegg said she wants to compete, win and have fun while noting everything she does is for the team. Knowing the women appreciate what she sacrifices for her team means the world to her.
"I work my butt off for them, but the fulfilling part of this job is the relationships you have with the kids, and I want them to know that I'm going to challenge them and hold them accountable and I'm going to ride them sometimes, but I will always have their backs."
Holder wasted little time making her presence known on the collegiate level, winning her first tournament, the Mercedes Benz Women's Collegiate in Knoxville, Tennessee, back in September.
She shot 71-67-69—207 to win by four shots on her birthday. As a team, the Jaguars finished tied for third. The weather was less than ideal, but Holder entered the tournament with what she said was one of the greatest mindsets she's ever had.
"I was nervous, but this was my first college event, and because of that I had no expectations. I had no pressure because I'm a freshman, so nobody expects me to win. I expect myself to win, so I think that relieved a lot of pressure."
Carroll was one of the first people to celebrate with her after the win, followed by their fathers.
After car trouble delayed their return home from that tournament until after 1 a.m., Holder was surprised to find the rest of the women's team and the men's team had waited up to celebrate her birthday and the win.
"The entire team was sitting in a teammate's apartment with cake ready to celebrate. It was the coolest thing," Holder said.
At the recent Valspar Augusta Invitational, Holder finished tied for 46th while Carroll tied for 55th. Their teammate Natalia Yoko won the individual championship, and the overall team finished tied for fifth.
The women are enjoying the perks of playing in Augusta, which included a recent outing at the Augusta National Golf Club, a memory both will carry with them forever.
"The whole experience was hard to fathom!" Holder said. "We ate the best burgers I had ever had. The front nine was a bit of a blur, just taking everything in. Honestly it was just surreal, but as we progressed, I was able to focus and actually play golf. But starting out it definitely felt like a dream."
"For me, the overall experience was indescribable," Carroll said. "I played really well on the front, and then Amen Corner came around and it was a bit difficult. Getting to play with Chloe and both of us to experience that for a first time was amazing. Something I will never forget."