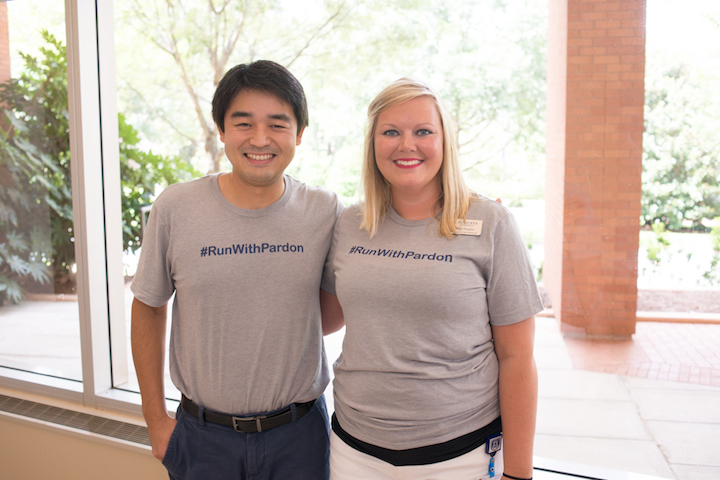 Two members of the Augusta University community will follow Olympian and Augusta University alumnus Pardon Ndhlovu to the Rio 2016 Olympic Games to continue documenting his inspiring story.
On Aug. 21, Ndhlovu, a recent MBA graduate and volunteer coach, will compete in the men's marathon.
Brennan Meagher, communication coordinator, and Arthur Takahashi, digital media coordinator, will join Ndhlovu in Rio. Meagher and Takahashi, along with colleague Nick Garrett, have been following Pardon's story for the past 10 months. Earlier this month, the university's Division of Communications & Marketing premiered a short documentary, "The Extra Mile," following the runner's journey from Zimbabwe to Rio.
A recent alumna, Meagher graduated with a Bachelor of Science in Communications from Augusta University in 2014. After graduation, she worked as a grant writer for a small non-profit in New York City before returning to her hometown of Augusta. She's been following Pardon's Olympic journey since her first week on the job with Augusta University in October 2015. Follow her on Twitter at @brennanmeagher.
Takahashi is a trilingual native of Brazil with passion for video production, storytelling and traveling. He is a digital media coordinator in the Division of Communications & Marketing at Augusta University, where he's worked since May 2015. Takahashi came to the United States on a tennis scholarship in 2006 and graduated from Winthrop University in Rock Hill, S.C., with a bachelor's degree in mass communication and a master's degree in history. In 2013, he moved to Augusta to work at the local CBS affiliate, WRDW-TV. Follow him on Twitter at @ArthurTakahashi.
Go to jagwire.augusta.edu/olympics for all of their news from Rio or follow #RunWithPardon on social media.