This Jagwire series features people from around Augusta University and AU Health who keep JagNation running. Email the media relations team to share your story. This week we talk to Mark Rogers of the Central Utility Plant.
Where is your spot in the JagNation? 
Central Utility Plant aka The CUP on the Summerville Campus.
How long have you been a part of JagNation?
Oct. 17, 2020, will be four years.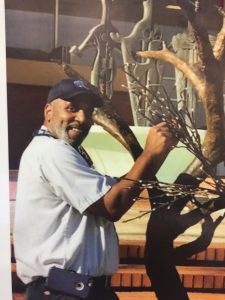 Most interesting thing about your job? 
I like the complex troubleshooting that we sometimes come across in our daily tasks.
Favorite thing about JagNation? 
I like the camaraderie everyone seems to have on campus.
Family:
Wife, Ayanna; daughter, Breyanna, who is an RN in the emergency department at AU Health; sons Mark, Mekhi and Eric.
Hobbies: 
Cooking, grilling and watching cooking shows.
Something the JagNation does not know about you?
I'm going to culinary arts school.
How has COVID-19 changed/affected your job?
When COVID-19 came, I was the main electrician at our Christenberry testing location for four or five months.