Annual fundraiser supports Children's Hospital of Georgia
AUGUSTA, Ga. – You can help provide specialized pediatric care at the not-for-profit Children's Hospital of Georgia when you order pancakes at IHOP on Tuesday, March 7.
During this annual National Pancake Day fundraiser, IHOP restaurants will serve free short stacks of their famous buttermilk pancakes from 7 a.m. to 10 p.m. In lieu of the meal cost, IHOP guests can make a voluntary donation to Children's Hospital of Georgia, the local Children's Miracle Network Hospital.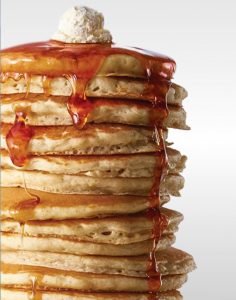 Since 2006, IHOP's National Pancake Day has raised about $13 million to provide life-saving treatment, programs and medical equipment for pediatric patients, including the nearly 100,000 children treated annually at CHOG.
Funds raised in previous years have gone toward renovations in CHOG's level II special care nursery and a kid-size, life-like mannequin that is used to train pediatric staff to better prepare them to treat children.
Participating IHOP locations are located at 3125 Peach Orchard Road, Augusta; 4361 Washington Road, Evans; and 180 Aiken Mall Drive, Aiken.
For more information about National Pancake Day, contact Grace Carryl at gcarryl@augusta.edu or 706-446-0232.
The 154-bed not-for-profit Children's Hospital of Georgia is the second-largest children's hospital in the state, providing the highest level of pediatric critical care and neonatal intensive care, as well as a wide range of general and complex health care for children. CHOG was recently ranked as the nation's top performing hospital in pediatric quality and safety by Vizient, Inc., a consortium of the country's academic medical centers. Visit facebook.com/GAChildrens or follow on Twitter at twitter.com/GAChildrens