Human Resources launched the Executive Leadership Development Program earlier this year for experienced senior leaders at Augusta University.
"This is a more progressive and robust program than we've offered before," said Susan Norton, vice president of human resources. "It's designed to develop leaders to advance the mission, vision and values of the university, while also developing and honing their own leadership skills and abilities. The sessions are led by a variety of subject matter experts who are dedicated to helping AU leaders build and foster a committed, compassionate and innovative workforce culture for Augusta University and our health system."
University faculty, academic and administrative leaders will present the sessions along with experts from the University System of Georgia Leadership and Institutional Development team. This inaugural cohort will complete a five-month program through a combination of in-person and virtual sessions. Program topics include emotional intelligence, communications, influence, resiliency, agility, trust and more.
"I am grateful for this opportunity," said Dr. Patrice Buckner Jackson, associate vice president of student affairs and one of seven leaders in the cohort. "Each of the presenters has shared new perspectives that I can apply to my leadership practices right away. I appreciate the opportunity to strengthen my leadership skills as well as my connection with my colleagues."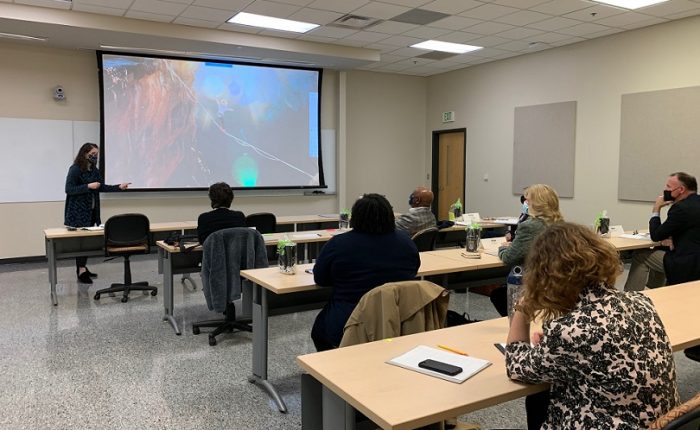 "There are a variety of regional and national leadership development courses available for ongoing professional development," said Dr. Valera Hudson, pediatrician-in-chief for Children's Hospital of Georgia and chair of the Department of Pediatrics at the Medical College of Georgia. "The AU Executive Leadership Development Program provides the unique opportunity for leadership development with a diverse group of AU colleagues from across the campus. The connections made among participants is as important as the course content and strengthens our ability as leaders to support the university in achieving our shared mission."
In addition to Jackson and Hudson, the 2021 Executive Leadership Program includes Dale Hartenburg, assistant vice president of campus services and chief auxiliary officer in operations; Cedric Johnson, director of community affairs for strategic partnerships and economic development; Margie Miller, director of state government relations in external relations; Corrina Warner, assistant controller for financial operations; and Pam Witter, special assistant to the vice provost and chief administrator in continuing education.
This first cohort was selected based on nominations from the President's Executive Cabinet. Much like a graduate program, teams are assigned to work together on a final "capstone" project related to university's core values, a novel component when compared to curriculum offered in the past.
"When we surveyed past participants of the Leadership Development program, many of them indicated that they would have liked to put the new skills they were learning to use in solving an issue for the institution," said Dr. Karla Leeper, vice president of operations and a sponsor of the program. "We thought it was a great idea. So each cohort will be tasked with providing a recommendation to the PEC on a specific issue. This cohort will tackle a challenge raised in our last employee engagement survey: How can we integrate our institutional core values more clearly and concretely into the daily life of our organization? We are excited to see what they develop."
In April, the group discussed diversity, equity and inclusion with Melissa Furman, a faculty member in Hull College of Business, and considered several case studies related to various AU organizational policies with Norton, Chris Melcher, general counsel and vice president for legal affairs, and Barry Grosse, vice president for audit, compliance, ethics and risk management. The group's May sessions will include discussions on trust and resiliency, led by Dr. Chuck Powell with assistance from Dr. Wendi Jenkins, both with USG Leadership and Institutional Development.
The inaugural cohort is expected to conclude the program in June.
For information on this and other leadership development and training opportunities, please contact Wanda O'Brien, Learning Management Systems and Development Consultant in Human Resources at 706-721-4054, or Kelli Gonzalez-Brooks , Organizational Development Specialist, at 706-721-4083.