This summer, local high school students had the opportunity to participate in the Georgia Cancer Center's first Summer Research Experience Program.
This program offers a way for students to gain valuable firsthand experience in biomedical science. With the guidance of accomplished mentors, the students learned about cancer research and developed essential skills to support their future careers.
"They're coming in and many of them are working in basic science laboratories," said Rhea-Beth Markowitz, PhD, one of the program's coordinators. "Some of them are working with databases and bioinformatics. And some are working in population health, and they are working with a researcher, learning how to do cancer research."
The students were actively involved with their mentors' cancer research team and worked on specific studies within those research areas. The students are inferring ideas for themselves with the help of their mentors by running their own tests and analyses.
Mentors and students are paired up according to the information supplied on their application to the program. This allows students to participate in research that is interesting to them or has somehow affected them.
"I've always been interested in science, but when I got the opportunity, I wanted to pursue it," said Alyssa Ruby, a rising senior at Greenbrier High School. She is working in the laboratory of Tianxing Hu, PhD, in the Georgia Cancer Center. "Especially since somebody very close to me fell ill with leukemia, and sadly passed away. But knowing that I get to be a part of something to help cure or prevent leukemia is important to me."
Students experienced different activities during the four weeks in the program, showing them what researchers do and learning the processes themselves. They also had the opportunity to visit and tour different facilities on campus and see how they are used at Augusta University.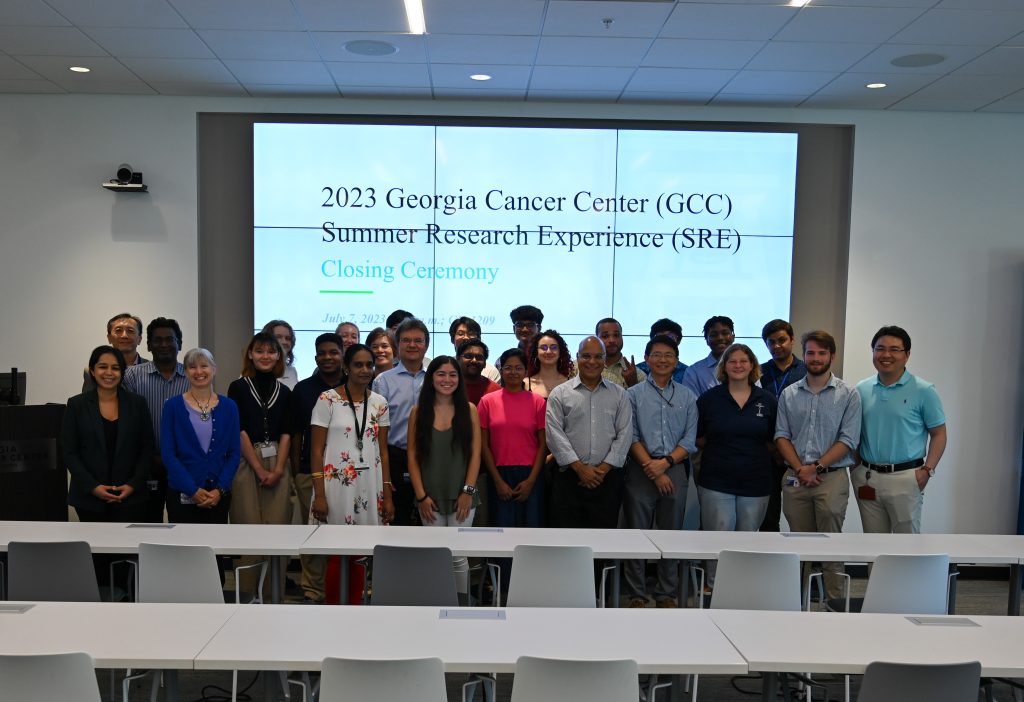 "They are getting the opportunity to see different things here at the university," Markowitz said. "They have been to the simulation lab, where there are mannequins that medical students use to learn how to do procedures. They have been to the transgenic zebrafish facility. They are learning, and this is so important, how to communicate their science and what they are doing."
The group said they were thrilled to experience this program because it aligns with what they want to do in the future. The students expect to be better prepared and have an advantage when they get into the college atmosphere.
"When we go off to college, we're going to have a head start," said Theerth Srinivasan, a rising junior at Lakeside High School. "We will know how to analyze manuscripts. We will know what software we can use to analyze data. We know where we can get data specifically."
The SRE Program is designed with high school students in mind. Georgia Cancer Center researchers want to show students the world of cancer research and inspire them to find their place in this career field. With a need for more cancer researchers, one of the goals of the program is to help attract students to the field.
"What research is like, there are ups and there are downs. So, we want to expose them to all of this. They are not being graded for this. It is an experience that we hope will shape their future, and we want them to have an enjoyable time while doing it," said Markowitz.
High school students interested in the SRE Program must apply in advance. They must be at least 16 years old by the start of the program. In addition to completing the application form, an applicant needs to submit two recommendation letters (at least one from a teacher/guidance counselor), their most recent school transcript, and a 250-word personal statement describing what cancer means to them and why they would like to be in the program.
Applications for next summer are due by Jan. 15. The program is competitive, and the Georgia Cancer Center is looking for students from throughout the CSRA who not only meet the requirements, but also have an interest in science.