Augusta University alumna Kiara Daniels recently secured a $1,000 grant from an organization called Swipe Out Hunger for Augusta University's campus food pantry.
Daniels, who received her bachelor's degree in business administration from James M. Hull College of Business in 2022, now works as a field marketing coordinator for Sodexo, a food services and facilities management company in the Augusta area.
When Daniels was applying for the $1,000 grant through the nonprofit organization, which addresses hunger nationwide on college campuses, she reflected on her time as a student at Augusta University and how the food pantry provided her with much-needed snacks and extra food items when the dining halls weren't open during the holiday breaks.
"As a freshman, when I lived in Oak Hall, during the breaks, the dining hall would be closed, and the food pantry would bring food to the dorms for us," Daniels said. "I did not have a car as a freshman, so having the food pantry there was really nice."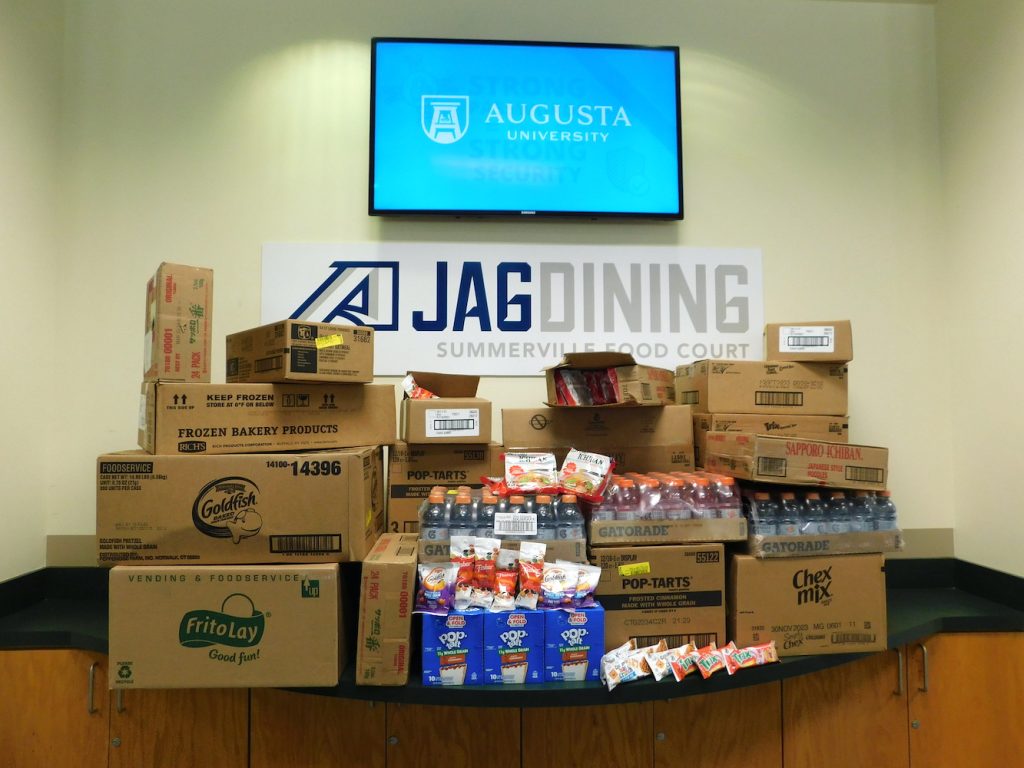 Open Paws Food Pantry is Augusta University's campus food pantry, and it is open to all currently enrolled Augusta University students in need. There are two pantry locations: Bellevue Hall on the Summerville Campus and the second floor of the student center on the Health Sciences Campus.
Food donations are accepted at either location, from 8 a.m. to 5 p.m. Monday through Friday.
"Having the opportunity to receive a donation of this caliber is wonderful because it really allows our students to have more access to extra food and snacks that strengthen their well-being," said Simone Hicks, PhD, associate dean in the Office of the Dean of Students. "I'm so appreciative of this opportunity and excited to see what this does for our students."
Rick Gant, general manager of Sodexo in Augusta, said he was impressed with Daniels' initiative to apply for this grant and further Sodexo's community service.
"One of the things that Sodexo really does try to do is play an active role in our communities where we're located to help with the whole cause of hunger," Gant said. "We were very lucky that we were able to get the funding and were able to secure $1,000 worth of products to get students successfully started off for the year."
Daniels shared how she started out as an intern for Sodexo while pursuing her degree at Augusta University and was thrilled to be offered a position as a full-time employee at the company last year.
"I started out as a marketing intern for Sodexo, and it just blossomed. They soon offered me a job as a marketing coordinator, and it is a great company to work for," she said. "Sodexo has a nonprofit organization within our company called Sodexo Stop Hunger Foundation. Through Stop Hunger Foundation, we partnered with the nonprofit organization, Swipe Out Hunger, and Augusta University was selected as one of the first schools to receive the grant. We received a $1,000 grant, and we thought it'd be cool instead of just gifting the money, to buy items that we can give to the students."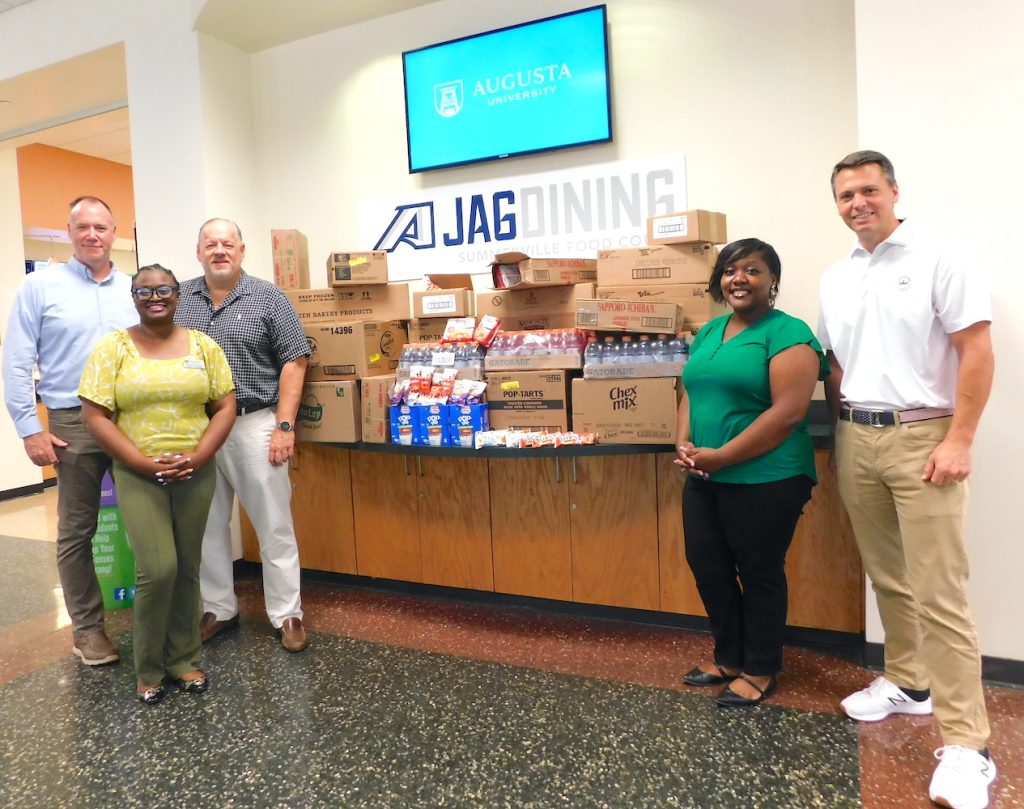 As Daniels and the team from Sodexo unloaded boxes of cereal bars, snacks, Gatorade and pasta, she said it was rewarding to be able to receive a grant that will help her alma mater.
"I love working for Sodexo because it is like a community," Daniels said. "Working with everybody and getting to know the students and employees is really nice."
"Part of my job is going around and connecting with them and seeing how they are enjoying their experiences," she added. "We want to know how can we make it better and what can we do to improve their overall experience in college."