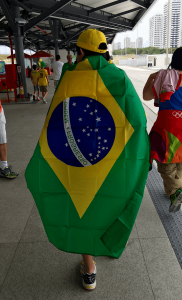 It was a green and yellow afternoon in Rio de Janeiro.
Everywhere I looked, I could spot Brazil soccer jerseys and people carrying the Brazilian flag.
I fit in.
Saturday was game day.
Brazil vs. Germany. At Maracanã Stadium. A fight for the gold medal in men's soccer.
This game was important in different ways.
After a shameful 7-1 loss in the semifinals of the 2014 World Cup, we wanted to take revenge against Germany.
Also, we needed to finally exorcise the ghost of the episode known as "Maracanaço," when Brazil lost 2-1 to Uruguay in the 1950 World Cup final at Maracanã Stadium.
Those two losses made Brazil cry. They were painful.
Only an Olympic gold against Germany at Maracanã could help shine away those bad memories.
Winner of five World Cup titles (more than any other country), Brazil had never won an Olympic gold medal.
For a moment like this, watching the game at a big screen in Rio with a Brazilian crowd at one of the 2016 Rio Games venues was special.
If you think a Super Bowl party is cool, you should get together with Brazilian people to watch Brazil's national soccer team play.
We don't care about commercials.
We care about the game. And we are all cheering for the same team.
When Brazil plays an important game (especially if it's the World Cup), many people don't go to work, kids don't go to school and streets are deserted.
People who do go to work probably don't work anyways.
During the 2014 World Cup in Brazil, many local governments even declared a holiday when Brazil played. They knew it was useless to force people away from a TV set.
During a game, you can also hear fireworks every time Brazil scores.
Perhaps that's why we are called the country of soccer.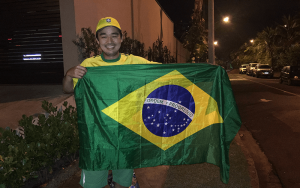 This time at the Olympics, it was no different.
The crowd yelled together at every kick to the goal. We cheered our team up. We booed Germany. And, like any good soccer game, we coursed at the referee.
And when Germany scored the goal that tied the game 1-1, we got quiet.
The extra time came with no goals.
Tension was building up.
My heart was beating fast. My arms went numb. I started shaking a little.
When the penalty kicks started, I could barely watch the screen.
At 4-4, Weverton, the Brazilian goalkeeper, defended Germany's fifth penalty kick.
The crowd—including me—went wild.
Then, Neymar, the Brazilian team's soccer star, scored Brazil's fifth goal.
Everybody started jumping up and down. I yelled so much that my throat would later hurt.
Brazil had finally won an Olympic gold medal in soccer.
It felt great.
The green and yellow evening also gained a shade of gold.
Be sure to check out Brennan Meagher's blog for her take on our Rio experience.