Capt. Edgar Rojas, Georgia Army National Guard, has embodied the quote, "Patience and perseverance have a magical effect before which difficulties disappear and obstacles vanish," made by U.S. President John Quincy Adams.
In working to earn his Master of Physician Assistant degree from the College of Allied Health Sciences at Augusta University, Rojas had to defer beginning the program for an entire year not once but twice; however, he refused to let that dissuade him from pursuing this career.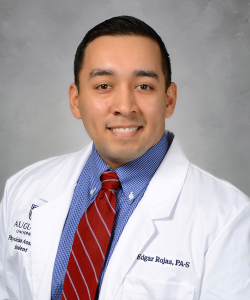 "I have always wanted to be in the medical field, even though I wasn't entirely sure what exactly that entailed," Rojas said. "It was probably around 2013 or 2014 while I was working with the PA who was assigned to my unit in the Army that I just started asking him questions about his job. He told me that he gets to practice medicine to the same extent as the attending physician, but he also gets to be with the soldiers on a more regular basis. He gets to fill that double role of working as the provider, but also be a soldier at the same time, and that really appealed to me."
Making the decision to become a PA was the easy part. From there, the path to becoming a PA became a little more difficult.
Rojas, who is from Dahlonega, Georgia, graduated with a Bachelor of Science in Kinesiology from the University of North Georgia in 2017 and was immediately accepted into the PA program at Augusta University. There was just one problem: he received orders to report for Army training that year in Fort Lee, Virginia, forcing him to defer entrance for a year.
"I think the timeline overlapped by a couple of weeks, so it wouldn't have been impossible, but it was too close for comfort," Rojas said. "So, I had to defer for a year, finish my training and then I came back. I was planning on starting school then, but then orders for deployment came down."
When his unit at the time, Bravo Company 3-121 Infantry of the 48th Infantry Brigade Combat Team, received orders for possible deployment, he held off deferring as long as he could.
"You never know if that deployment is actually going to happen until pretty close to the departure date," Rojas said. "I was trying to hold off as long as I could, hoping that the plans would fall through and I'd be able to start school on time.
"There have been stories of other people being at the airport getting ready to load the planes, and then everything gets canceled, and that's why I was trying to hold off until the very last second in hopes that something would allow me to start on time."
But the orders to stop preparations never came, so he and his unit went to Afghanistan for a seven-month tour. Once the tour was up, he was finally able to enter the program in 2020.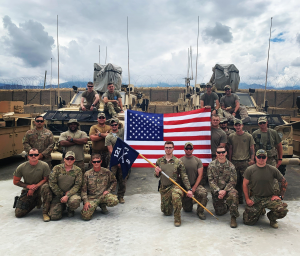 While deferring the start of the program of his dreams for two years was certainly frustrating, it was what happened next that makes Rojas' journey to becoming a PA even more impressive.
"I was finally able to start in 2020, and then COVID-19 happened," Rojas shared, adding that it was a challenge to adjust to the new hybrid environment.
Rather than start his program and get to know his fellow classmates better in person, Rojas and his class had to begin their studies in a hybrid learning environment. Despite having to overcome yet another bump in the road, Rojas was able to take it head on.
"Ultimately, I think it worked out for the best," Rojas said. "I love my class. They're awesome people and I get along really well with them, so I think it was a blessing in disguise."
Even now, as he closes in on graduating while navigating through clinical rotations, Rojas is showing perseverance. Every month in between studies or clinical rotations, he travels from Augusta to Macon or Fort Stewart for training, and then returns to Augusta to work at AU Health or at one of AU's satellite campuses.
Rojas, who is now a member of the Headquarters and Headquarters Company with the 148th Brigade Support Battalion with the Georgia National Guard, would like to find work in the Augusta area while his wife, Marianne, works on earning her undergraduate biology degree at Augusta University.
"My message to anyone who may be finding college tough would be just continue to have that drive and perseverance," Rojas shared. "You're going to hit speed bumps along the way. There are going to be times where you want to quit and take the easy way out, but just stay true to what your dream or goal is, and just keep going until you get there."
Augusta University's Spring 2022 Commencement ceremonies will be held Thursday, May 12 and Friday, May 13. Thursday's ceremony will honor graduate students, and Friday's ceremonies will honor undergraduate students. Watch the events via livestream.