Vonny Nogales has worked in technology for the last 15 years, and has taken the next step on her professional journey by earning a master's degree in information security management from Augusta University's School of Computer and Cyber Sciences.
This two-year, 30-credit master's program provides the knowledge and skills required to protect an enterprise's information assets. It educates students in information security, IT governance and risk management. Nogales started the program in August 2019 and recently completed her studies this summer.
After emigrating from her hometown of La Paz, Bolivia, after college — where she earned a bachelor's degree in computer science from Universidad Salesiana de Bolivia — Nogales spent the next several years working in various technology roles, including development, programming, networking and software operations.
Nogales has always been interested in technology, and noted that the COVID-19 pandemic only further cemented its importance in the modern workforce.
"I think technology can help us a lot. As we've seen in the pandemic, we had a very rough year, but technology was there to make us move forward. We had to move dramatically toward online channels," she said.
She also noted that the ISM program, despite her years of experience, helped her practice teamwork.
"I learned a lot from my peers, from my professors, gathering different ideas from people with different careers, goals and points of view. It really opened my mind in analyzing different ways that we can achieve a certain goal," she said.
She hopes her ISM degree will help her reach her ultimate goal: landing a management role in the cybersecurity space.
"I feel that cybersecurity helps show and teach about the increasing awareness and concerns over the growth of cyber threats, not only in small or private organizations but also in the government sector," she said. She cited the recent Colonial Pipeline attack as an example.
She hopes to remain at Augusta University to continue her career growth, mentioning the Georgia Cyber Center as an area of interest.
Nogales has no plans to leave Augusta University, as she's grown to love its culture.
She is currently a library systems analyst for the Greenblatt Library at Augusta University, where she worked full time for the duration of the ISM program. She enjoys the role, citing how much she appreciates the programs, activities and support services the university libraries offer students and faculty.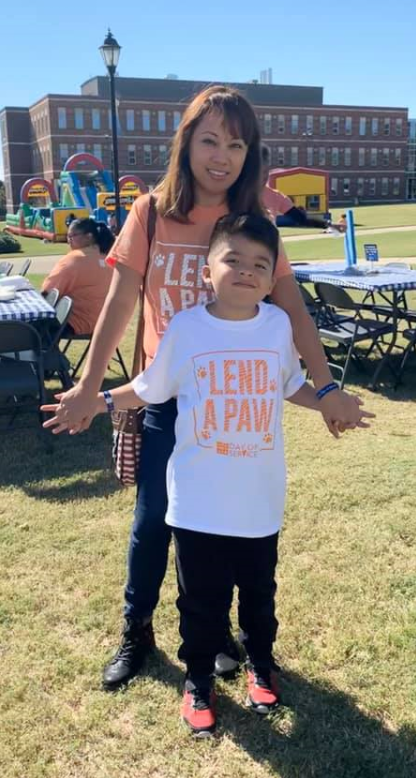 Additionally, since she came to Augusta University in January 2018, Nogales has come to value the institution's programs and services — especially the connections AU shares with the local community. She and her son, Dylan, recently supported GAP Ministries of Augusta during Days of Service, and the program heavily impacted her.
"I think it's a great way to help the whole community, as the community is part of Augusta University," she said.
Nogales also appreciates the way the cyber school's staff and faculty helped her adjust to American academia. Prior to starting the ISM program, she took English classes at Montgomery College in Maryland and earned certifications related to information technology, but had never enrolled in a degree-seeking program in the U.S.
She said Markus Bacha, program coordinator for the School of Computer and Cyber Sciences, was always there to answer her questions and provide support.
"So far I'm having a great journey at Augusta University. I'm grateful for several things — my family and my son who supported me while I was studying, my friends who kept me strong, my coworkers, all the lessons I've learned, and even the challenges and struggles I had," she said.
Reflecting more on her program, she's confident it impacted both her personal and professional growth. And she's ready for the next challenge that will elevate her future as a woman in tech.
"I'm looking forward to growing my career and more opportunities where I can assume more responsibilities and take on leadership roles here at Augusta University," she said.
Augusta University's Fall 2021 Commencement will be at 2 p.m. Friday, Dec. 10 at the James Brown Arena. Watch the ceremony via livestream.