They are a popular pet at pet stores across the country. However, one researcher at the Georgia Cancer Center believes a small fish could be key to solving a big problem in the brain.
"Glioblastoma is an aggressive cancer of the brain, causing about 13,000 deaths annually in the United States," said Dr. Surendra Rajpurohit, an assistant research scientist at the Georgia Cancer Center at Augusta University. "Despite advances in treatment, the median survival is only 15 months. There is a dire need for therapies that can improve the outcome for patients with this type of cancer."
It's this need for discovery that's driving Rajpurohit to breed a special type of transgenic zebrafish model that can be examined under a fluorescent microscope to see how microglia cells, during normal as well as under pathophysiological environment of cancer, are behaving in the brain in vivo. The microglia cells are resident macrophages of the brain that are responsible for the immune response in the central nervous system.
Recently, zebrafish have emerged as a powerful model organism for studying cancer because it is easy to introduce genetic changes in them.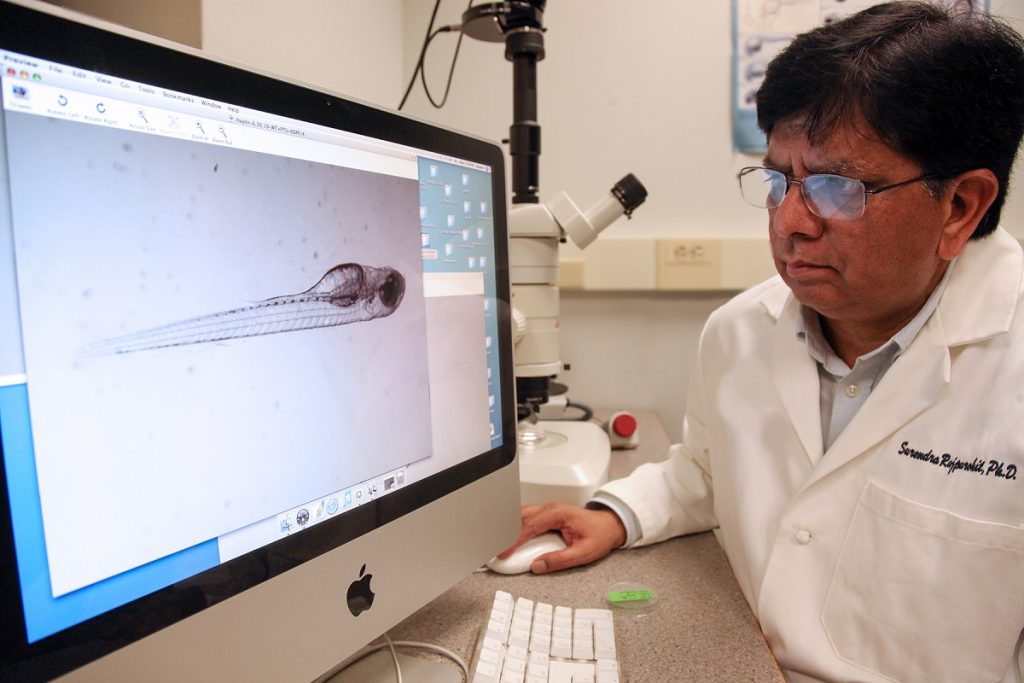 For his study, Rajpurohit is developing the compound transparent skin-based zebrafish mutant "Casper" with transgenic zebrafish progeny with a brain's microglia cells, which express mCherry fluorescent protein as well as the NF-kB tag GFP protein (green) and annexin-5 tagged YFP protein (yellow) transgenic lines of the zebrafish strains, causing it to show multiple fluorescent expression proteins patterns under the fluorescent microscope.
The cancer cells will be introduced into the zebrafish larvae through xenograft technique. Any inflammation caused by cancer growth or drugs tested on the fish will light up green fluorescent expression, while the cell death pattern will show up as yellow fluorescent expression.
"We are developing and generating a novel new compound transgenic transparent model organism to study the role of microglia function in brain tumors," he said. "It is my hope that the study will yield crucial new insights into NF-kB pathways in glioblastoma and result in the development of novel therapeutic approaches."
All this work is happening inside the Zebrafish Core Laboratory located inside the Interdisciplinary Research Building on Augusta University's Health Sciences Campus. The original lab was opened in the 1980s, while the newly renovated current lab started operations in 2008. The lab is the only one in Georgia. During his time here, Rajpurohit has built relationships with facilities at Harvard University and the University of Utah.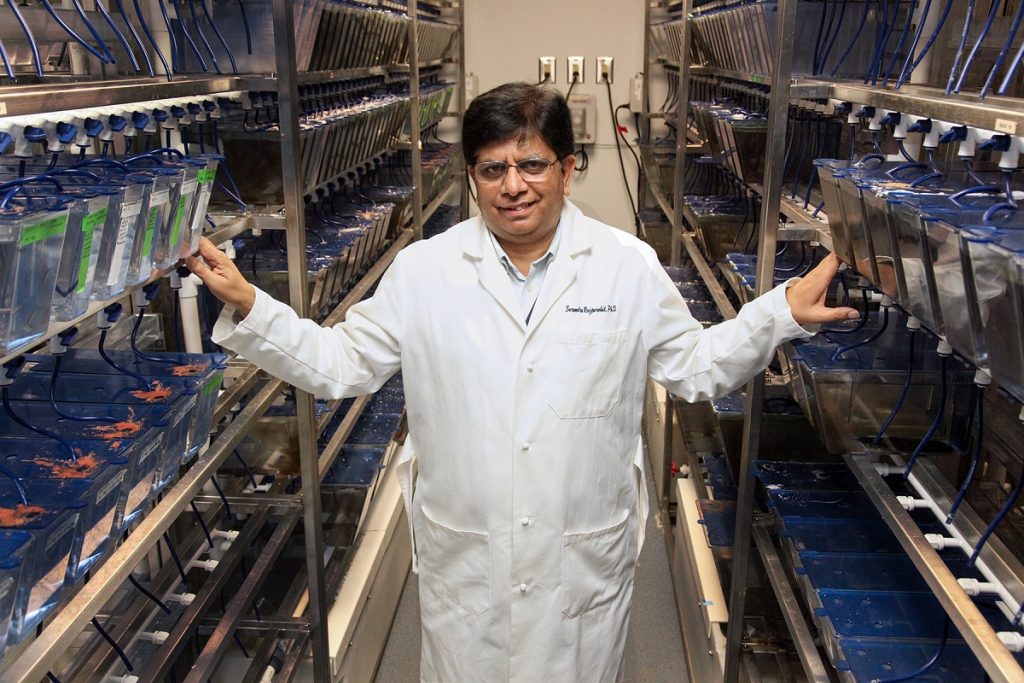 "While my current research project focuses on a form of brain cancer, we can use this model system and high-throughput drug discovery process for other types of cancer complications, including the new field of cardio-oncology, by using a cardiomyocyte-annexin-5 transgenic line of zebrafish (red-heart)," Rajpurohit said.
At the initial stage, their lab is getting help from Dr. Leonard Zon's Lab from Harvard University to acquire the "Casper" mutant fish line and Dr. Randal Peterson's Lab from the University of Utah to develop such a novel model system. The lab will also use Johns Hopkins Drug Library for high throughput drug screening.
The first step in the research process is to develop the transparent skin mutant with compound transgenic progeny. To achieve this goal, researchers are crossbreeding these individual fish strains and obtaining the heterozygous progeny, eventually leading to the homozygous progeny. The newly developed transgenic transparent fish progeny will be screened for the potential drug compounds through an automated in vivo high throughput drug screening process after the tumor is induced.
The breeding process is expected to last until December 2019 or January 2020 to generate the required population of homozygous transparent compound transgenic fish line. A population of about half a million fish will be generated to successfully conduct this project.
With so many zebrafish, Rajpurohit and his team will be able to test multiple drugs to see how they interact with cancer and what impact they have on other parts of the body. Right now, his plan is to test 4,000 different drugs in his transgenic zebrafish cancer model. Then, various drug concentrations will be tested on a certain number of fish to collect data. For those drugs and concentrations showing positive response against the brain tumors, follow-up validation testing will be conducted.