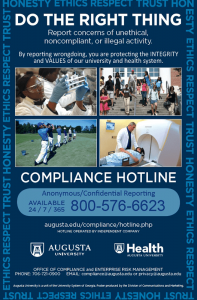 The University System of Georgia (USG) participates in International Fraud Awareness Week (Nov. 13-19), and in support of this effort, Augusta University is turning its attention to promoting an ethical culture on campus.
The theme for the week is the SPIRIT of USG. SPIRIT stands for Stewardship, Prevention, Integrity, Responsibility, Inspiration and Trust.
While you might think that fraud doesn't need a grassroots awareness campaign, the statistics say otherwise: A recent survey found that 41 percent of U.S. workers reported observing unethical or illegal misconduct on the job. That misconduct adds up to an estimated loss of 5 percent of all organizational revenue.
And because more fraud and misconduct are discovered through employee tips than from any other source, encouraging an ethical work environment is key to reducing that number. Thirty-three percent of workers who declined to report workplace misconduct said they feared being punished for doing so, which isn't surprising when you realize that statistics show that managers are responsible for 60 percent of workplace misconduct.
Scan this list of ethical violations and workplace fraud common to corporate and educational institutions, and visit USG's fraud awareness page for additional information. If you suspect you've witnessed violations, call the compliance hotline at 800-576-6623. It's available 24/7 and is confidential.