AUGUSTA, Ga. – Drugs, drinking, distraction, and drowsiness are leading factors in motor vehicle crashes.
These risky behaviors result in thousands of deaths and hundreds of thousands of injuries each year, according to the American Trauma Society, which recognizes May as National Trauma Awareness Month.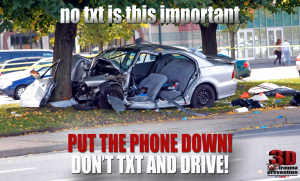 "Motor vehicle accidents are a leading cause of trauma," said Dr. Colville Ferdinand, Trauma Chief at Georgia Regents Medical Center, the region's only Level 1 trauma center. "From the CDC we know that every two minutes someone is injured in a drunk driving crash. But it's not just drinking and drugs. More than one in six fatal car crashes involves distracted driving, and it's disproportionately affecting our young people."
Too often, drivers underestimate the risk. With Memorial Day on May 25 kicking off the summer travel season, Ferdinand recommends sharing these tips with drivers, especially teens, in your family:
1)  The roads are crowded this time of year, so pay extra attention.
The period between Memorial Day and Labor Day is the deadliest time of the year for teen drivers and their passengers. The 2015 Memorial Day forecast is expected to mark the highest travel volume for the holiday in 10 years, since 2005, according to AAA.
2)  Get some sleep before hitting the road.
In one study, 41 percent of drivers admitted they've fallen asleep behind the wheel. The cost? More than 100,000 crashes a year are the direct result of driver fatigue, according to an estimate from the National Highway Traffic Safety Administration. Men ages 18 to 34 are the biggest offenders.
Sleeping less than six hours a night can double your risk of being involved in a crash. Those who sleep less than five hours a night increase their risk four or five times, according to the American Trauma Society.
3)  Stay the night or call a cab.
Today, there are more alternatives than ever. Call a cab or ride-sharing company. Stay the night. Plan your options before a night of drinking and take along a designated driver. Drugs other than alcohol, including marijuana and cocaine, are involved in more than one in five fatal crashes.
4)  Put down the phone.
Sending a text – or even glancing at an incoming message – takes a driver's eyes off the road for 4.6 seconds, which is the equivalent of driving 55 mph down the length of a football field blindfolded.
"Distracted driving happens anytime you take your eyes off the road, your hands off the wheel, or your mind off of driving," Ferdinand said. "We see firsthand the injuries that result from those decisions. Interestingly, a full 80 percent of motorists say distracted driving is a serious threat to their safety, yet many of us still do it."
More information
The American Trauma Society, in collaboration with the Society of Trauma Nurses, has more information about trauma prevention at www.amtrauma.org.