After his four years of college basketball eligibility were over, Devonte' Thomas went overseas to pursue a professional career.
However, completing his degree was never too far from his mind.
"I used to write 'DON'T QUIT' everywhere … it was even my home screen on my phone," said Thomas, who played for Augusta University from 2011-15. "It kept me disciplined and focused when I became weary along the journey.
"I'm grateful for all the organizations I've played for, working with me to help conquer this milestone while away from home. Without them working with me, providing internship opportunities and daily motivation, who knows how different things would've been."
Thomas, who graduated this May with a bachelor of science in kinesiology from the College of Education, was the scoring leader for the Jaguars during the 2011-12 season, scoring 330 points while averaging 12.6 points per game. He's still one of the Jags' most prolific 3-point shooters, ranked No. 3 all-time with 258. He led the team in 3-pointers for three seasons and finished his career with 1,289 points.
Thomas said his family was excited when he left college to go play overseas, but noted everyone also said that basketball would come to an end and he would need his degree.
"I explained the process, but all they saw was me forgetting school to chase money and eventually never fulfilling that goal," he said. "Over time, they saw that I was still determined to finish school since I started taking online classes, but my dad thought I was all talk, honestly."
Thomas said he was struggling with the decision to leave, but men's basketball coach Dip Metress "told me to get out of my head, stop overthinking and use my talent."
"I've never struggled with basketball, but finishing school was major for me because I refused to be another statistic," Thomas said. "My biggest concern was how I would complete classes while also playing basketball abroad. I don't come from a wealthy family, so I really had to endure hours of blood, sweat and tears to get where I am at today.
"I'm the oldest out of all of my siblings, so I knew they were always watching me and I needed to be an example for them. It was definitely an easy decision being offered the opportunity to leave the country at the age of 22, but my drive and determination is what made me finish school while doing what I love."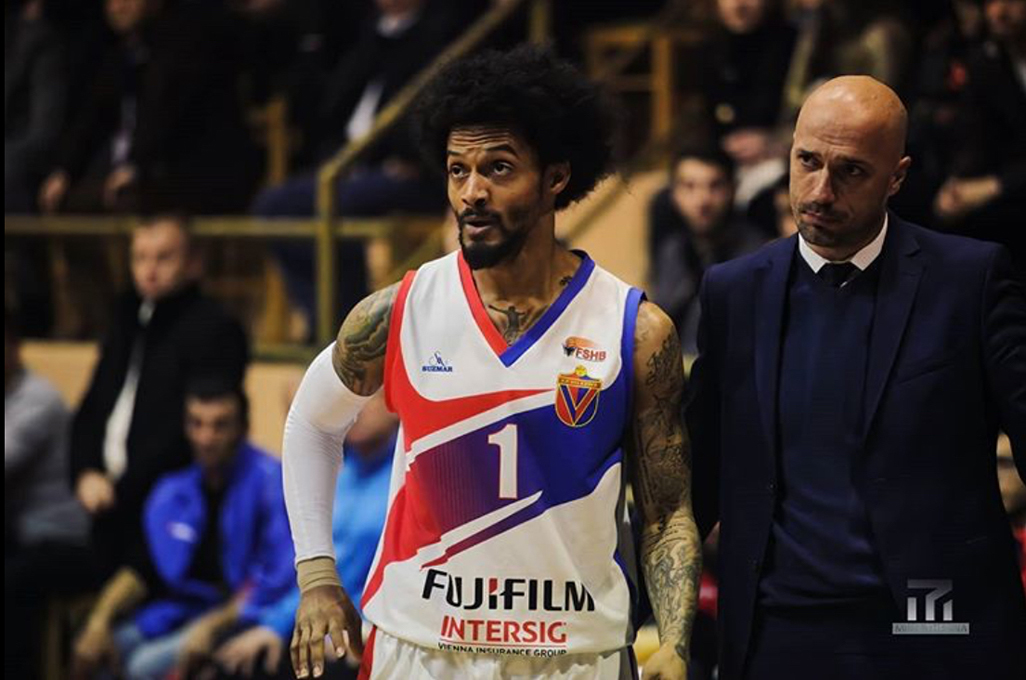 While he was on campus, Thomas had teammates and coaches he could lean on for support. Being overseas, he said he had to dig deep within himself.
"One thing about being overseas is that people tend to forget you're alive," he said. "This was big for me because I felt like it would show what type of character I really possessed, to stay consistent while living out my dream. I hope I can inspire just one to push forward no matter what obstacles are thrown their direction."
Thomas said he owes a lot of thanks to Dr. Karen Wish, the former chair of the Department of Kinesiology and Health Science, who he said had a big impact on his time here.
"She expected nothing but greatness whether I was on or off the court," he said. "In her classroom, it was mandatory to sit front and center, and this made me uncomfortable. However, her teaching strategies were fun and engaging, which helped me learn the information better. Plus, she always wanted what was best for me and for me to better myself in today's society — you don't find that too often."
Metress is also proud of what his former player has accomplished.
"Devonte' persevered to get his degree. With the help from Dr. Steven Page, Devonte' relentlessly kept figuring out what he needed to do to graduate," Metress said. "He was instrumental in our success on the floor during his career and he is a role model for student athletes to keep pushing to get their degree."
Thomas was disappointed about not being able to walk at graduation this spring, especially since he had been practicing his celebratory Kappa shimmy and walk since freshman year. He is planning on getting plenty of pictures over the next couple of weeks to celebrate finally completing his degree.
"(Having my degree) feels great!" he said. "From the moment I signed during my senior year at North Point High School, I've always envisioned the feeling at the end of the tunnel. I knew it would not be an easy process, but I was determined to learn and step out of my comfort zone. I can finally say I'm the first college graduate in my family, and I feel like I've provided a stepping stone for my younger siblings."