Early this morning, I walked into the Manaus airport feeling groggy but excited.  We went through customs and immigration and I got a cool Rio 2016 stamp in my passport. We hadn't quite made it to Rio de Janeiro, but I was officially in Brazil.
As we walked through the terminal, I was surprised to see it filled with people and to see the shops and restaurants open for business. I didn't expect to see the airport so alive at 1 a.m. on a Monday morning.
Arthur and I managed to snag one of the few open tables. After settling in, we decided it was time for my first Brazilian experience. It was time to eat.
I stayed at the table with our stuff while Arthur left in search of food. He came back with coxinha, pão de queijo and guaraná. I had no idea what any of it was, but I knew they were some of Arthur's favorite foods. Besides, I didn't come to Brazil not to try Brazilian foods.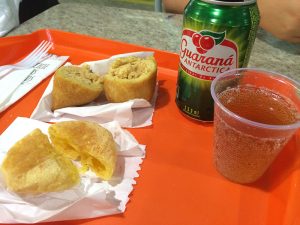 I've heard the coxinha referred to as a chicken hushpuppy, but I think it tastes similar to a chicken hushpuppy combined with a hot pocket. Obviously, I loved it.
The pão de queijo is essentially cheese bread, and I can't believe I've made it 25 years on this Earth without eating it. I definitely plan to get my fill while we're here.
Guaraná is a fruit soda. The best comparison I can make is that it tastes like a cross between ginger ale and a flavored sprite. I'm glad I tried it, but it wasn't my favorite.
Around 2 a.m., we boarded our flight for Rio. I was exhausted and slept most of the way, but woke up in time to take in the view of Rio as we landed. I saw the sun rise over the clouds, colors of orange and pink. The sunrise combined with the view of the mountaintops made for a breathtaking view.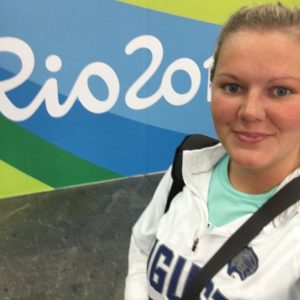 It was exciting to see all the advertising for the Olympics in the airport. There were signs welcoming tourists to Rio and the footprints of the Olympic mascot guided us to baggage claim. It made me excited for the week to come.
When I stepped outside the airport, I was shocked at how nice it felt outside. It was sunny, but there was a breeze and no humidity – definitely a nice break from the weather in Georgia.
After leaving the airport, we still had about a 30 minute drive to the apartment where we are staying. Arthur and our driver chatted in Portuguese while I took in the views.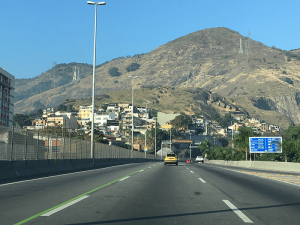 The apartment we are staying in for the week is close to both the athlete's village and the Olympic Park. We met with the homeowner and she showed us the apartment, gave us a map of the city with directions for how to get everywhere we needed to go and recommended some places to eat. Everyone we've met so far has been incredibly nice and gone out of their way to answer any questions we have had.
Even though our apartment has window A/C units, so far we haven't needed them. The windows are open and the breeze feels so nice.
I have yet to see a mosquito.
After arriving at our apartment and unpacking, we went to a shopping mall for lunch. The food court was nothing like what you see at the Augusta Mall. Instead of an area filled with quick serve restaurants, the food court at this mall was one floor with several sit-down restaurants. No quick serve in sight.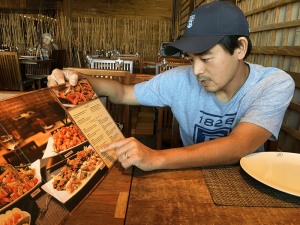 We sat down for lunch and shared a Brazilian version of Mediterranean shrimp. It was served family style. Arthur explained that this is common in Brazil. Meals are communal and every one shares. It's less common for each person to order an individual dish like we do at home.
After lunch, we bought some groceries for the week and headed home.
My first impression of Brazil is a great one. The people are kind, the country is beautiful and the weather couldn't be better. However, my first day in Brazil hasn't been without some challenges.
I've traveled internationally several times, but the last time I went to a country where English wasn't the primary language was almost 10 years ago. I consider myself to be a very independent person, but so far I've found myself incredibly dependent on Arthur. He has had to translate conversations for me and even had to read me the restaurant menu at lunch. That dependence is going to take getting used to, but of course it is also all part of the experience.
I'm looking forward to what this next week will hold.
Be sure to check out Arthur Takahashi's blog for his take on our Rio experience.