About two years ago, Army Col. Eric Toler was overseas in Afghanistan when he received a surprising email from his daughter, Kim.
She had recently graduated from Cornell University with a bachelor's degree in industrial and labor relations with a minor in international relations.
For quite some time, Kim Toler had discussed going to law school after graduating, but her plans had suddenly changed.
"Here I was in Afghanistan and I get this email that says, 'Hey Dad, I think I'm not going to apply to law school. I'm thinking about enrolling in this master's program at Augusta University to study intelligence and security studies,'" Eric Toler said, smiling. "It was kind of a shock to all of us. In fact, I think it was a shock to her as well."
Neither father nor daughter ever imagined that she would follow in her dad's footsteps, but Kim Toler is about to become the first graduate of the Master of Arts in Intelligence and Security Studies (MAISS) program.
"Since my dad was in the Army and he was specifically in cyber intelligence, I knew about that area, but when you're in school, they don't really advertise that as an area to study if you aren't already in the military," Kim Toler said. "So, after I graduated from Cornell, I had an offer down here for a government job in contracting, but I didn't really want to go down that path. So, my mom said, 'Hey, why don't you look at some of the universities down here and see if you want to get a master's degree?'"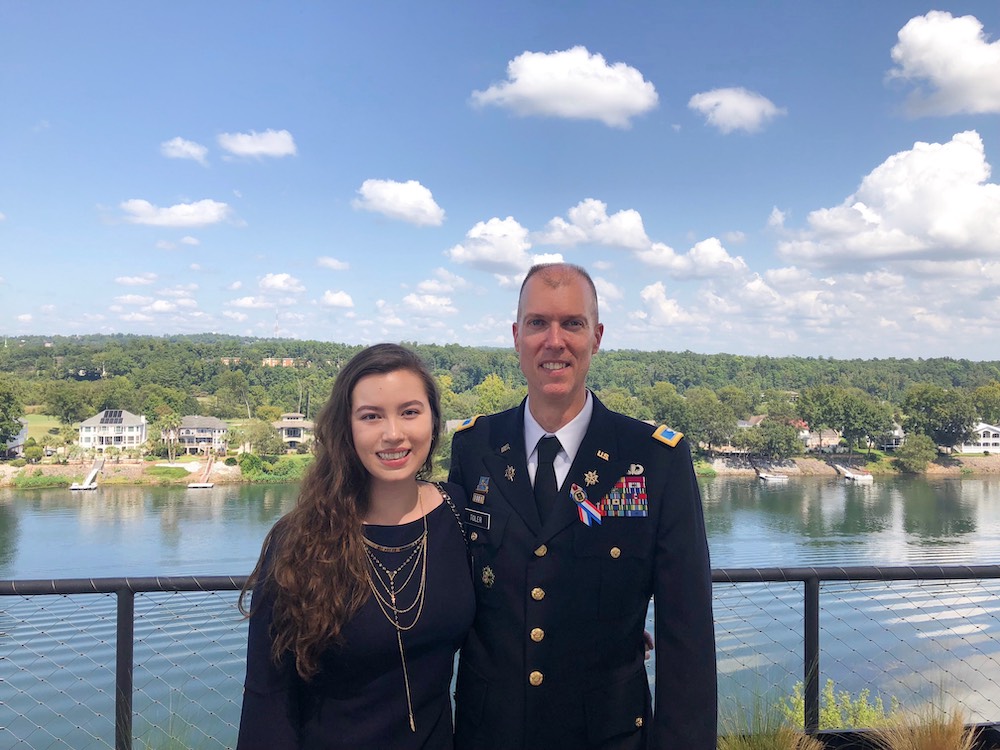 While Kim Toler considered a number of universities, she was quickly drawn to Augusta University's MAISS program because of its integrated approach to the study of intelligence and security with a focus on cybersecurity and modern intelligence methods.
"When I found out about the program here at Augusta University, I didn't realize that it was a new program and I never thought I would become the first graduate of the program this December," Kim Toler said. "I just thought that going into intel would be a pretty interesting career. So, after I read the description of the program, I thought, 'Why not? Just do it.'"
However, she knew her family would be pretty shocked by her decision.
"My dad thought it was funny because he said it was totally out of left field," Kim Toler said, laughing. "But, over the years, I've always heard bits and pieces about what he does in intel. And even though he obviously couldn't tell me exactly what he was doing, it was always interesting to me."
Like father, like daughter
During his 27-year military career, Eric Toler helped shape the future of intelligence on the modern battlefield and spent a considerable amount of time building up the Army's cyberwarfare capabilities. His career also included a stint as the commander of the National Security Agency's cryptologic center at Fort Gordon in Augusta.
"When I came into the U.S. Army in 1991, I started off as a field artillery officer for four years and then transitioned into military intelligence. I did intel for 24 years," Eric Toler said. "I started off doing tactical intelligence, working in divisions and supporting combat operations on the front end. Then, in 2004, I went to work at the National Security Agency and served time in the Pentagon, the Army Cyber Command and the U.S. Cyber Command. But I spent 11 years in Maryland and, most of that time, I was doing signals intelligence or cyber operations."
After retiring from the military, Eric Toler accepted his current position as executive director of the Georgia Cyber Center in 2018.
However, when his daughter mentioned the new master's degree at Augusta University a few years ago, he was unaware of the MAISS program.
"When I started researching and understanding what this new program was all about, I was really impressed with what they were putting together at Augusta University," Eric Toler said. "Because there is a big gap in understanding national security strategy and the strategic aspects of our business, whether it is for military operations or for the intelligence community.
"So, I am very proud of the university, particularly Dr. Craig Albert, for starting this program and having the vision to fill a key niche or a key gap in our education for military intelligence."
'Renaissance security studies students'
Dr. Craig Albert, the director of the MAISS program, said Augusta University's master's degree is unique from other colleges around the country because it combines intelligence studies, strategic cyber security and classical security studies.
"Most schools just generally focus on one of those avenues, but we put students in all three of them so they come out as a renaissance security studies student," Albert said. "And the intelligence studies aspect is a huge selling point for our program."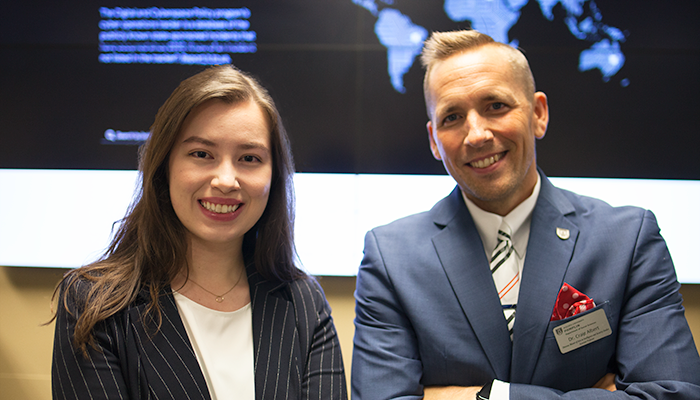 With intelligence studies, Albert explained that the MAISS program helps analysts and technical operators understand how their technical skills are aiding the national security of the United States.
"For example, when Russia does something to the United States' social media accounts, we help our students make sense of that," Albert said. "Why are they doing that? What does it mean? We don't explain how the Russians are doing it or the technical side, but, as a weapon of war, we tell people why they are doing it."
The program is only two years old and it currently has 25 students enrolled with only a few more openings for next semester.
Albert said the program is proud to have Kim Toler as its first graduate.
"Kim is a stellar student and she breezed through the program," Albert said. "We weren't even expecting anyone could graduate this December, but then, all of a sudden, we realized that she did it. She did the maximum number of courses offered each semester and she excelled in them."
Working behind the scenes
While studying at Augusta University, Kim Toler said she was particularly fascinated with the program's class on terrorism studies.
"We all know about different terrorist groups but I didn't know all the history behind it. So, we had a lot of interesting discussions about it," Toler said, adding that having half of the students in the program with a military background made the discussions extremely informative. "The students with a military background are all coming in with so much knowledge and real-life experiences, which makes for better discourse and conversations in the classes."
She also enjoyed discussing how those working intel help guide the country's leadership, but behind the scenes.
"I like the idea of working in intel because those are the people who are informing the elected officials, but we don't really hear about them," Kim Toler added. "There's a lot of secrecy because they are sort of the ones behind the government."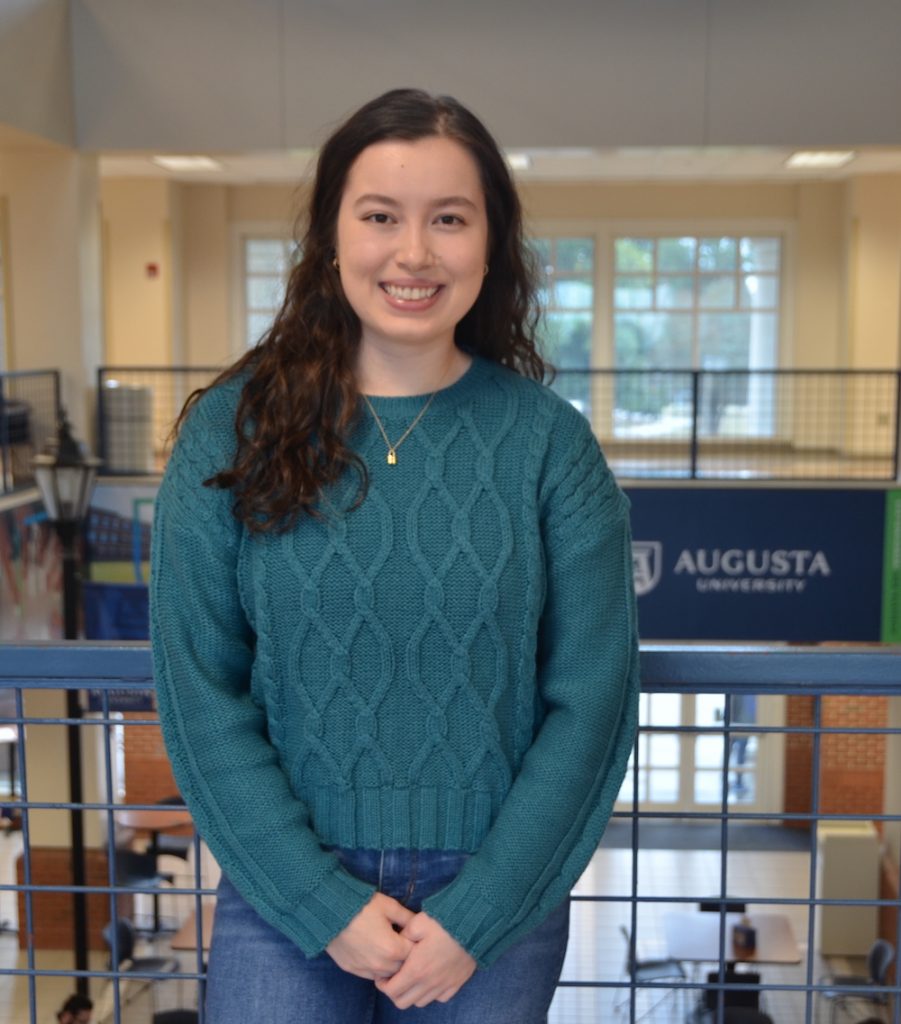 Eric Toler said his daughter is receiving the kind of education he didn't get a chance to experience until much later in life.
"One of the neatest experiences I had was going to the National War College in Washington, D.C., but I did that as a colonel," Eric Toler said. "It was a phenomenal learning experience. I wish I could have done it 15 years earlier."
With the growing interest in intelligence and security studies around the country, Eric Toler said he expects to see more military and civilian students interested in applying to Augusta University's MAISS program.
"Augusta University's program offers a War College-like experience that you can get at a much younger age and graduate with a master's degree," he said. "I think this program will continue to grow and evolve and fill a significant gap that we have across the military intelligence community."
Even though Kim Toler won't graduate until Dec. 13, she has already accepted a position with the Department of Defense.
"I can't say exactly where I'll be working, but I am going to be an analyst for the Department of Defense," Kim Toler said. "I don't have a final job offer yet because they are still doing my clearance, but I'm hoping I'll start in January after the holidays. So, getting to graduate in December, the timing works out perfectly for me."
Learn more about Augusta University's Master of Arts in Intelligence and Security Studies program.