When Peter Otim began considering going back to school to get a master's degree last year, he wasn't exactly sure what he wanted to study.
As the program director for a nonprofit organization called Create Your Dreams dedicated to providing resources and opportunities to children living below the poverty line in Atlanta, Otim was searching for a graduate program that would complement his full-time job and expand on his bachelor's degree.
"I graduated from Georgia College in 2013 with an undergraduate degree in Third World Studies," Otim said. "For the last seven years, I've been working in nonprofits, some dealing with refugee work and others focusing on underrepresented communities. So, I wanted to get a graduate degree that would work closely with my undergraduate degree and help expand my worldview."
As Otim was reading about graduate programs across Georgia, he came across information about the Master of Arts in Intelligence and Security Studies (MAISS) program at Augusta University.
"The description of the program intrigued me," Otim said, explaining that the coursework focuses on topics such as interstate and intrastate conflict; terrorism and counter-terrorism; and global strategic security and cybersecurity threats. "I figured this program would be a great tool to broaden my views of the world, so I enrolled in my first class dealing with foreign policy analysis this summer."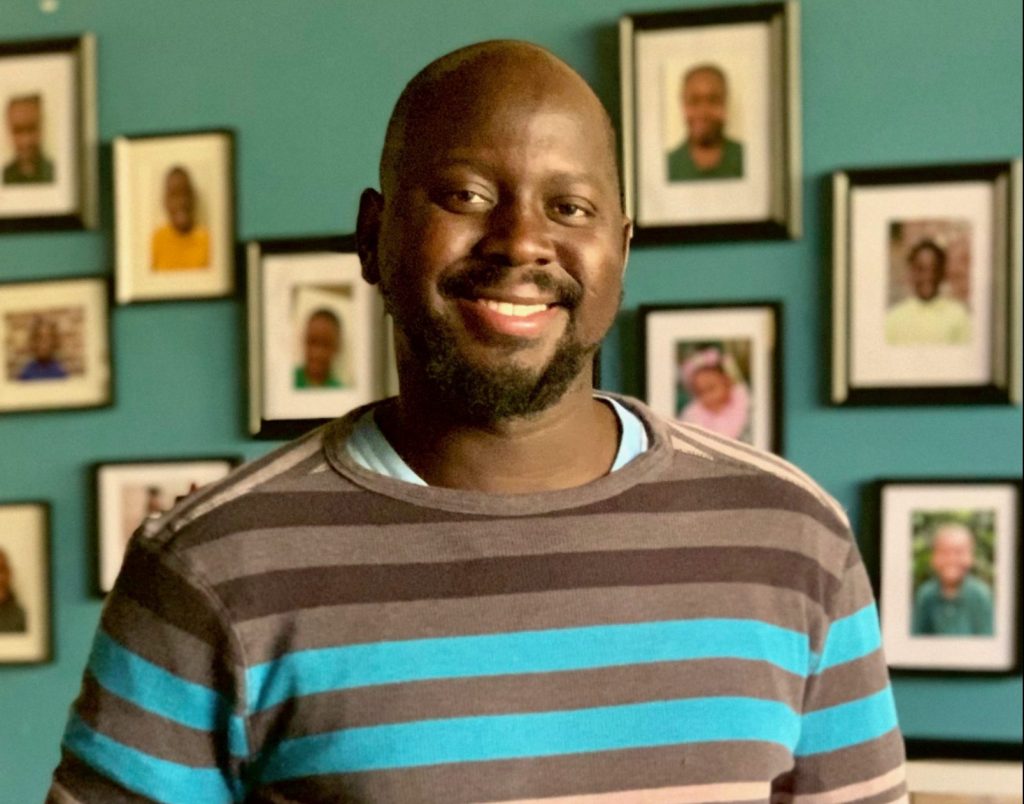 At 30, Otim believes he brings a great deal of life experience to the MAISS program.
"I was born in Sudan and then I was a refugee in Uganda when the civil war was happening in Sudan," Otim said. "I immigrated to this country in 2001 and began living in Atlanta."
During his first two online courses this summer at Augusta University, Otim said he found many of the class discussions fascinating because the students enrolled in the MAISS program come from extremely diverse backgrounds and professions.
"There are folks who are in the military, some who work for government agencies, there are teachers and people like me who work for nonprofits, so there are a lot of different voices being heard," Otim said, adding that he also enjoyed discussing his background with the class. "When we were talking about America's interventionist attitude when it comes to world humanitarian issues across the globe, I talked about my experiences.
"I wanted to share what it is like being on the other side of U.S. aid and what that looks like from a civilian standpoint. These classes offer a great space to have those kinds of discussions."
Tremendous growth since 2018
Dr. Craig Albert, the director of the MAISS program, said Augusta University has seen a dramatic increase in enrollment since the program began in 2018.
"Our first full-time cohort was eight students in fall of 2018 and now we are at 37 students this fall," Albert said, adding all eight of the original MAISS students have recently graduated from the program. "That is a huge increase in just two years. We are definitely the fastest growing graduate program in Pamplin College and we're one of the fastest growing graduate programs on campus."
The MAISS program has been so popular that Albert is currently developing a new concentration dealing with social influence that he hopes will be approved to begin next fall.
"This new concentration will basically look at information warfare and social media warfare," he said. "We expect a huge influx of students once that new concentration is approved and word gets out about it."
Augusta University's MAISS degree is unique from other colleges around the country because it takes an integrated approach to the study of intelligence and security, with a focus on strategic cyber security and modern intelligence methods alongside traditional notions of national and international security, Albert said.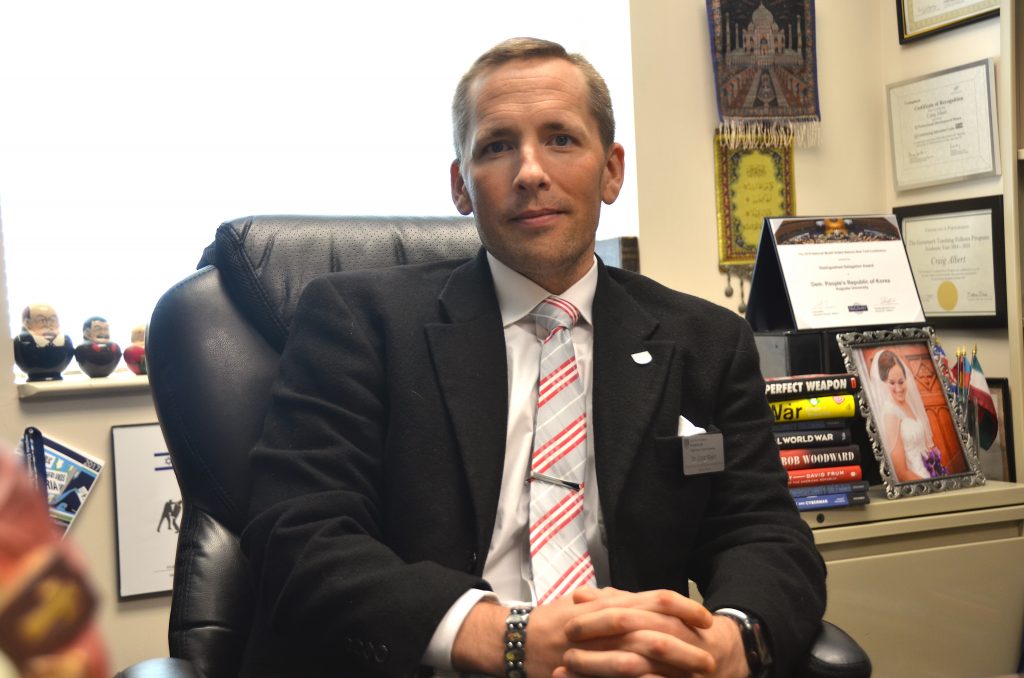 That approach appeals to a variety of different majors because it helps prepare students to address the intelligence and security challenges in an interconnected world, he said.
"We have a lot of diversity in our program. In fact, we have an even 50/50 gender split right now, which is pretty profound and phenomenal," Albert said. "We're also working right now with the Office of Diversity and Inclusion to increase numbers for all underrepresented groups, including the LGBTQ community and underrepresented minorities of race and ethnicity because that area is something that needs to be addressed in the intelligence and military community overall.
"We're trying to be a leader in that right now. We are saying, 'Let's start from the beginning by giving underrepresented communities the education they need to be competitive in this marketplace and help the marketplace diversify in the next five or 10 years.'"
Communication is key
Encouraging diversity within the MAISS program will continue to strengthen the course discussions in the future, Albert said.
"Our discussions are something you won't see anywhere else," Albert said. "First of all, the program really concentrates on three types of students. One is a student that's in the military or military affiliated. So, they have the actual knowledge of what happens in combat or the combat supporting roles. Then, we have the policymakers and staffers. We had an individual who graduated this spring that was one of Congressman John Lewis's main staffers for 20 years. And, then, we have those students who are going into academia or that just came from the undergraduate environment."
During the program's lengthy discussions, these students interact and learn from one another's life experiences, Albert said.
"This is my vision of the program because I believe that there is a lack of communication and understanding between academia and the person on the ground who, maybe one day, has to see combat because of the theories that we, as academics, are advocating," Albert said. "We also look at, how is that military person influenced by the policymaker and the staffer? Does the staffer understand the theory that should inform their decisions to go to warfare or not?"
Each of the classes are specially designed to create that nexus between academics, policymakers and military personnel to help broaden America's national security apparatus, Albert said.
"Our program is American centric, so we're designed to help increase the security parameters of the United States' national security strategy," he said. "Some programs focus on the global or regional context, or just broadly the international security, but we really bridged the gap between the practical understanding of security studies and intelligence and the academic theoretical language of it. As a result, it all comes together in those classes."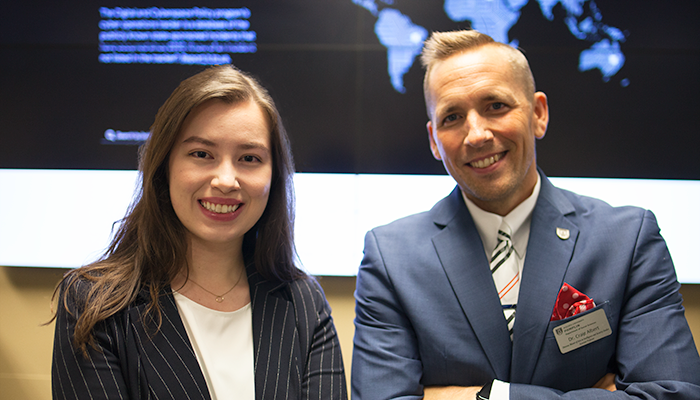 Having individuals from diverse professions enrolled in the MAISS program leads to a more rounded, educational experience, Albert said.
"For example, I don't have military experience whatsoever," Albert said. "My dissertation and PhD is in international relations and I deal with the theories of the causes of warfare."
There are times during a class that Albert will be discussing a particular theory of warfare and a student who has served in the military will challenge the theory, he said.
"Someone who has been on the ground will say, 'That's not our experience. We saw how this happened from the ground up,'" Albert said. "And they'll come in and fill in some of the gaps that the theory just doesn't take into account. Then, somebody in the education sector or someone already employed with the Department of Defense in an intelligence agency will come in and say, 'Well, this is the non-classified way of how this happened.' It just creates the liveliest environment possible. It's phenomenal."
Learning from each other
Samantha Mullaney, 32, is an elementary school teacher who recently enrolled in the MAISS program because she has been interested in intelligence and security studies ever since she lived abroad several years ago.
"For the last 10 years, I've been teaching mostly overseas in the Middle East and the Horn of Africa," Mullaney said, adding that she currently lives in Atlanta. "I was living in Yemen when the revolution started and then when it devolved into civil war."
At the time, she was in her twenties and the experience opened her eyes to specific struggles of developing nations.
"We, as Americans, don't necessarily have the same experiences as people who are living in developing countries in terms of safety and security," she said.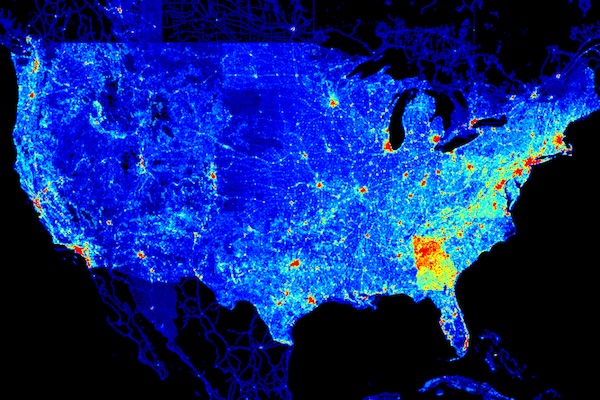 Mullaney, who grew up in Connecticut, said experiencing some of the conditions in the countries she lived in helped her look at her own childhood differently.
"I think living in a series of countries where hardly anything worked like it was supposed to and then watching civilization devolve was a life changing set of experiences for me," she said. "Realizing how thin the line is between anarchy and civilization and how just a series of events can tip the scales one way or the other, it was really profound for me."
When Mullaney returned to the United States, she realized the importance of teaching the next generation what she had learned overseas.
"The heart of education is to make good citizens," she said. "You want the next generation to understand what they have and who we are as Americans. So, given my life experiences, I was really interested in this program at Augusta University."
While Mullaney admits she was a bit nervous about returning to college after about a decade, she found the MAISS program to be extremely flexible and inviting.
"The professors are all super approachable, which I think is a benefit of going to a smaller university," she said. "I just feel like the professors are very hands-on and willing to meet with students and have conversations about the courses. I really appreciated that in my classes."
From the Republic of Georgia to Augusta, Georgia
About five years ago, Tornike Jelia came to the United States from the Republic of Georgia with a bachelor's degree in public health. He was considering applying to Augusta University's College of Nursing, but a friend noticed an intriguing Facebook post promoting the MAISS program.
"He said, 'Why don't you check it out?' And I say, 'Yes, why not? That sounds very interesting,'" Jelia said. "It was very different than anything I had done in my life, but it enticed me so much. I applied and I was so happy when I was accepted in the program."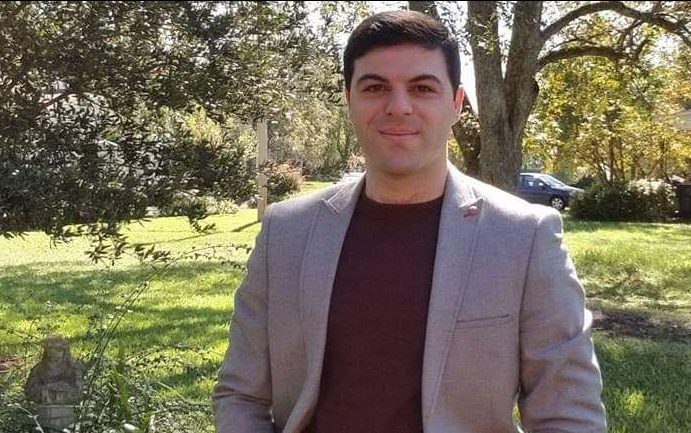 By moving to this country from the Republic of Georgia, Jelia thinks he brings a new perspective to the courses in the MAISS program.
"The Republic of Georgia is a country in eastern Europe, right next to Russia, Armenia, Azerbaijan and Turkey," he said. "It's a very multi-cultural country with a long history. And one of the things I liked about this program is that we discuss how countries are dealing with another country and how are they trying to become better."
Jelia, 28, has applied to become an American citizen and hopes to one day serve in the Air Force. He believes this master's degree will help prepare him for a possible military career.
"In my country, we had war between Russia and Georgia in 2008," Jelia said. "My country feels young because we only had our fifth president so far. And all of this about democracy and human rights, it's kind of new to us post-Soviet Union. So, I am very interested about what's going to happen in the future."
Promoting the success of the MAISS program
As the director of federal relations for Augusta University and AU Health, Monty Philpot is responsible for representing and coordinating the university and health system's government relations priorities at the federal level, discussing them with U.S. senators, members of Congress, key federal agency directors and the people who work for them.
"Once a year, I bring in congressional staff from Washington, D.C. and they spend 24 hours on campus," Philpot said, explaining that the staff members tour and meet with leadership at the Georgia Cyber Center, the Children's Hospital of Georgia, Augusta University Medical Center, the Georgia Cancer Center, and learn about federal priorities that span across the both the Health Sciences  and Summerville campuses.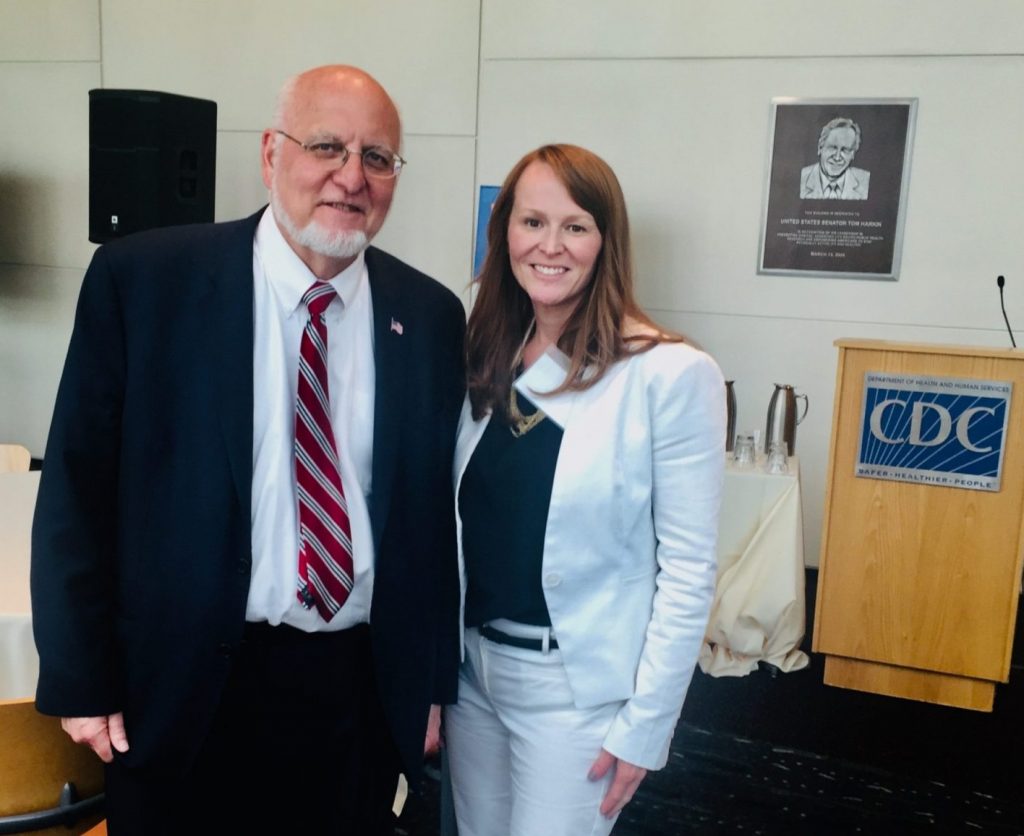 The purpose of the visit is to educate congressional staff about the graduate and undergraduate programs at Augusta University as well as the research and excellent health care provided to the citizens of Georgia and the region.
"When Dr. Albert started building the MAISS program a few years ago, he was somebody that I asked to present to these groups as they came to town," she said. "I heard him talk about it many times and I thought the topics were fascinating and very relevant to some of the people and agencies that I work with in the federal government and the Department of Defense. So, while I invited him to promote the program, I actually got sucked in and signed up myself."
Philpot, who has a bachelor's degree in psychology, recently started the program this fall and is already impressed by the course's discussions.
"One of the reasons I studied psychology is I like to look at why people act a certain way and that can be applied within security studies," she said. "There are questions such as, what makes somebody think like a terrorist? What makes them buy into wanting to die for a particular cause, or wanting to work for or against an organization, group or nation?"
Philpot, who lives in Atlanta, also appreciates that this is a hybrid program offered by Augusta University. Students are required to meet in-person at the beginning and end of the courses (unless the student is in the military and currently deployed), but the rest of the classwork and discussions can be completed online.
"I've met all of my classmates during our Zoom meetings. Not only do we know what each other looks like, but we know what the insides of our homes look like," Philpot said, laughing. "So, I feel like there's another level of personal connection there. We've seen our dogs, our families, our bedrooms or whatever room it is that we're trying to focus during the Zoom meetings. And, I must say, to see a program like this continue to grow, especially during the pandemic when higher education has been forced to restructure, is extremely impressive."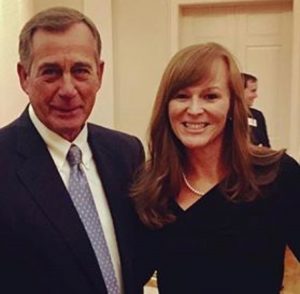 By developing the MAISS program two years ago, Philpot believes Albert and his colleagues understood the importance of the U.S. Army Cyber Command relocating to Fort Gordon and the creation of the Georgia Cyber Center on Augusta University's riverfront campus in downtown Augusta.
"They are definitely paying attention to the economic drivers in our community and creating a degree program that will help provide graduates to meet the job market demands," she said. "This means that students should be better prepared to enter the workforce or to move from one position and finally land the job they really want."
Philpot's own career has afforded her the opportunity to gain in-depth exposure to the U.S. government's functions and jurisdictions, policy making and the processes that surround it.
"I spent almost 11 years working in the U.S. Senate and have traveled abroad with the U.S. government for the purpose of gaining a new perspective of foreign governing bodies and understanding their structures, beliefs and the global effects of alignment and discord," she said. "As for me, this program will build upon an existing foundation of knowledge and experience. It will also better equip me for interactions with government, academic and global leaders.
"It will broaden my understanding and prepare me to stand on more assured footing so that I can be a stronger advocate on behalf of Augusta University and AU Health as we continue to grow."
Click here to learn more about Augusta University's Master of Arts in Intelligence and Security Studies program.