Jaguar Nation stretches far beyond the Augusta area, and Kit Jester, a senior psychology major, has been proving that all summer.
Kit, a Mayo Clinic patient, is currently living in Rochester, Minnesota, very close to Saint Marys, the main clinic hospital.
"I came here for treatment back in December 2019 fully expecting to be back in Augusta for the spring semester — but my situation suddenly changed and delayed that possibility. Then the plan was to come home in March, but COVID-19 turned the world off." Every month after that he hoped it would be safe to come home.
Kit has been in Minnesota now for nearly a year, making it officially the "longest trip ever."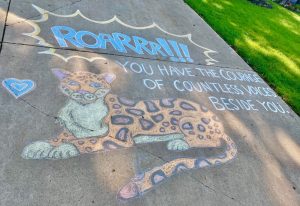 On May 20, as soon as he could access sidewalk chalk, Kit began creating illustrations on his driveway in support of neighbors and health care workers who pass his house on the way to the hospital. He did just one drawing to start, not expecting to draw more. However, at the time of this article, he had done several more large chalk drawings. (See the collection here.)
Each drawing can take anywhere from five to 12 hours depending on its size, available colors, and any last-minute creative whims. He tries to do a new one after it rains.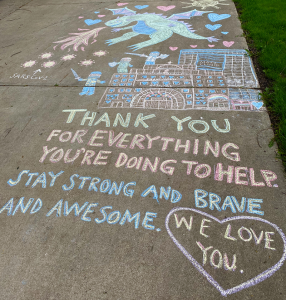 His neighbors and greater community have been very responsive to his work. Kit's first drawing was recently posted on his city's neighborhood resource center's Facebook page, and later shared by the City of Rochester, Minnesota Government page.
Some community members have even changed their walking routes so they can walk past Kit's driveway. As he puts it, "It's really been an amazing exchange of encouragement."
While the artwork has mostly been for others, Kit admits it has helped him, too. "I've been dealing with a lot of stuff here in Minnesota, and 2020 has thrown hardship at everyone. So I try to choose quotes or write my own messages that are fitting and positive, and it helps me feel better. And by doing this, I get to play and reflect as I learn to draw new things." He describes the chalk as a tool to escape.
For Kit, this project has also turned into a chance to reclaim a late childhood loss.
"Since I was a little kid up through middle school, drawing was all I wanted to do. My interests soon broke into writing and science, but I still loved art," he said.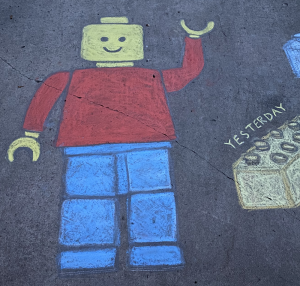 "Then, later into high school, my muscles began progressively twisting my posture and made walking harder. My hands also got tremors, so my ability to hold things like pencils suffered and I couldn't draw precisely anymore," he said. "My brain would give my muscles signals to contract like a messed-up traffic light."
After a thorough evaluation at Mayo, Kit was diagnosed with a form of generalized dystonia, and underwent deep brain stimulation (DBS) surgery. Kit describes the DBS as an implanted pacemaker-like device for his brain, and lessening of his tremor was one of its first notable benefits.
According to Kit, most of his chalk art is large enough that mild residual tremor does not affect the final product: "It's just more of a coordination exercise. With everything I draw, most of the parts are so big that even if my hands don't listen to me as I work, it doesn't matter. That's also why I laugh when people look at the pictures and tell me I have great penmanship."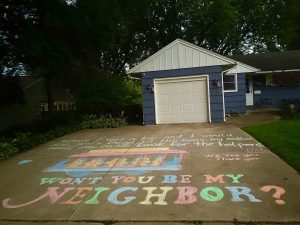 Kit's neighbors have reached out to support his work in different ways. "Getting up and down to draw is difficult because of my condition — but I can 'plank walk' around the driveway. So one local friend helped me turn a mechanic's creeper into a rolling cart I can lean on. Some people have also surprised me with chalk, which I obviously use a lot of," Kit said. "I've been blown away by how many great people care."
Appreciation for neighbors and health care professionals is what first inspired this chalk art project, says Kit. "I see a lot of people walk by my house on the way to work, and both as a patient at Mayo and a student, I know how important what they do is. I wanted to show support, as I consider them friends."
To Kit, appreciation of friendship is what keeps it alive, even across great distances. Over 1,000 miles from campus, what Kit misses most is being able to see friends at school — especially because his separation began months before the pandemic. This distance became the "new abnormal" for him.
Kit is grateful for this project, because over the last five years, he hasn't had much of a chance to show the artistic side of himself.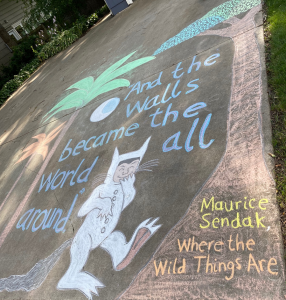 "A lot of my studenthood has been about the science and research of my study, which I love, because there's more than one way to be creative. But I take issue with the reinforced idea that if you're artistic, you're not research- or science-minded and vice versa. Big picture, no matter the discipline, they're essential together. The conflict isn't necessary."
Augusta University strikes a good balance between the arts and the sciences, which Kit thinks only further proves the two areas are not incompatible. He believes bringing more art to the health sciences or hospital side of the university might reflect that balance. For example, he thinks a mural or other large artwork could bring people together and better reveal the union between the university's arts and sciences communities, especially during a time when it's so crucial to support that connection.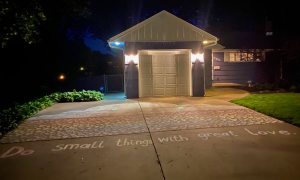 After graduation, Kit ultimately hopes to pursue a career tied to health care, and this project is a great reminder that art will always have an important role in encouraging resilience and healing. In the meantime, Kit is proud to be a Jaguar and plans to keep drawing as long as he has the time — and the chalk — to do it.
The last additions to the collection were made in December 2020, around graduation. Learn more about Kit's graduation drawings.