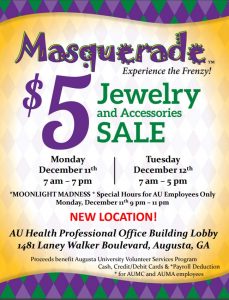 Get some Christmas shopping done with Masquerade, the nation's largest $5 jewelry and accessories fundraising retailer! Masquerade's 'experience the frenzy' event will return to Augusta University Health Monday, Dec. 11 in the lobby of the Professional Office Building at 1481 Laney Walker Boulevard on the Health Sciences Campus.
The sale runs from 7 a.m. — 7 p.m. on Dec. 11 and from  7 a.m. — 5 p.m. on Dec. 12. Special Moonlight Madness hours for Augusta University employees run from 9 p.m. — 11 p.m. on Dec. 11.
Proceeds from this sale will benefit the volunteers and volunteer programs of Augusta University and Augusta University Health.
Cash, credit and debit will be accepted.
Payroll deductions will be available for AU Medical Center and AU Medical Associates employees.