Students, faculty and staff returning to campus will see many changes in the JagExpress Shuttle Service for the fall semester. First and foremost, all riders will be required to wear a mask in order to help prevent the spread of COVID-19.
In addition, multiple routes have been adjusted, which could mean choosing a different route color for some commuters. For instance, the Silver 2 route has been discontinued and folded into the Blue Route. The Georgia Cyber Center will be served exclusively by the Orange Route, so the Blue Route will no longer go to Reynolds Street. This means the Blue Route will now stop at each location about every eight minutes, an improvement on the 11-minute average wait time last year.
"The route changes have been made to reduce commute times and make the most of our university resources," said Dale Hartenburg, AVP of Campus Services. "After reviewing data on the number of riders and stops, we have made decisions that should improve overall efficiency for the JagExpress Shuttle Service."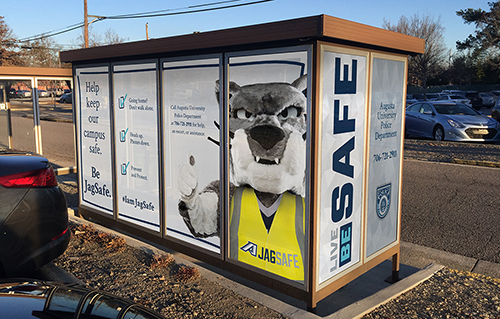 Hartenburg shared the following route adjustments you need to know about for fall:
Blue Route
Eight (8) Blue Route shuttles will run from 7 a.m. to 7 p.m. Monday-Friday; four (4) shuttles will run from 7-11 p.m. Monday-Thursday.
East end of route will turn around at Laney-Walker High Stadium Lot.
Georgia Cyber Center stop removed from Blue Route.
A stop has been added inbound and outbound on Laney-Walker Boulevard at Chafee Avenue.
This lot will support the Antioch Church Lot (Lot 71) after 7 p.m. upon request.
Service begins Monday, Aug. 10.
Orange Route
The Orange Route is designated for Georgia Cyber Center commuters and support for Lot 55.
Orange A: 7 a.m. to noon; Cyber to Health Sciences Campus circuit.
Orange B: Noon to 7 p.m.; Cyber to Health Sciences, plus a loop to Lot 55.
Orange on Sunday: 4 p.m. to midnight from Lot 55 to Oak Hall.
Service begins Sunday, Aug. 9.
Gold Route
The Gold Route will make stops at Laney High School Stadium, Antioch Church Lot 71 and The Dental College of Georgia.
Gold Route hours are 5:30 a.m. to 7 p.m. Monday-Friday.
Service begins Monday, Aug. 3.
Residence Housing Move-In
There will be a dedicated JagExpress shuttle for Housing Move-In from 10 a.m. to 7 p.m. Aug. 3-8. The route will include three stops: Health Sciences Campus Student Center, University Hall (Summerville) and Lot 55.
Be sure to check the Passio Go app for route changes and rider messages.
For more information, please visit Parking and Transportation.