Carlos R. Escobar, a facilities development professional with more than 20 years' experience, has been named assistant vice president of Planning, Design and Construction for Augusta University and health system.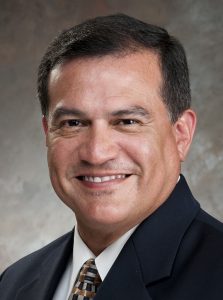 In his new role, Escobar will lead and direct Augusta University and health system planning, design and construction across all campus locations. He will be instrumental in the completion of the M. Bert Story Cancer Research Building and adjoining outpatient cancer clinic, as well as the planning and design of a new math and science college facility on the Health Science Campus. Escobar's position also oversees the Master Plan and space management programs.
Before joining Augusta University, Escobar was associate vice president for Business Operations and Facilities at the University of Texas Medical Branch in Galveston, Texas. There he assisted with planning, design and construction and the activation of more than $1.2 billion in capital projects, and served in multiple institutional leadership roles for Supply Chain, Environmental Health & Safety, Auxiliary Enterprises and Emergency Preparedness. In each case, Escobar was instrumental in recruiting new leaders and realigning institutional goals that resulted in operational, fiscal and customer satisfaction improvements. Previously, he served as chief operations officer at Michael E. DeBakey Veterans Affairs Medical Center in Houston, Texas. Escobar has also served in various capacities at the VA Heartland Network in Kansas City, Missouri.
Escobar will assume his new position Sept. 1.
Escobar received a bachelor's degree in Architectural Environmental Design from the University of Puerto Rico and a master's degree in Sciences in Health Professions from Southwest Texas State University.
A board certified Fellow of the American College of Healthcare Executives, Escobar has served on local and national boards of American Leadership Forum, American Society of Healthcare Engineers, National Association of College Auxiliary Services and National Association of Latino Healthcare Executives.