Students and staff volunteered on Feb. 22 to plant 20 trees to enhance the landscape of Augusta University in honor of Arbor Day.
More than 20 volunteers planted trees at Christenberry Fieldhouse on the Forest Hills Campus, at the Grove on the Summerville Campus and at the north entrance to the College of Science and Mathematics building on the Health Sciences Campus, as well as near the residence halls.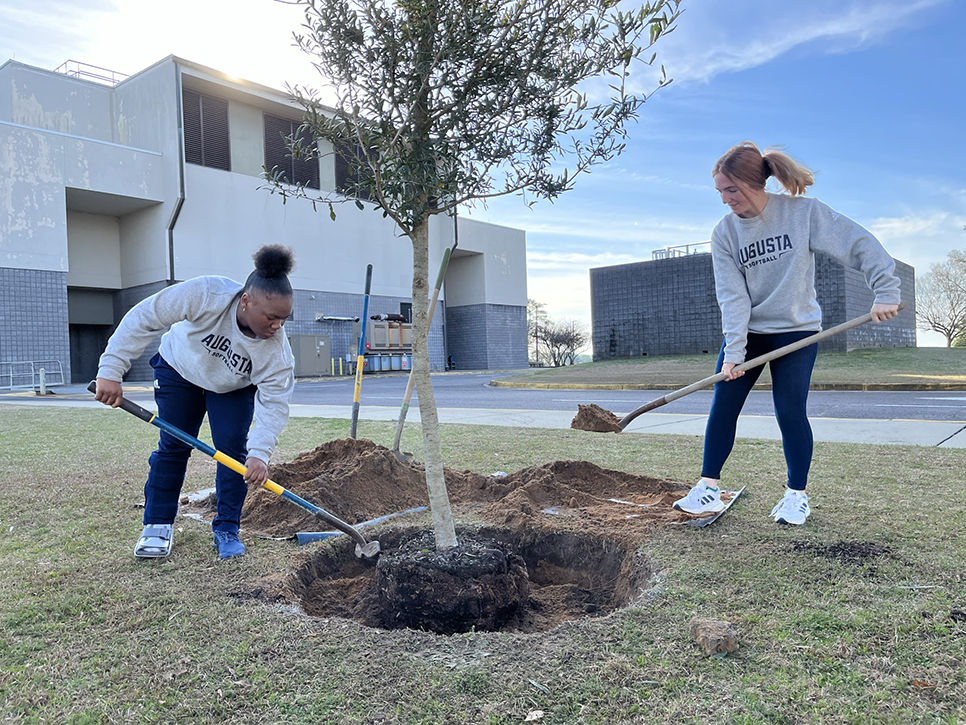 Recently, Augusta University was acknowledged by the Arbor Day Foundation as a Tree Campus Higher Education university. Tree Campus Higher Education was founded in 2008 to provide a simple framework for colleges and universities to grow their community forests, achieve national recognition and create campus pride.
Scott Davis, manager of landscaping and grounds at AU, said his team serves as stewards of the 253.61 acres that comprise the three main campuses maintained by the Augusta University Landscaping and Grounds Department.
Health Sciences: 121.8 acres total with about 33 acres of landscaped areas;
Summerville: 73.75 acres total with about 40 acres of landscaped areas;
Forest Hills: 58.06 acres total with about 45.5 acres of landscaped areas and athletic fields (includes 9.5 acres on Damascus Road, 1 acre at Literacy Center and .06 acres for Magnolia Sign).