As the recently elected 85th mayor of Augusta and the president and owner of two multi-million-dollar local businesses, Garnett Johnson has a lot of bragging rights.
But Johnson is not that kind of man.
Instead of boasting about his accomplishments, Johnson, a proud alumnus of Augusta University, is a humble leader who wants to lift up his hometown and help others achieve their goals in life.
"I've always had an affinity and love for this city," said Johnson, who grew up in east Augusta. "I was born and raised in a challenging environment where still, today, it persists. In that area, there is a high level of crime, poverty and just all of the challenges of being a young, Black male. And somehow the Lord showed favor on me to get out and get an education at Augusta University as a non-traditional student."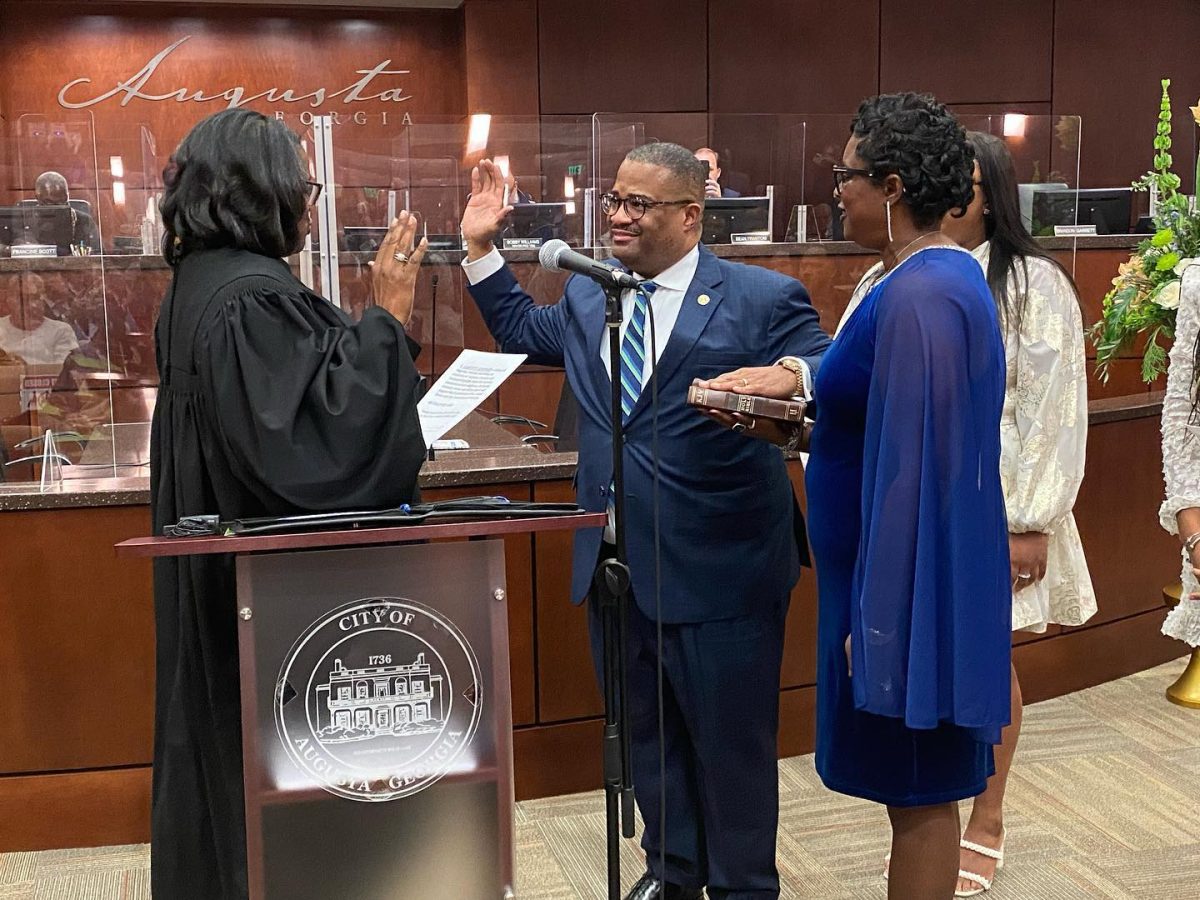 But Johnson's road to success was not an easy one. He suffered setbacks in his college career that made him doubt whether he was "college material," he said.
"I tried my college endeavor early on at Georgia Southern and I failed miserably," Johnson admitted. "I came home and took a hardworking job in a very hot environment at an old stinky paper mill. But I decided to try it again."
Johnson enrolled in one class at then-Augusta State University in the 1990s. But that one class still shook his confidence, he said.
"I remember taking that first class that started around five o'clock in the evening," Johnson said, adding he would rush home from work to take a shower before the five-hour class to wash off the smell of the paper mill. "I took my first class and, for some reason, it was weird to me in that I couldn't get it. I felt discouraged. I ended up having to drop the class and I prayed. I said, 'Lord, I don't know, maybe college isn't for me. I just don't know.' So, I dropped the class, feeling dejected."
Back then, Augusta State University was on a quarter system. So, while Johnson sat out the rest of the quarter, he took that time to think about his future.
"I said, 'Well, I'm not going to give up. I'm going to go back and take that same class next quarter with a different professor,'" Johnson said. "I did and I think I got a B in the class. That's when I found my confidence in learning. You recommit to it, you dig a little deeper and tread a little harder."
Earning his business degree
Eventually, Johnson began taking two classes each quarter while still working at the paper mill.
"And all of a sudden you're taking almost a full load and you're working full-time, just to try to chase this dream of finishing something that you started," Johnson said. "And that's what I love about this great country that we live in: It's not how you start. My parents gave me the drive and determination to achieve and want to be a college graduate. And I credit Augusta State, now Augusta University, with helping me get there."
Johnson, who graduated in the fall of 1998, said he had dedicated professors at Augusta University such as Don Howard and Dalton Brannen, who helped shape his future. He is so grateful for his positive experience at Augusta University that he currently serves on the Advisory Board for the James M. Hull College of Business to provide advice on curriculum, fundraising, community engagement and branding.
"Garnett is a great example for our students of what perseverance, determination and hard work will get you," said Mark Thompson, PhD, interim dean of Hull College of Business. "We are proud that he is an alum of the Hull College of Business and look forward to seeing what he does as mayor of Augusta."
In fact, Thompson said Johnson has been chosen as the community honorary inductee to the Beta Gamma Sigma Chapter at the Hull College of Business. Augusta University's Beta Gamma Sigma is part of an international honor society serving business programs accredited by the Association to Advance Collegiate Schools of Business International.
The mission of Beta Gamma Sigma is to encourage and honor academic achievement in the study of business, to cultivate and celebrate leadership and professional excellence, to advance the values of the society and to serve its lifelong members.
Johnson said he is honored to be chosen as an inductee this year.
"There are just so many people who were very instrumental in me learning and being able to accomplish my dream of securing a college degree," he said. "I realized that I have an affinity for business, so I changed my major to business and got a degree. It took me, I don't know, six years maybe, but I finally finished and started a sales career. And that's where I really found my footing in that I realized that I had a knack for being able to take complicated situations and turn them positive and mutually beneficial."
But Johnson wasn't satisfied with just having a successful sales career working for other people, he said.
"In 2010, after what people call the Great Recession, I realized that I'm laying off more people than I wanted to," Johnson said, adding that many of those who were being laid off were middle-aged employees. "One day, I just had a conversation with my wife, Toni. I said, 'At some point if we don't take a preventative measure or proactive actions, this is going to happen to me.'"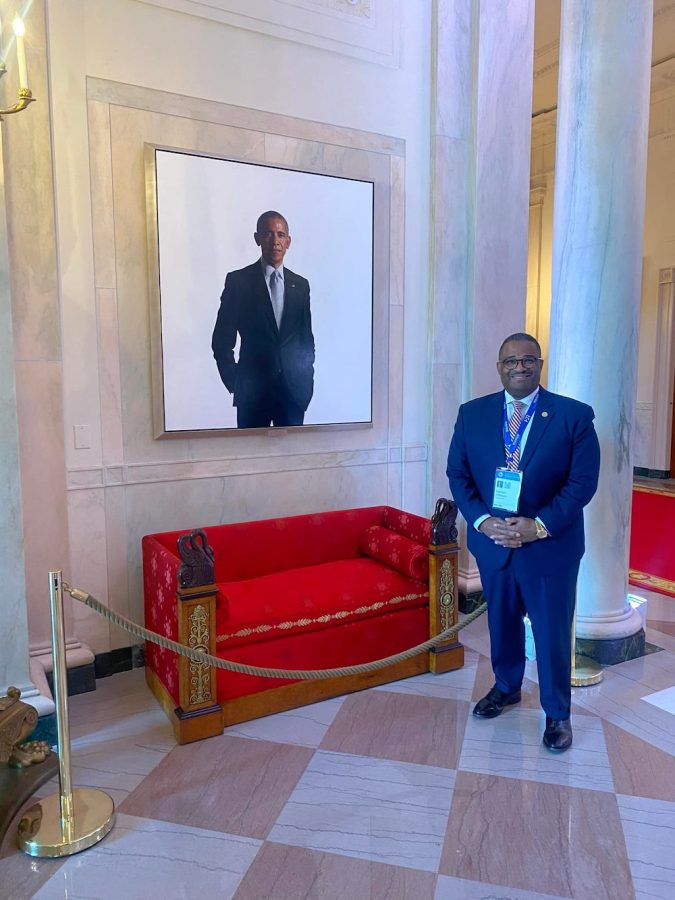 Johnson, now 54, has two daughters. Kaitlin is a senior at Spelman College in Atlanta and Lauren is a junior at Westminster Schools of Augusta.
"I have a kid in college and one getting ready to graduate high school and go to college. I didn't want to be put in a position where I'm laid off," Johnson said. "So, we crazily took our fate into our own hands and decided to start a business selling pens and paperclips. This is true. Pens and paperclips, against the advice of everybody. My dad said I was a fool. My father-in-law just said, 'I'm going to pray for you.'"
People couldn't believe that he was leaving a "good paying job for no reason," Johnson said.
"But my wife believed in me," Johnson said. "And I always believed that I could always go back and work for someone else if I had to. Good salespeople never have a problem finding a job. And I credit that with that great Augusta University education."
Becoming an entrepreneur
In 2010, Johnson founded Augusta Office Solutions, which today provides office supplies, furniture, printer repair and cleaning and breakroom supplies to companies throughout Georgia and South Carolina.
"We started the business with nothing. I was the only employee. We didn't have any delivery trucks," Johnson said. "I was selling out the back of a pickup truck and, now, we have grown into a multi-million-dollar business in a short span of 12 years."
A few years ago, Johnson also acquired Modern Business Workplace Solutions, which provides companies with everything from simple storage solutions to complete office remodeling and space planning options, he said.
The two companies have grown to approximately 48 employees with locations in Augusta and Savannah.
"We love mixing it up with the big box guys," Johnson said, smiling. "We're proud to say we're the largest regional independent office supply dealer in this area and we're growing. We have an office in Savannah and now my wife is helping out. She's in the business."
Running for office
With two thriving local companies, many people have asked Johnson why he would seek office as mayor of Augusta.
"I'm never satisfied with anything," Johnson said, laughing. "So, I guess that's what led me to politics. I'm never content or satisfied, especially when I looked at the condition of our city and when I looked at the current political climate. I realized that there is an opportunity for change if the right candidate with the right message steps forward. And I believe strongly that I was that candidate and I stepped forward."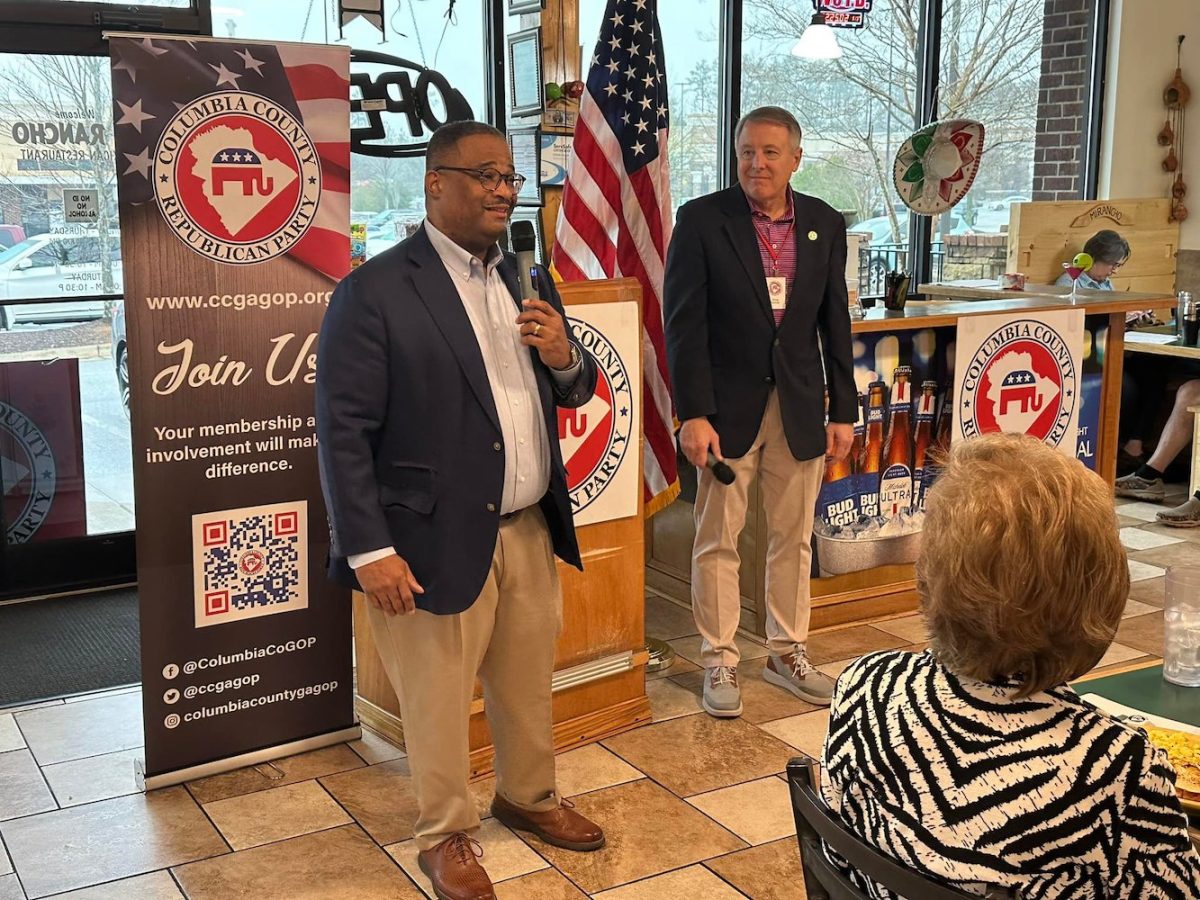 After two months in office, Johnson said he has been overwhelmed with support from the citizens of Augusta.
"It has been one of the most rewarding experiences that I could have never imagined, being called the mayor of a city that I was born and raised in," Johnson said. "I literally can't go anywhere without people noticing me. I was out of town this weekend and my 17-year-old daughter said, 'You're a real celebrity.' We were in Charleston walking on King Street and we got stopped three or four times. When we went to the City Market, we were stopped another two or three times. And I'm thinking, 'This mayor thing is a big deal.'"
But with that recognition comes a great deal of responsibility, Johnson said.
"I hold the office with high esteem and great honor but who I am is who I am, and who I'll always be," he said. "I still enjoy mowing my own lawn. I'm an avid outdoorsman. I enjoy, most importantly, going down hunting in the fall with my hunting club members, because that's when I'm not the mayor. I'm just Garnett Johnson."
Strengthening his hometown
Even though Johnson wants to always remain unpretentious, he acknowledges he was floored last month when he was invited to the White House as one of the newly elected mayors across the country and had the opportunity to meet President Joe Biden in the Oval Office.
"This poor kid from east Augusta is shaking hands and took a picture with the president in the Oval Office," Johnson said, smiling. "I was looking around like, 'How in the world did I get here?'"
While he thoroughly enjoyed his trip to Washington, D.C., Johnson said his main goal is to be an approachable mayor to whom local citizens can feel comfortable bringing their concerns and issues.
"I'm a normal, everyday person that will continue to do normal and everyday things. I don't need an entourage. I don't need a cheering section," he said. "All I need to be able to do is look my citizens in the eye and say, 'I'm doing what's in the best interest of Augusta, regardless of what color you are, regardless of what party affiliation you have, regardless of how you serve.' And I believe that will continue to strengthen our community."
"It shouldn't be about Democrat, Republican, or Independent, Black or white or Hispanic," he added. "We should all be about all of Augusta. And that's who I am and that's what I strive to be."
Augusta Mayor Garnett Johnson
Graduate of Augusta University's Hull College of Business, where he earned a Bachelor of Business Administration with a concentration in Business Management
President and owner of Augusta Office Solutions and Modern Business Workplace Solutions
85th mayor of the city of Augusta
Married to Toni Seals-Johnson and they have two daughters, Kaitlin and Lauren
An Augusta native and graduate of George P. Butler High School
Serves on the Advisory Board for the Hull College of Business