Every time Augusta University Medical Center finds a need from its patients, the faculty and staff work to find and implement a solution for them.
When Dr. Alison F. Ward started working at Augusta University in August 2019, she noticed that regionally and locally, there was no hypertrophic cardiomyopathy (HCM) center.
"The infrastructure was not in place to address this patient population, but AU already had a group of excellent physicians with experience and passion for treating HCM, so it only seemed natural to come together and form an HCM center where we could pool our expertise in treating HCM," said Ward, who is an assistant professor of cardiothoracic surgery.
Hypertrophic cardiomyopathy is a disease in which the heart muscle becomes abnormally thick, a common genetic heart disease affecting one in 500 people. It is usually caused by an inherited genetic mutation that causes the heart muscle to grow abnormally. In most patients, according to Ward, the thickened muscle is most pronounced in the ventricular septum, the wall that divides the right and left sides of the heart.
The thickened septum can then cause obstruction to blood flow out of the heart, which is known as hypertrophic obstructive cardiomyopathy. Patients with HCM can have additional risks, including mitral valve regurgitation, heart failure, arrhythmias or sudden cardiac death.
"In symptomatic patients who have failed medical management, septal reduction therapy is a safe and effective way to treat HCM," Ward said. "Septal reduction therapy usually involves cardiac surgery, where the excess muscle is resected, known as a septal myectomy. An alternative septal reduction therapy for those patients who are unable to undergo surgery is alcohol septal ablation, where the excess septal muscle is injected with a solution of alcohol, effectively killing that muscle."
Ward was first introduced to the surgical management of HCM during her cardiothoracic surgery training.
"I was lucky to train under a busy HCM surgeon, where I learned not only how to perform septal myectomies, but also how to treat these patients postoperatively," she said. "Even though this is a prevalent disease, only about 25-30% of patients will need septal reduction therapy, making this an uncommonly performed surgery at non-HCM centers."
From this experience, she realized the importance of having a dedicated team to take care of those patients and provide them with the best care possible. When she moved to Augusta, she wanted to start an HCM center so AU "could provide the same excellent care to the community here but also regionally."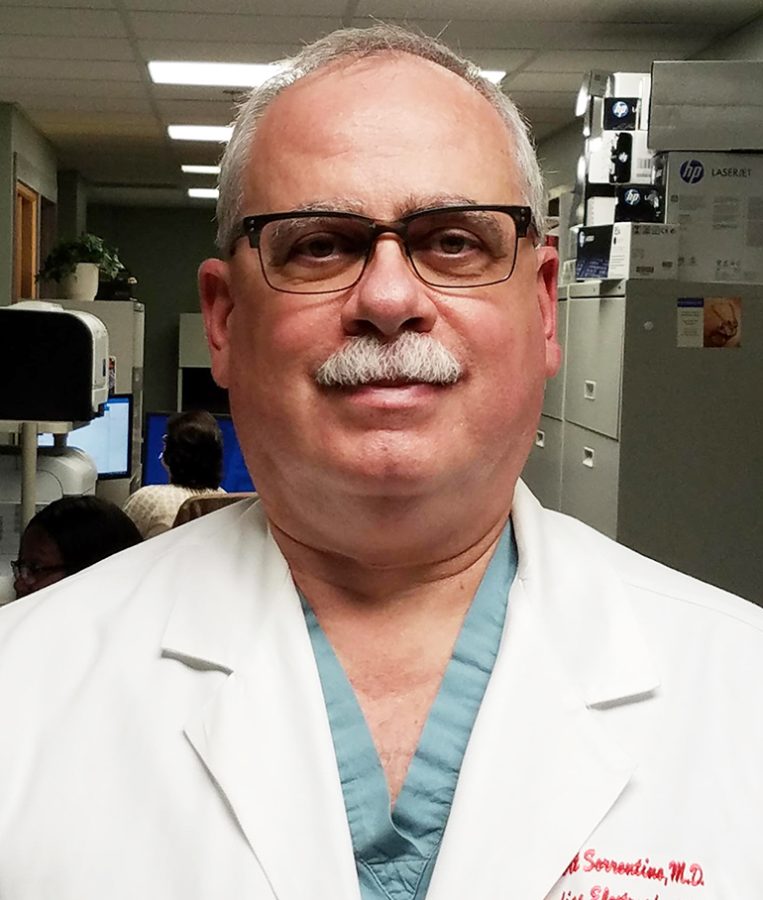 The HCM center team consists of Ward, Dr. Kimberly Atianzar, assistant professor of cardiology and medical director of structural heart program; Dr. Robert Sorrentino, professor of cardiology and director of electrophysiology and arrhythmia services; Dr. Liezl Domingo, assistant professor of pediatric cardiology, and Dr. James D. St. Louis, chief of pediatric and congenital heart surgery.
St. Louis has a total of five years at AU and has recently returned after being away for the past 15 years. He was asked whether he could provide technical support and mentorship to the program.
"My role will be to provide preoperative and perioperative surgery support for the current outstanding team," he said. "I am a pediatric and congenital heart surgeon with 20 years of experience in the field. I have operated on over 100 HCM patients ranging from children to adults. I will be able to provide mentorship for both the cardiologist and surgical teams leading this important program."
After seeing the patients he's treated over the years, St. Louis said having an HCM center nearby is a critical need program for the community.
"Prior to the arrival of current adult surgeon and adult cardiology leadership within the program, these patients would routinely migrate outside the region," he said. "The unique characteristics of this particular patient population required the expertise provide for by both adult and pediatric services.
"Augusta University has the unique ability to integrate these services together, a growing problem for other programs across the country that are dedicated to either adult or pediatric services. This program is critical to the health and well-being of patients within our community."
Domingo is the pediatric cardiologist on the team and also provides interpretation for cardiac MRI. She said Atianzar and Ward asked her to help with this in addition to the screening of first-degree relatives of patients with HCM. These important screenings will at times include the children of adult patients.
"It's definitely important to provide comprehensive care of patients and families with HCM," she said.  "A dedicated HCM center will not only help with early diagnosis and appropriate management of these patients but also provide cascade screening of family members, which will help prevent poor outcomes, including sudden cardiac death, and also reduce costs from unnecessary testing."
Before the HCM center opened here, the closest designated HCM centers of excellence were in Atlanta and Charlotte, North Carolina, while the closest of the five-high volume centers in the country is more than 600 miles away.
Since the initial conception of the HCM center early in 2020, Ward and her colleagues have started seeing an increase in the number of patients.
"All of the operations so far have been a success and we are working on optimizing our care of these patients from the medical management, to imaging with echocardiography and MRI, to surgical and anesthesia techniques, and innovative research," she said.