Lesa Wafford brought to Augusta University the type of determination to succeed that only comes after many challenges.
The 34-year old from Anchorage, Alaska, is a single mother who served 13 years in the Army. She's also the first in her family to go to college. Now, she'll be graduating from the College of Allied Health Sciences with a degree in clinical laboratory science, a field where there's more job openings than applicants, according to the U.S. Department of Labor.
When Wafford left the military under the Family Care Plan, she went back to Alaska. It didn't take long for her to remember why she left in the first place: namely, the climate.
Her higher education journey started at home as she looked to go into the nursing field. After realizing she preferred working in the lab, she made the switch to clinical laboratory sciences. During her time in the Army, she was stationed in Georgia and South Carolina and found Aiken, South Carolina to be a good place to call home. She then learned Augusta University was one of the few universities in the region that offered a bachelor's degree in her field of interest.
"Honestly, I had no idea I wanted to be in the lab until I was doing my prerequisites for nursing and I was like, 'I'd rather do this; I love this. This is what I'm good at,'" said Wafford.
Serving her country
Wafford's military service started earlier than most. She was only 17 when she joined the military and spent a lot of her early adult years stationed in the South.
"I hadn't even graduated from high school when I enlisted," Wafford said. "I did my basic training, and then went back to high school and did my senior year. Then I went back to the Army and I was in Afghanistan the next year. It was pretty quick."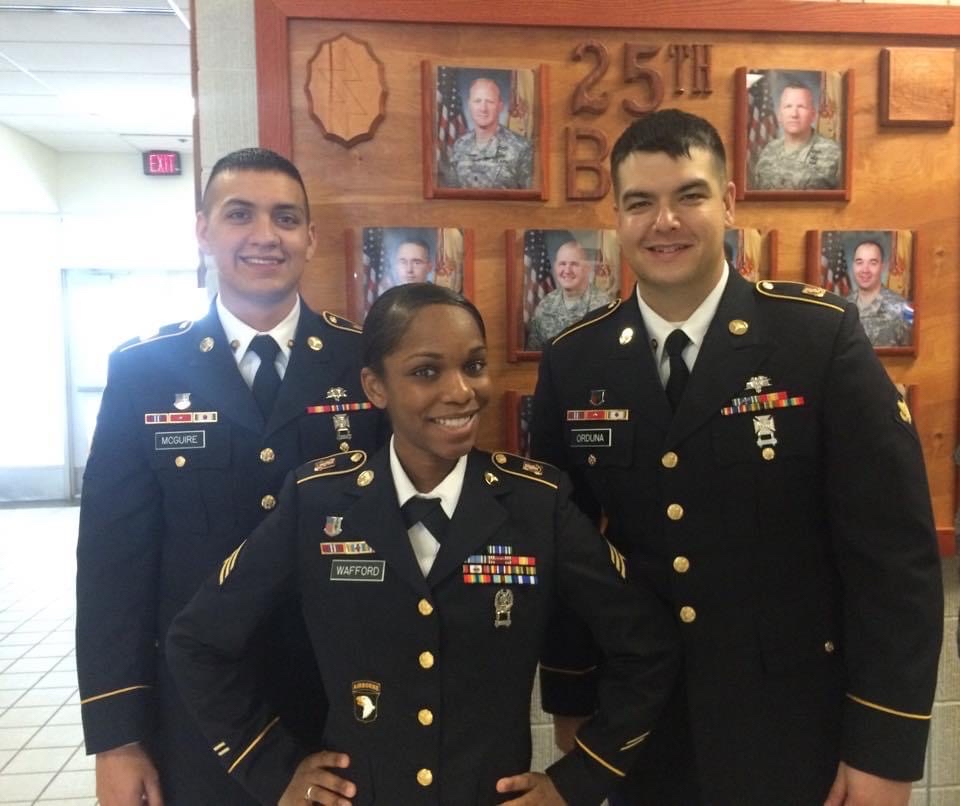 When Wafford was stationed in Fort Benning, Georgia, she was selected to be one of the first female drill sergeants. She's proud of earning the rank, which came at a time when the Army was actively looking to add women to the infantry.
She became a mom when she was in the Army and was deployed twice to Afghanistan. Her son traveled with her for several years until the challenge of raising him as a single parent became tougher. She then used the Family Care Plan to transition from service to focus on her son.
"I was working 90-plus hours a week and I had no time. My son was 8 and I was missing out on everything with him. I just got to the point where I had to choose my family or career, and of course I chose my family, so that was the end for me."
First-generation Jaguar
Wafford is one of four children in her family and is the first to pursue higher education. The fact that she's about to graduate from AU is something that hasn't sunk in yet.
Her studies here haven't always been easy. While she said she's enjoyed her past year and a half to get her Bachelor of Science in Clinical Laboratory Sciences, it didn't come without some heartache and tears along the way. Two professors in particular, Angela Spencer, PhD, interim chair and associate professor in the College of Science and Mathematics, and Brett Rice, MHS, an assistant professor in the College of Allied Health Sciences, have had significant impact on Wafford.
"Funny story about Dr. Spencer, she was the chemistry teacher in the first course I took here over the summer. Ultimately I did not pass because it was so fast-paced and it was only five weeks and you're packing four months of work into five weeks. I've cried in front of her before and she wasn't put off by it," added Wafford. "She's humble, she listens and makes you understand things."
Spencer said it was easy to help mentor Wafford because she was a determined student.
"Lesa is a hard worker and very determined to succeed. I'm excited for her to move on to the next chapter!" Spencer said. "I know that during her academic journey, Lesa had to overcome some challenges, but I know because of that, it makes it even more special to walk across the stage."
Rice has nothing but praise for Wafford as well.
"She is inquisitive, a team player and welcoming to any challenges she encounters," Rice said. "In the classroom, these traits enabled an engaging learning environment for all students. As a medical laboratory scientist, these traits are going to allow her to be a strong leader in the clinical laboratory."
Degree leads her into the lab
The future remains bright for Wafford and her son. She already has a job lined up in Aiken Regional Medical Centers, where she also interned. She sees herself rooted here for a few years until he graduates from high school. Then, she'd like to travel more and be a travel tech.
Whether balancing a military career or full-time college studies, Wafford has shown toughness and determination to succeed. She has learned plenty of lessons along the way — and some of those came while serving her country.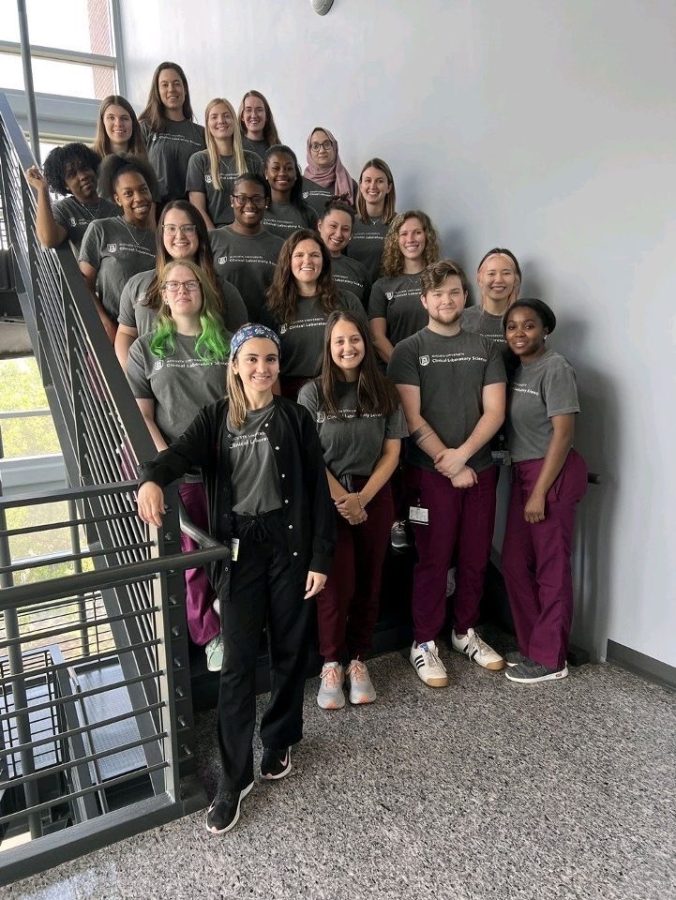 "Things I definitely learned from the military were public speaking and tact. Learning how to deal with stressful situations and not freaking out from them. A lot of my stress management came from the military and learning how to read the room," said Wafford.
It certainly helped during her internship in the lab at Aiken Regional Hospital.
"When I was working in the lab, they told me not to freak out when I'm in the blood bank or something like that and there's a call for a mass transfusion, and I don't want to freak you out," she said laughing.
"I'm like, 'Listen, I've been shot at — this is not overwhelming.'"
---
Learn more about commencement at Augusta University.