In today's technology-driven world, the importance of experts with a rigorous computer science background is on the rise.
There is a strong demand for people with extensive knowledge of computer science in government, public sectors, corporations of all sizes and colleges and universities. The U.S. Bureau of Labor Statistics reports that nationally, there are over 30,000 unfilled entry-level positions in computing disciplines requiring at least a master's degree.
Augusta University's School of Computer and Cyber Sciences recognized this need for computer science professionals and responded by introducing a Master of Science in Computer Science (MS-CS) program in 2020. This December, Patrick Woolard, who already holds a computer science undergraduate degree from the school, will cross the stage as the very first graduate earning Augusta University's MS-CS degree.
"I am just very grateful to have been able to work with such wonderful people. The faculty have all been great and fellow students have all been great," said Woolard.
The MS-CS program was conceived as the first graduate degree of the newly formed research-oriented school, followed in 2021 by a PhD program.
"It is exciting to see what started as just ideas and proposals three years back, come to fruition and have an actual graduate," said Gagan Agrawal, PhD, the associate dean for research and graduate studies at the School of Computer and Cyber Sciences. "The fact that Patrick is receiving his second degree from Augusta University is even more exciting."
The MS-CS program offers two options for students, who can choose between a thesis-based track and a non-thesis-based track. Woolard chose the non-thesis-based track because he said his passion lies in creating and building things.
"The part of the development process is what was appealing to me about this program as a whole," said Woolard. "I like making stuff, which is why I enjoyed my research experience. I got to work with drones, and I got to make apps."
During his time as an undergraduate and a graduate student, Woolard worked as a research assistant alongside School of Computer and Cyber Sciences Assistant Professor Weiming Xiang, PhD. Xiang and Woolard worked on the development of neural network reduction evaluation tools that provide formal safety evaluations for neural network model reduction procedures.
But that's just the beginning of the research Xiang and Woolard did together.
"He also worked on my vision-based drone navigation and control project, in which machine learning and control techniques were combined for drone navigation and control tasks," said Xiang.
Their findings were published in the journal Neurocomputing and presented at the 21st Phi Kappa Phi Student Research and Fine Arts Conference in 2021.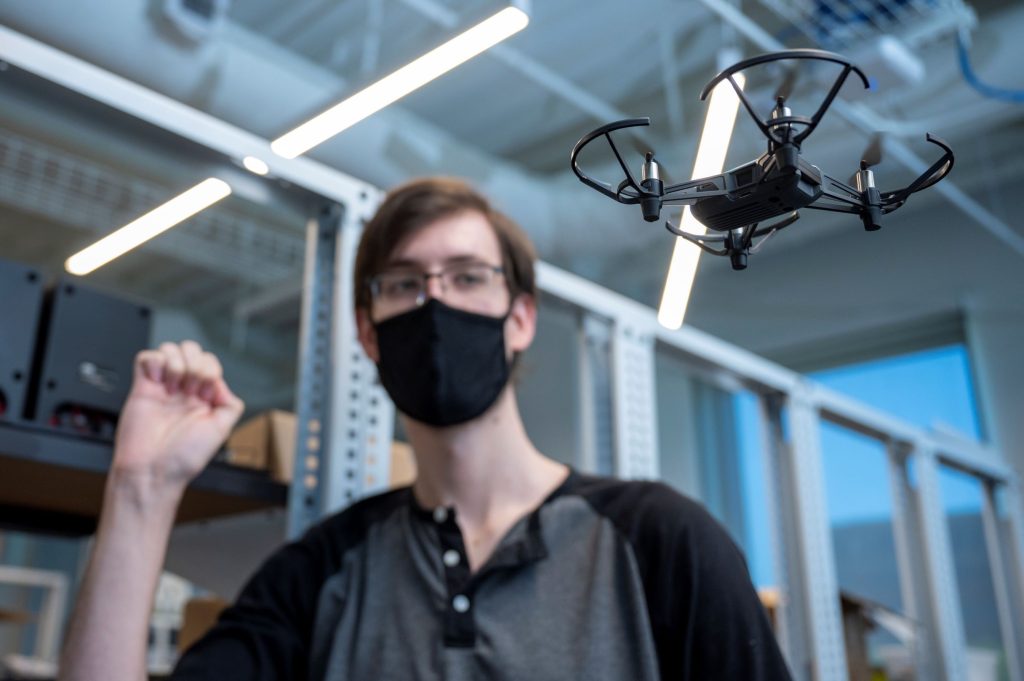 Students can also choose the thesis-based track, which Agrawal said is particularly well-suited for students considering a doctoral degree program or who are interested in a career in applied research. The thesis track is ideal for students who want to gain research experience as well as experience in documenting and presenting their findings.
The School of Computer and Cyber Sciences is recruiting MS-CS students for a fall 2023 start, with application deadlines in March for international students and June for domestic students.
---
Learn more about commencement at Augusta University.