Aenea Clark and Jacob Sumpter have had very different higher education journeys — but both of their adventures have led them to the podium at Augusta University's Fall 2022 Commencement ceremonies.
Clark, who will graduate with a Bachelor of Arts in Communication from Pamplin College of Arts, Humanities, and Social Sciences, will speak at the undergraduate ceremony at 3 p.m. on Dec. 17. Sumpter, who will graduate with a Master of Science in Nursing with a major in Clinical Nurse Leader from the College of Nursing, will speak at the graduate hooding and commencement ceremony later that day at 6 p.m.
Both students were selected to speak by their fellow graduates in an online voting process.
Aenea Clark: "Embracing change with grace"
Clark's journey at Augusta University began in August 2020 when she transferred to AU from Georgia Military College. Starting out as a general studies major, she later changed her major to communication.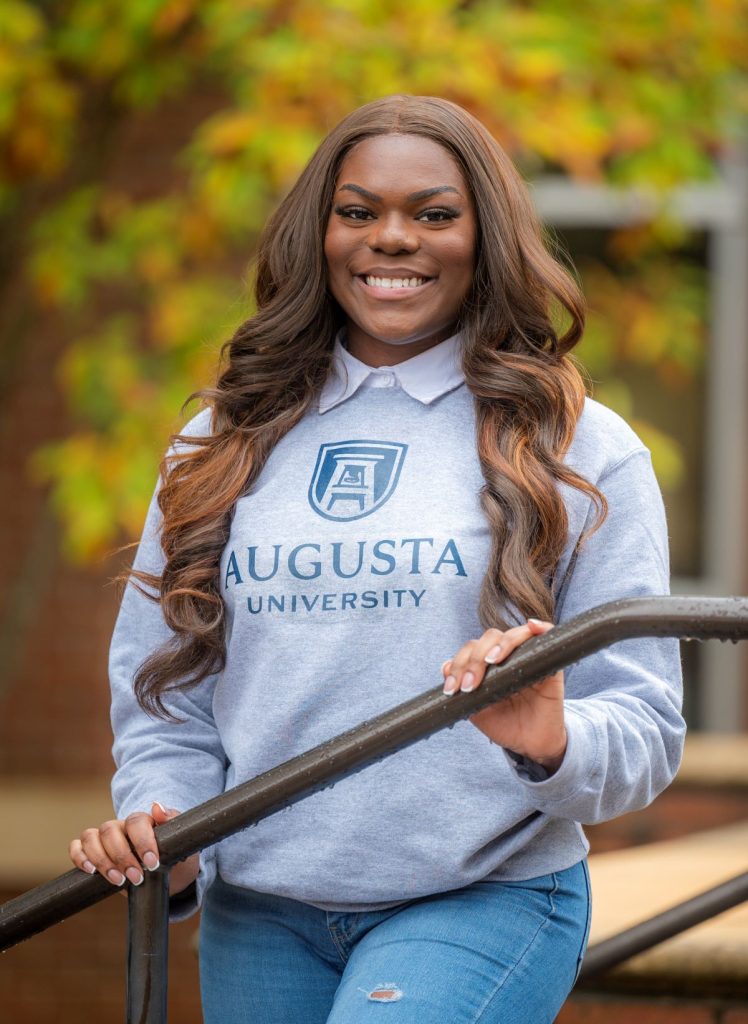 Clark's academic advisor Amber Routh, who also taught her in a communications class at the time, quickly realized she had a passion for storytelling, and encouraged Clark to change her major to something that better aligned with her interests. Clark feels communication was the right choice for her, as the field is broad enough to keep her interested and constantly growing.
"The communication field offers so many opportunities. You have videography, photography, graphic design, public relations, journalism — and a lot of those areas overlap. So it's not like you'll just be doing one thing. I feel like in the communication field, you kind of need to know how to do a little bit of everything," she said.
"For instance, if you're running a social media page, you should know a bit about media literacy. You should know good photography skills, good videography skills, SEO skills, how to communicate to your audience, and all of those things are integrated. And you need to be able to apply all of those things to your job."
The theme of Clark's commencement speech is "embrace change with grace": a mantra she put to practice on her own college journey.
"When I transferred to Augusta University and moved here to Augusta, Georgia, I did embrace change with grace. When I moved here, I had no friends. I really wasn't sure what I wanted to do. But through that time of uncertainty, I remained positive and optimistic. I made the best of my situation," she said.
"I just started getting involved on campus. I got my first internship. I held a position in an on-campus organization. And I just want to encourage students that as we transition from students to alums, this may be a time where you feel uncertain of the next step. You might be facing new change ahead soon. But through all of that, just remain hopeful and optimistic and embrace that change."
After graduation, Clark plans to attend graduate school at the University of Florida to earn her master's degree in digital marketing. She's confident that the internships she's taken during her time at AU, including as a content strategist for the university podcast and a communications intern for the Savannah River National Laboratory, will make her a qualified applicant.
Clark looks forward to watching her sisters Aaliyah, a business major, and Alaysha, a psychology major, also finish their educations at Augusta University in the coming years.
Jacob Sumpter: "It's time to write your story"
As an Augusta native, Jacob Sumpter is no stranger to Augusta University: He attended John S. Davidson Fine Arts Magnet School for seven years, and even participated in orchestra camps on Augusta University's campuses in childhood.
He left the CSRA for college, where he attended the University of Georgia and double-majored in biology and psychology. During his sophomore year of undergrad, he realized he wanted to enter the nursing field — and after some research, he found Augusta University's MSN program online. He knew that program was his next step.
However, before enrolling at AU, he took a gap year. During that time, he worked at Eye Physicians and Surgeons of Augusta, a local ophthalmology clinic, as a medical assistant, where he supported patients in pre- and post-op care.
"My job would either be to get you ready for surgery, to get the room ready for you for surgery, or to get you ready to go home to see your family. And that gave me the ability to confirm that I wanted to be a part of nursing, because I got to work with patients every single day."
He credits his medical assistantship for not only teaching him the fundamentals of the medical field, but also for giving him perspective on patient care interactions, which would later be useful during his clinical rotations. Sumpter continues to work at the clinic part time.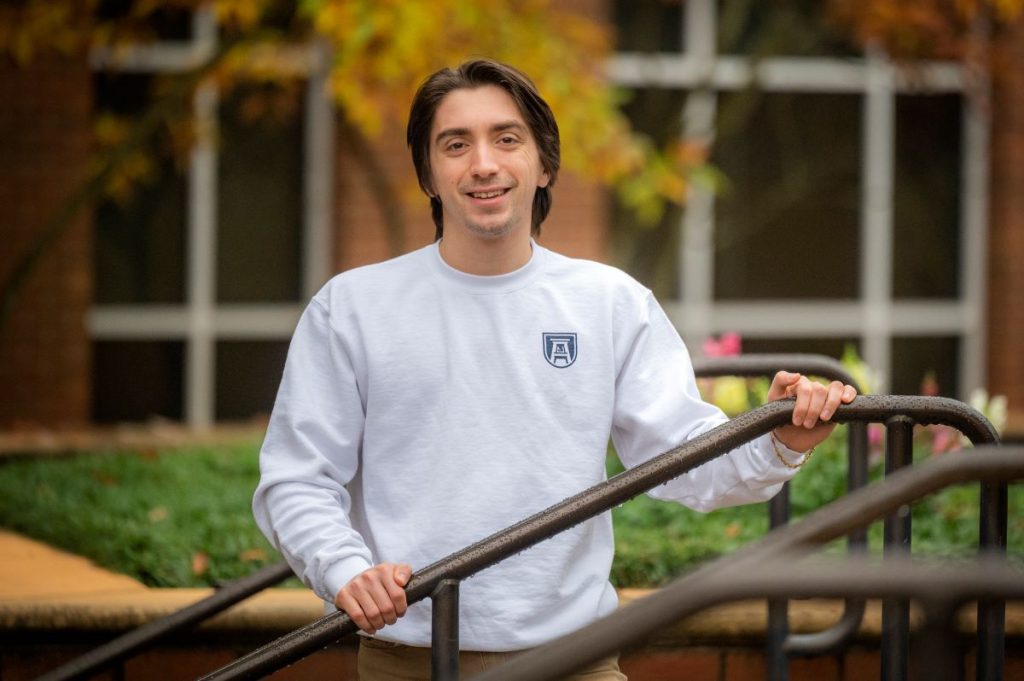 Sumpter's speech will focus on encouraging each graduate to continue writing their life's story — and reminding them that their journey in higher education is just a chapter in it.
"I feel like not everybody's story gets told, and I think it's really important that whenever you are in a position to be able to speak in front of people, you try to tell people's stories, or you try to encourage them to keep writing their story. And that's what my commencement speech is focused on," he said.
"It's invoking this idea that today is just a page in your life. Today is a chapter in your life, and you have the pen: You can go out and write your own story if you choose. And although this chapter of your life has so many emotions, so many memories and all these wonderful stories that you can tell, it's important to remember that you still have plenty of more pages to go on."
After graduation, Sumpter will join a nurse residency program at Atrium Health in Charlotte, North Carolina. He'll work on a progressive care floor, where he looks forward to furthering his education while also practicing hands-on patient care.
Although he's once again parting ways with the CSRA, he knows Augusta University will always be a part of his life.
"Even when I went off to college, I always intended to come back to Augusta University. And whether that was divine or whatever you would call it, I kind of knew my whole life that I would end up back here in some way, shape or form. Augusta University and I have always been intertwined. And I guess, technically, once I'm graduated, we always will be."
---
Learn more about commencement at Augusta University.