National Tooth Fairy Day is Feb. 28, and whether your kids believe in the legend or not, the tooth fairy is one of the dentist's helpers to teach children about proper oral hygiene.
The tooth fairy legend is believed to have originated in the United States during the early part of the 1900s as a way for parents to celebrate the loss of a child's baby teeth. Children traditionally place the tooth under the pillow at night and awaken the next morning to find money left by the tooth fairy.
Although it is hard to understand why the fairy would want teeth, rumor has it that these fairies are constructing their queen a castle from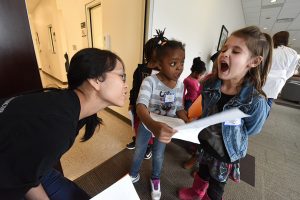 the cleanest and best cared for teeth, which might explain why these tiny tooth collectors always leave the child a token of their appreciation.
In an effort to extract more details about the alluring myth of the tooth fairy, Pediatric Dental Resident Ken Sellers shared a story of how his mother and the tooth fairy helped one of his patients stay calm during her visit to the Dental College of Georgia.
"I will never forget my two-year-old patient that needed to have a tooth extracted, but was too young to be sedated," Sellers said. "As I gently wiggled out the tooth, I could tell the pressure made her uncomfortable and she started crying."
With a bit of quick thinking and a little help from Sellers' mom, the tooth fairy helped calm the child's fears and discomfort.
"I called my mom and pretended that I was asking the tooth fairy to tell my patient that everything would be okay," Sellers said. "My mom, being such a great sport, played along and spoke to the little girl while pretending to be the Tooth Fairy.  The little girl immediately stopped crying. In fact, she ran to her parents when we were done and told them about how she had just spoken with the Tooth Fairy!  She was so excited and had forgotten completely about her scare in the dental chair."
Whether or not parents talk to their kids about the tooth fairy, Sellers says there are so many fun ways to get kids excited about daily dental hygiene.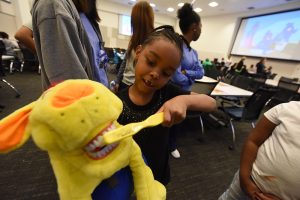 "Brushing might not be your child's favorite thing to do right away, but try to make it fun by letting them choose their toothbrush and brush along with them," Sellers said. "Parents can also look for kid-friendly dental products that contain fluoride, help kids eat a well-balanced diet, teach them proper brushing and flossing techniques, and be sure to keep regular checkups with the dentist."
Sellers also suggest parents involve themselves daily in their child's dental care routines by monitoring and teaching their children proper oral hygiene.
Learn more about The Dental College of Georgia.